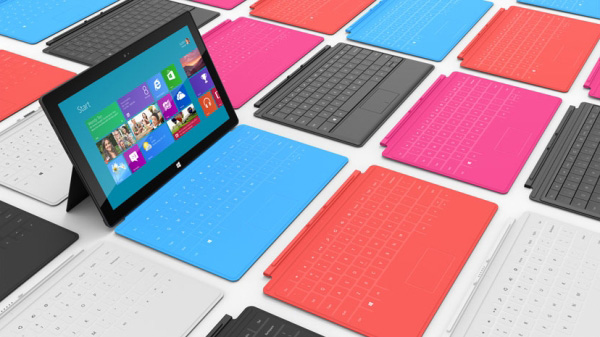 You thought you'd seen them all at Computex, but the most exciting Windows tablets were yet to be announced.
Microsoft on Tuesday unveiled a pair of 10.6-inch tablets running two variant of the upcoming Windows operating system, both completely designed and manufactured by Microsoft. That's right, Microsoft just made its own PC.
Both of the new Surface tablets (despite the name, this has nothing to do with the ginormous touch-screen table) are constructed from vapour-deposited magnesium which promises strength and durability, and although they share similar names, the two tablets are quite different once you look closer.
The first is Surface for Windows RT, the version of Windows 8 specially developed for ARM chipsets. This tablet will be powered by an NVIDIA processor, possibly the Tegra 3.
However, this doesn't mean it's an overly-watered down version of Windows 8. Windows RT will be able to run Microsoft Office, and even has the "desktop mode". The one important compromise it makes is its inability to run legacy x86 software.
If you're looking to run apps like Adobe Photoshop, you'll want the Surface for Windows 8 Pro. This is full-blown Windows 8, and goes with the traditional Intel pairing that is a Core i5 Ivy Bridge processor.
The Surface for Windows RT is an incredible 9.3mm thick, just a hair thinner than the new iPad. Surface for Windows 8 Pro, however, will demand some elbow grease at 13.5mm.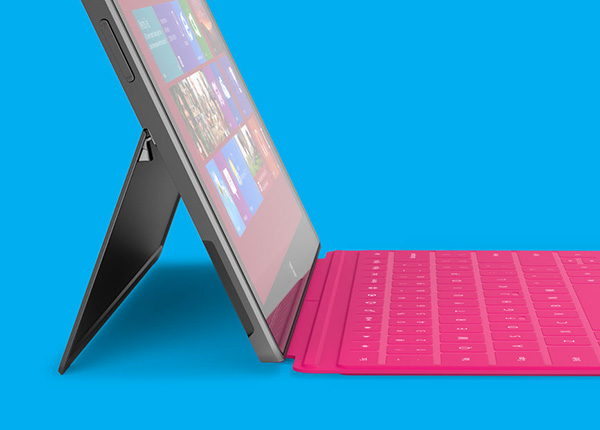 The Win 8 Pro Surface is also better spec'ed, with a full HD display, microSDXC and USB 3.0 ports, and 64GB or 128GB of solid state storage. A mini DisplayPort lets you output video to an external monitor like a real desktop computer.
The RT Surface makes do with an "HD" display – which I suspect is 1366×768 pixels – a USB 2.0 port, a microSD slot, and 32GB or 64GB of storage. It also has video output via mini HDMI, a great touch for multimedia sharing and added large-screen productivity.
Only the Win 8 Pro Surface was shown with a stylus which attaches to the side of the tablet magnetically.
Both tablets also feature a built-in kickstand, a nice addition which saves you from shelling out for accessories.
Most interesting of all is the Touch Cover, a protective cover which, like Apple's, latches on to the tablet's side magnetically. But instead of just sitting there and doing nothing otherwise, the Touch Cover doubles as a touch keyboard that comes in bright colours adds only 3mm to the tablet's thickness.
It is apparently not completely flat, too. ReadWriteWeb reports from their hands-on that key travel on the Touch Cover keyboard is "roughly similar to the 'chiclet' keyboards used by the MacBook Air".
Those who prefer a proper hard keyboard can opt for the Type Cover, which at 5mm is thicker than the Touch Cover.
There's no word if these covers will be bundled with every purchase, or sold as optional accessories.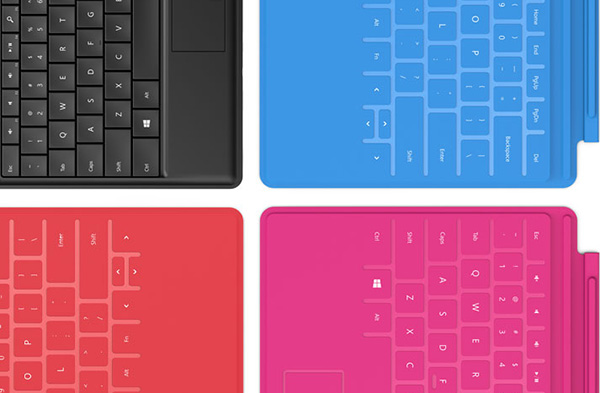 Without more concrete information such as the exact specs, price, and shipping date, it's hard to comment more on the Surface tablets.
Could the tablet fail? Absolutely. Many are right to point out that there is currently so little information about the Surface tablets that they might as well be vapourware.
And of course, OEMs will definitely view Microsoft's moves with caution following this announcement. Buying software from a company in order to compete directly with the same company sounds like a recipe for much unhappiness.
But the Surface tablets are well-designed, and primed for both work and play. Already my web and graphic designer friends are buzzing over the Win 8 Pro and its stylus.  The sleek keyboard covers which don't compromise on aesthetics are catching attention too.
I have no reservations in calling these the first true iPad competitors, as they're a unified design vision of both hardware and software by the same company. Apple even responded by releasing a new TV ad for the iPad touting its still-unrivalled Retina display on the same day, which is not likely a coincidence.
This is undeniably an historic move by Microsoft, and with a solid first impression all around, it will be interesting days ahead for the company.
Your move, Google.