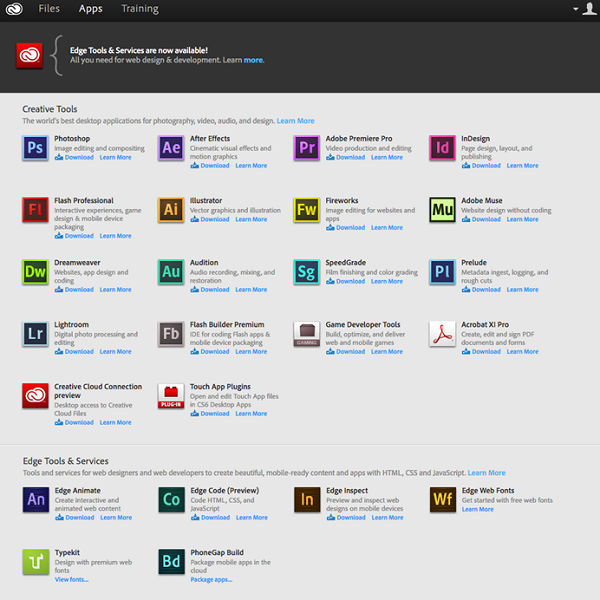 Adobe officially launched its Creative Cloud service together with CS6 last April, and it has finally made its way over the Pacific Ocean to Singapore.
The subscription-based service will allow members to download and locally install every single application in Adobe's suite of production software, from Premiere Pro to Photoshop Lightroom. Internet connection is not required except for syncing your files (through 20GB of storage) and a once-a-month license validation check.
A key advantage of Creative Cloud is the prompt and regular updates promised by Adobe. Members will no longer be restricted by past software release cycles and will get the latest features as and when they are released by Adobe.
CS5, for example, was not well-equipped for the surge of tablets and smartphones, and Adobe had to release an interim version 5.5 to bridge the gap until CS6 was ready.
In contrast, six major feature updates to various applications have already been pushed out exclusively to Creative Cloud members since its launch less than a year ago. New products such as Adobe Muse are also currently available only through Creative Cloud.
To simplify matters for IT departments, Adobe is offering administrative tools for centralised license purchase and management for team subscribers. Teams will also be able to access support and training resources at no additional cost, and 100GB of cloud storage compared to the individual subscriber's 20GB.
Adobe also promises an end to lengthy procurement processes and complicated version numbers along with file incompatibilities. With Creative Cloud, all team members can be on the same software version under one broad license.
This creative software buffet will cost individuals US$49.99 per month with a one-year commitment, or US$74.99 per month for no contract.
Teams in Singapore will be able to sign up at US$69.99 per user per year, but only through Adobe's authorised resellers for now. Running promotions for existing Creative Suite users offer even lower prices.
Considering how the CS6 Master Collection currently costs a whopping US$2,599 per license, Creative Cloud seems priced to succeed. It will take one individual roughly 50 months, or 4 years, of Creative Cloud subscription before breaking the US$2,500 barrier.
At that less intimidating price point for full access to everything including the kitchen sink, Adobe may drive even semi-serious users to sign up, netting in a bunch of new customers and quite possibly lowering piracy of its software.