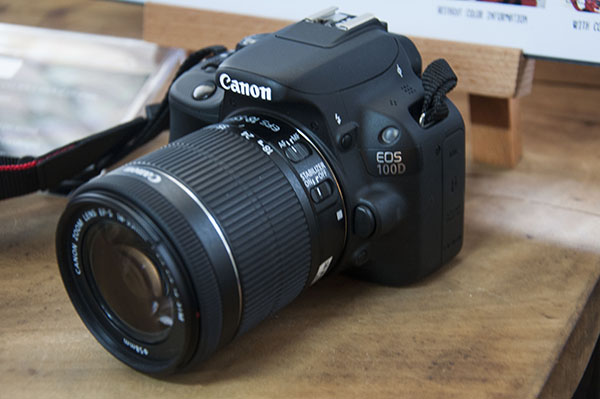 How many ways can you make a DSLR?
For Canon, the latest gimmick is going small with one of its latest cameras, the 100D.
The 100D is a decidedly entry-level camera. It has the same 18-megapixel sensor as the existing 650D and the new 700D, and in burst mode shoots only 4 frames per second.
It does pack in some new stuff, including the company's new Digic 5 image processor, and has a new autofocus system which promises to snap on to your subjects faster.
But the most notable spec is its size and weight: the 100D is 25 percent smaller than the 650D, and weighs only 407g. This is including the weight of the battery and the memory card!
On the surface it doesn't look that much tinier, but you'll be able to feel the difference once you pick it up.
I swapped my Nikon D90 with the 100D and immediately felt the remarkable difference in weight and size.
Pair the 100D with Canon's 40mm pancake lens and you could have a potentially great travel-friendly camera.
The 100D will land in Singapore from mid- to end-April and much of its success will hinge on its price. Local pricing is not yet available, but in the US it costs US$800 with an 18-55mm kit lens.
However, I can't really figure out who the 100D is for.
Aspiring photographers looking for an affordable entry point into Canon's ecosystem may as well fork out US$100 more and go for the new 700D.
Casual users should just go snap up the numerous entry-level DSLRs on the market right now, most of which have very similar specs and are already going at sub-S$1000 prices.
The size of the 100D isn't much of a selling point either, as there are dozens of good micro four-thirds cameras on the market that have even smaller bodies.
Plus, Sony has been doing the whole "small body big sensor" shtick since its first NEX cameras.
Would you buy a 100D? Tell us why in the comments below!
Update (19 April 2013, 5:42pm): The 100D has been priced at S$799 for the body only, and S$999 with an 18-55mm kit lens.