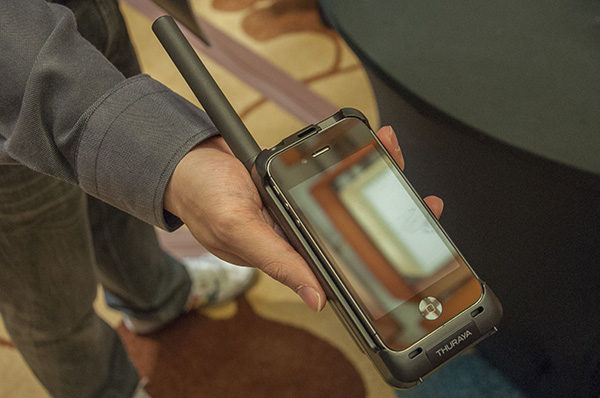 Living in one of the most connected cities on Earth, we sometimes forget that there are still large swathes of land and sea not served by terrestrial mobile network coverage. Journalists in war zones, relief workers in remote areas, and sailors out at sea for months, just to name a few, have to rely on specialised satellite equipment to get connected, which can be rather expensive.
But with Thuraya's new SatSleeve — unveiled at the CommunicAsia trade show in Singapore this week — a simple iPhone can be transformed almost instantly into a satellite phone.
Setting the SatSleeve up is painless. Snap the sleeve onto the iPhone, pair them via Bluetooth, launch the custom SatSleeve app, and you can start making satellite calls through Thuraya's network of satellites, which covers more than two-thirds of the planet.
There are, however, some notable geographical exceptions. For some reason, the Americas aren't covered by Thuraya's satellites.
The SatSleeve itself is powered by a 2,400 mAh battery, which is rated at 48 hours of stand-by time, and up to 4 hours of talk time. It can even be used as an external battery to charge the iPhone.
As with all satellite technology, coverage is best when you're under the clear blue sky. There's a also large extendable antenna to help improve reception.
Unfortunately, the SatSleeve doesn't do mobile Internet, yet, so users are limited to voice calls and SMS. It also doesn't support any other phones other than the iPhone 4/4S, though we're told iPhone 5 and Android versions are coming soon.
Despite its shortcomings, the SatSleeve is a pretty amazing product, especially for those in its target market.
The SatSleeve isn't available off-the-shelf, and no price was mentioned, though Thuraya promises that it's "highly affordable".
I don't imagine many of you will rush out to buy one immediately, but if you intend to make an expedition into uncharted and un-networked territories, the SatSleeeve can be purchased from one of Thuraya's partners or distributors.