Convertible and hybrid laptops haven't quite caught on yet except with the most adventurous notebook buyers. Yet, going by what the industry has planned for the rest of the year, these two-in-one machines seem to be here to stay.
The Portege Z10t is Toshiba's latest stab at such a hybrid design.
As a tablet, it weighs a rather portable 850 grams – heavier than an Android tablet, but that includes a larger 11.6-inch touch screen. Slot the tablet into an included keyboard dock and the weight comes up to 1.4kg, just slightly heavier than a regular ultrabook, but still within the "thin and light" range.
As first impressions go, the Portege Z10t certainly makes the grade. It's very easy to carry around, fast to boot up and gives you confidence that it can handle some rough handling on the road.
The keyboard base, for example, feels extremely solid and the back of the touch screen not only looks attractive with its simple patterns but is reassuringly sturdy. I've always loved Toshiba's slim designs and the Portege Z10t certainly brings that familiar mix of both portability and strength.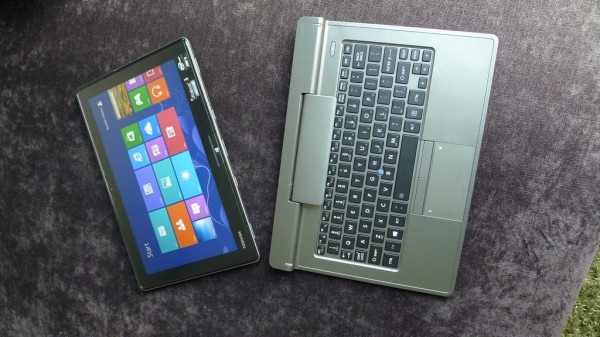 The Japanese electronics manufacturer says the keyboard is safe from the occasional coffee spill as well. While I didn't test that claim by dunking it in water, I can say the keys are generally very well-spaced and easy to type on. Despite the shallow keys, there's quite a bit of tactile feedback to let you know confidently that you've typed something.
What I also like about Toshiba's new offering is that it comes with many useful ports on the tablet itself.
There's a USB 3.0 port, a micro HDMI connector and a full-sized SD card slot, which come in handy should you decide to leave your keyboard dock behind. If you do bring it along, you get additional USB 2.0, full-sized HDMI, Gigabit LAN and yes, VGA ports.
Corporate road warriors who have had to buy expensive adapters for their skinny laptops lacking these full-sized ports will be grateful Toshiba has included them. It sure is easier to plug a projector straight to the laptop via the VGA port.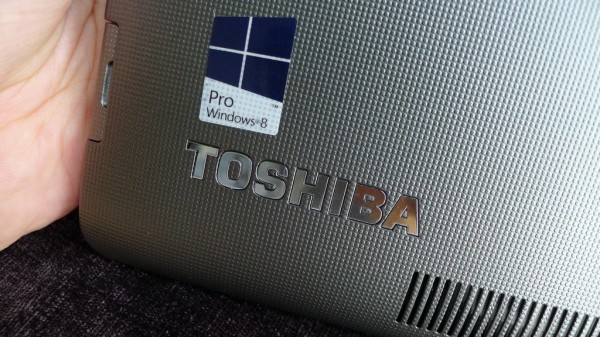 Let's not forget the tablet cum laptop is also a full-fledged PC. It has an Intel Core i5-3339Y processor, 4GB RAM and 128GB of solid state storage. It runs full Windows 8 Pro programs.
There is a fan inside the tablet, like with most PCs, but it's generally very quiet and you have to place your ear next to one of the air vents to hear a slight whirring noise.
More importantly, there's also a very sharp Full HD screen displaying 1,920 x 1,080 pixels. Play a Full HD video or view your pictures on it and you'd see how much detail you've been missing on a lesser screen on an older laptop.
All this, however, is just part of the story. The main draw that Toshiba may be banking on is the digitiser that it has included as part of the package. The included stylus lets you draw and scribble like with real ink, thanks to the very accurate pressure-sensing input.
Compared to many other stylus cum touch screen combos out there, this is clearly superior in terms of capturing the nuances of each stroke of the pen. This is a screen that you can properly draw on, should you get creative during a boring meeting, for instance.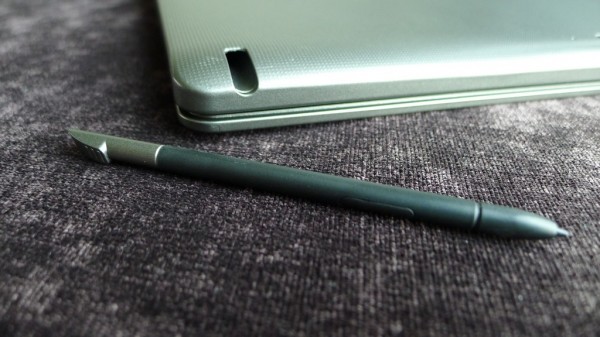 There is a price for that level of performance, of course. At S$1,999, the Portege Z10t is substantially more expensive than similar hybrids. Microsoft's Surface Pro, for example, is going for about S$1,500 with a detachable keyboard included (read our review).
A S$2,000 price tag on the Portege Z10t also means it costs the same as an ultrabook and cheap tablet put together. Some users might just go for two separate devices instead of a hybrid.
Price is not the only concern. The catch that lets the tablet slot into the keyboard dock, though solid, is not quite as nifty as the magnetic clip-on offered by the Surface Pro and Samsung's Ativ Smart PC Pro, for example.
In fact, other than looking slightly clunky, it seems to restrict the tilting of the screen to just slightly over 90 degrees. While that is still alright for typing for short periods of time, the angle will take a little getting used to for folks who like their screens tilted much further back.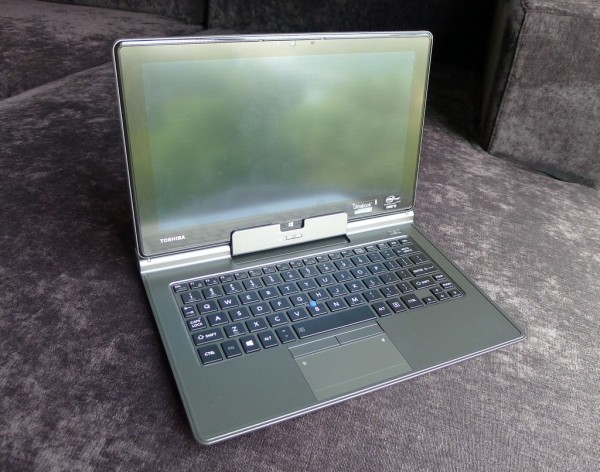 This is one area you have to see if you can get used to if you are trying out the Portege Z10t at a store. One other area we did not have a chance to test out during a quick hands-on was battery life.
To be fair, the features packed in plus the build quality mean that Toshiba isn't asking for an unreasonable price for its new hybrid. Users will have to decide if the impressive pressure-sensitive digitiser is worth the extra cost over rival devices.
Corporate users who are looking for a hybrid device should still give the Portege Z10t a look. If you can wait, however, I would also recommend checking out new devices sporting new, more energy-efficient fourth-gen Intel Core processors, which are just starting to turn up.