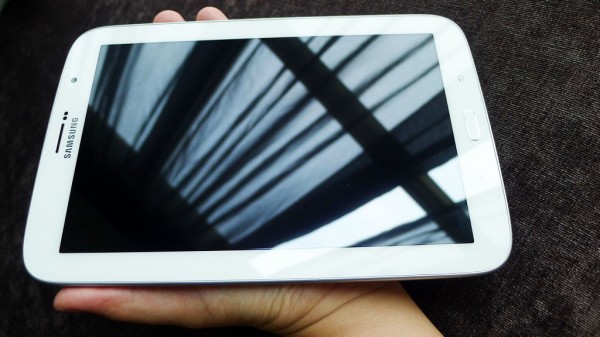 I wasn't crazy about Samsung's new small tablet – the Galaxy Note 8.0 – when I first laid my hands on it at its unveiling in February. Having used it for the past few days, however, I've grown to like it.
What has changed my mind? Mainly, the fact that it is very portable. The 4G model I'm using weighs 345 grams and can be easily held in one hand while surfing on the couch or at a cafe.
Perhaps I've missed my old Galaxy Tab 7.7, and got a little tired holding up a big Nexus 10, but I can see why people who have grown used to the iPad now look for smaller tablets.
The Galaxy Note 8.0's design, as I brought up during a brief hands-on in February, will be a hit for fans of the Samsung Galaxy shape and form. With smooth, white plastic and faux metal highlights at the sides, the small tablet is a natural "upgrade" for folks toting Galaxy phones.
Samsung has clearly targeted this device at the "high-end" of small tablets, which seem to be getting cheaper and more modest hardware underneath the pretty plastic skins.
Unlike its main Android rival Asus, which has come up with cheaper 7-inch tablets, Samsung's Galaxy Note 8.0 comes with a slightly larger 8-inch screen, a handy 2GB RAM and 4G or Long Term Evolution (LTE) connectivity. There's also a quad-core processor running at 1.6GHz.
And yes, you can make calls too from this, er, tablet. It will feel a little weird placing one of these 8-inch tablets next to your face and talking into it, but yes, you can if your SIM card supports voice calls.
You can, of course, make calls with a Bluetooth headset, but then, that's one more gadget for the road, with the already big device. I doubt many users will be making calls from the Galaxy Note 8.0.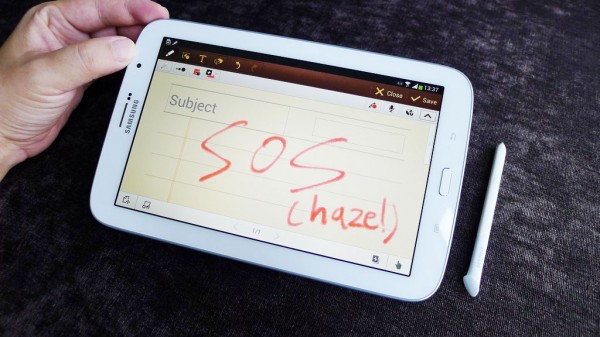 What they will very likely do is scribble and draw. The included stylus is a major differentiating feature for Samsung. Unlike, say, its larger Galaxy Note 10.1 or smaller Galaxy Note II, the Galaxy Note 8.0 feels perfectly-sized to hold in one hand and scribble away.
This is the size of the notepads I've been using all my career to scribble down notes at interviews and meetings, so the size just works perfectly. The stylus is pressure-sensitive, so if you feel like an artist, the Galaxy Note 8.0 is really nice to draw on.
What I find most useful about the S Pen is the ability to easily grab a slice of what you're reading and share it with someone else.
If you press and hold the small button on the stylus, a lasso-like tool lets you select anything on the screen to be screen-captured and immediately sent off via e-mail, shared on social media networks or copied to the clipboard.
Seen an infographic that's nice to share? Use the S Pen. Do the same if you read something interesting from a news report that you want to highlight. Instead of copying and pasting the entire Web address, grab a screenshot of the important paragraph with the S Pen and send it to a friend. It's easier.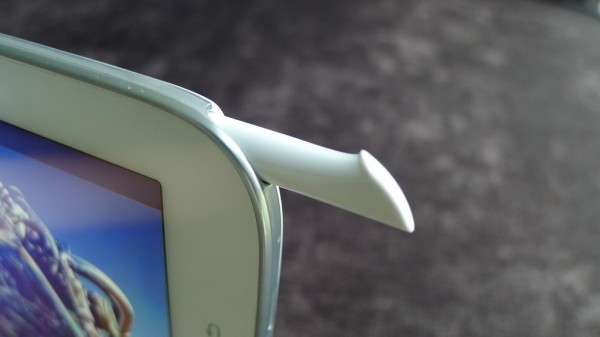 I also like it that the tablet knows when you take the S Pen out. Okay, there's a rather cutesy sound when you do so, but besides that, the tablet also automatically launches a menu that you might use.
The icons here let you access, say, the S Note memo app and S Planner calendar app, both full-featured apps that will be useful for those new to Android.
What don't I like? The lack of a Super AMOLED screen still upsets me, though I know I'm a minority and owner of a Galaxy Tab 7.7, which had a Super AMOLED display years before.
To be fair, the LCD screen on the Galaxy Note 8.0 is pretty bright and colours aren't that horrible. But once you've seen Super AMOLED on a Samsung, you'd expect the best products from the Korean electronics firm to have Super AMOLED.
I'm not sure if the omission of the very bright and high-contrast Super AMOLED is down to cost or manufacturing process, but it is one thing that marks down the Galaxy Note 8.0 from an unqualified recommendation.
Still on the screen, the 1,280 x 800 resolution is also not too bad, and text looks sharp when you read e-books on the tablet, but it's telling that it is nowhere as sharp as, say, current top-end smartphones. Samsung's own Galaxy S4 boasts a 1,920 x 1,080 resolution in a smaller 5-inch screen.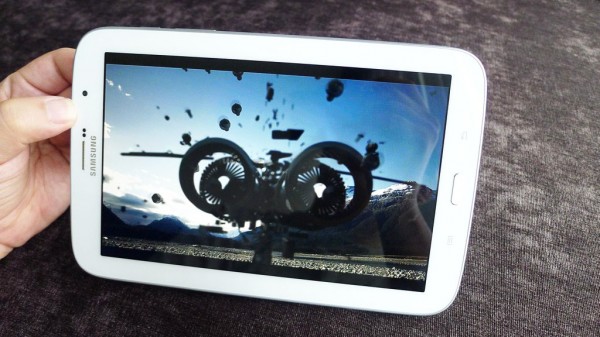 What also bothered me a little was the slight lag that rears its head ever so infrequently. With all the stuff that Samsung has packed into the Galaxy Note 8.0, there's bound to be some performance hit sometimes.
This is not to say the experience is poor – almost all the time, things were zippy for me – but geeks who compare carefully will find the occasional jerkiness, say, when moving from an app back to the home screen.
To be sure, geeks who want a "pure" Android experience will likely go for an Asus Nexus 7. Though it's got a smaller screen, it's cheaper at S$499 for a 32GB, 3G model and it will get the latest operating system updates from Google.
Perhaps because of its stylus apps, the S$788 Galaxy Note 8.0 comes with Android 4.1.2 instead of the current 4.2.2. Samsung's apps also take up space, leaving less than 10GB of the 16GB onboard. Fortunately, you can add a microSD card for movies and music.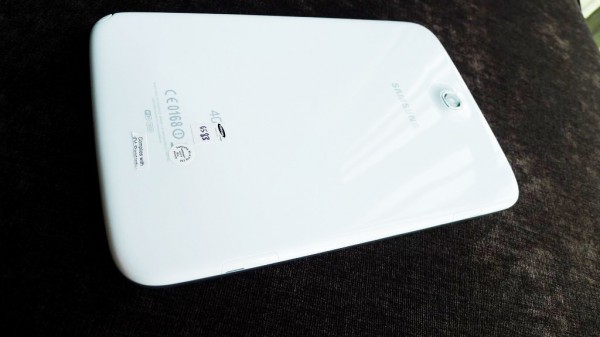 I'd recommend the Galaxy Note 8.0 for folks who are looking for a top-end "mini tablet" that's different from what's out there, namely cheap Android tablets and Apple's iPad mini, which has an operating system that looks increasingly dated despite new features unveiled recently.
The Samsung device has drawing capabilities that are unique to it, plus the 4,600mAH battery easily lasts more than a couple of days, according to my limited usage (only surfing and reading e-books, no games).
Despite some issues which may deter hardcore geeks, the Galaxy Note 8.0 has a great out-of-box experience for many users new to Android. If you can get it at a lower street price or through a contract subsidy from telecom operators, the new Samsung tablet is well worth a look.