Taiwan's yearly Computex show often brings the best PCs and mobile gadgets from major manufacturers such as Asus and Acer, and this year was no different.
From a low-cost tablet from Asus to top-end hybrids that are starting to sport sharp 2,560 x 1,440 screens, there is much to look out for as gadget fans.
Cheaper, small tablets
Since Amazon's Kindle Fire and Asus' Nexus 7 came out last year, the idea of a cheap, small tablet has taken hold like few expected. This year, the cheap is going to get cheaper, with Asus' MeMo Pad HD7 starting from just US$129 for an 8GB version.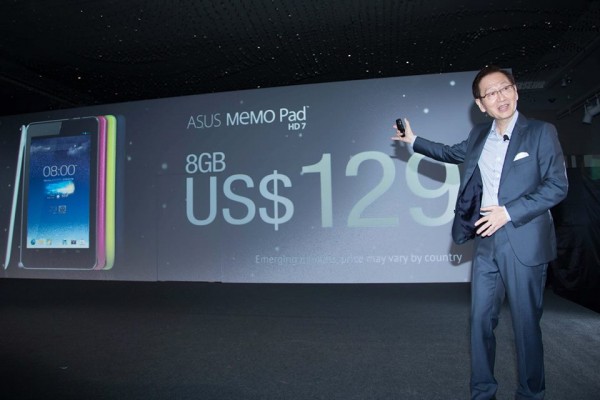 Now, this may not be as cheap as some models you'd find in Shenzhen, but this model from Asus will win over many users looking for an affordable but well-made tablet.
The new MeMo Pad HD7 also seems like an updated version of the successful Nexus 7. There is the 1,280 x 800 screen, now coupled with a quad-core Arm Cortex A7 CPU, and a microSD card slot to pop in memory cards, which the Nexus 7 did not have. No idea of when this is coming, but expect to save some money for a budget tablet this holiday season.
Android and Windows in one
Intel has been banging on about a "two-in-one" experience, with no compromise when using a device in either tablet or laptop form.
Notably, the only gadget that offers the best of that – both the access to Android apps and the power of Windows – is still a gadget that has both sets of PC and tablet hardware squeezed into one.
As its name suggests, Asus' Transformer Book Trio runs in three modes – a tablet, laptop and desktop PC. At its most basic, Asus' new gadget is an 11.6-inch Android tablet running an Intel Atom CPU. Plug it in to a keyboard dock, and it fires up a full-fledged Intel Core i7 processor, along with a hard disk that is on the dock.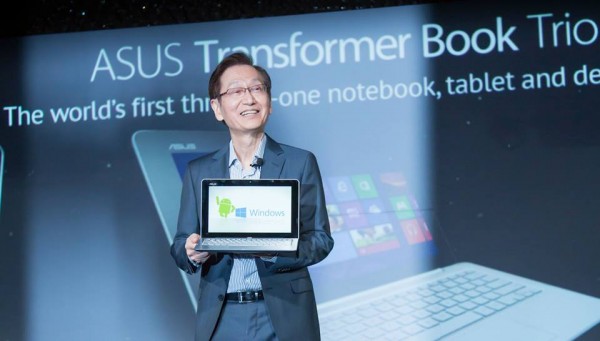 When you reach home, simply dock the Transformer Book Trio in a monitor stand, which then fires up a large display to complete the "transform" process.
Whether the Transformer Book Trio will become a hit is another issue, because people may just spend the money on three separate devices, but it surely is pointing a way to a new hybrid experience. That's using the two most popular OSes now – Android and Windows  – on one device.
High-res portable screens, finally!
It has taken a while, since Apple's Retina-enabled MacBook Pro, to get the PC world going in terms of really high-res screens. So far, Full HD or 1,920 x 1,080 is what you'd expect as an add-on for some ultrabooks.
In the coming months, this is going to be even more common, as more manufacturers push out models with sharper screens.
Previously, one reason for hesitation was the worry about battery life when pumping out more graphic detail. Now, with Intel's fourth-gen Core CPUs promising better battery life while providing more graphics performance, expect new laptops to sport Full HD screens, and even sharper ones.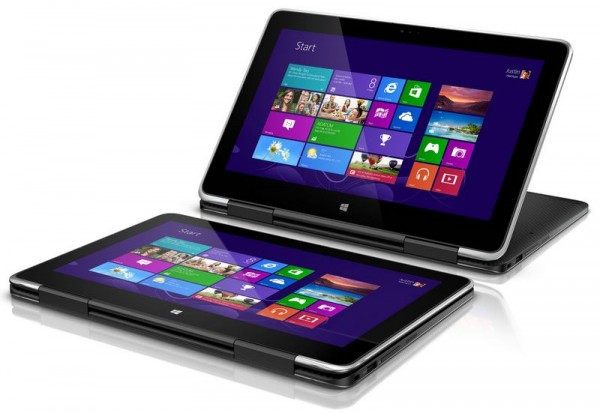 Dell's XPS11 is one hybrid device that has been catching the eye here in Taipei. The 11.6-inch screen promises a stunning 2,560 x 1,440 resolution. The higher resolution means you can see sharper images and also have more detail, such as the rows in an Excel file.
That's good news, because until now, it seems that mobile devices such as tablets and smartphones have offered such high resolutions – at Full HD and sharper – while many much larger 13-inch screens on laptops still sported lower resolutions.
Tablets get bigger, faster, while becoming smaller?
This whole business of "hybrid" devices could go in any direction. Truth is, no one can be sure how consumers will take to new computing devices in the years ahead.
What the industry seems to be doing though is expanding the size of large tablets, while having small tablets become increasingly more like large-screen smartphones.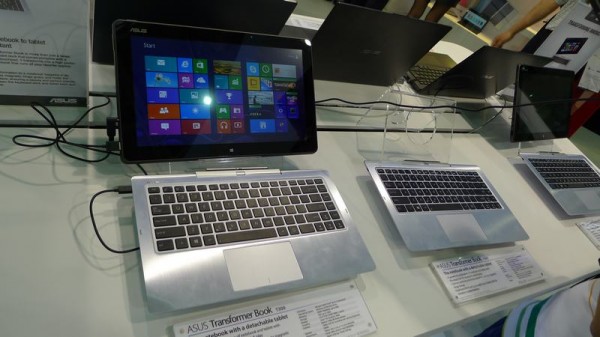 While the 10-inch size set by the first iPad still holds for many new launches, a lot of hybrid devices now feature screens of more than 11 inches. This stretches the size of a touch screen tablet a little but keeps things just slightly smaller than the popular 13-inch size for a  laptop.
The idea is that these devices will eventually become more PC-like, as users start hooking up keyboards as a standard way to add to the touch-based interface. Asus' Transformer Book T300 is one example. It's a 13.3-inch Windows-based touch-screen tablet with a detachable keyboard.
Even slimmer all-in-ones
Despite what everyone says, the desktop PC is definitely not disappearing – yet. The slimmer motherboards that support the next-gen Intel Core processors also mean that manufacturers can make their all-in-one machines even slimmer. Indeed, with nice metallic designs, they are now items to be proudly displayed at home.
If the Apple iMac is the flag bearer for this segment, then Asus surely has caught up with its impressive new 27-inch all-in-one desktop. The ET2702 sports a nice and sharp 2,560 x 1,440 screen, while also letting you interact via 10-point multi-touch.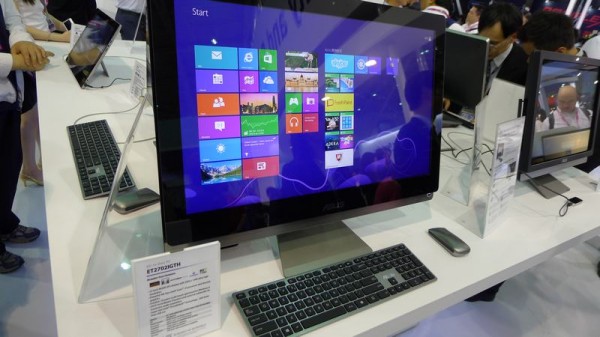 It sports a fourth-gen Core i7-4770, 16GB RAM and an AMD HD8890A graphics chip. Along with the top-end gear, there's also Thunderbolt, so you can hook up your fast external hard disks.
As a workstation or home PC, this all-in-one proves that there's life yet in the desktop PC. It helps that it looks extremely sleek, rivalling the iMac with its metallic finish.
4K comes to the fore
Another item that caught the eye at Asus' booth was its 31.5-inch monitor that features an ultra-sharp 4K (3,840×2,160) resolution. The PQ321 is not cheap though, at an estimated US$4,000, when it ships in the United States later this month.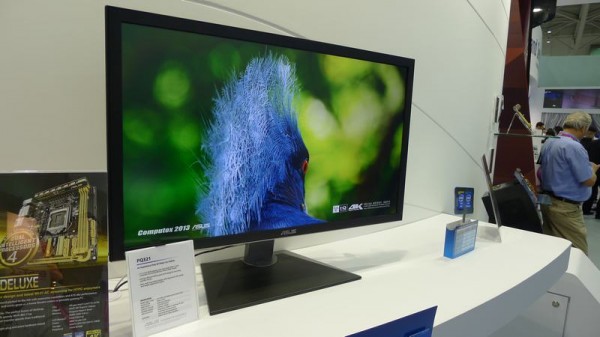 Still, this is the first time the high resolution is natively available for many folks sitting at a desk, instead of those watching a movie on a 4K TV. The monitor will come in handy for folks who value detail, like graphics designers, or crazy gamers who are willing to plonk down lots of money for a crazy-sharp Battlefield 3 experience.
Just make sure to load up on graphics cards though. You'll need the horsepower.
Smaller Windows tablets?
An interesting idea, which may not turn out to be a major trend, is small Windows tablets. Acer surprised many visitors with its 8-inch Windows 8 tablet, probably the first such mobile option.
The Iconia W3 runs an Intel Atom chip, has 2GB RAM and either 32GB or 64GB storage. The 1,280 x 800 resolution is not too bad on the small screen.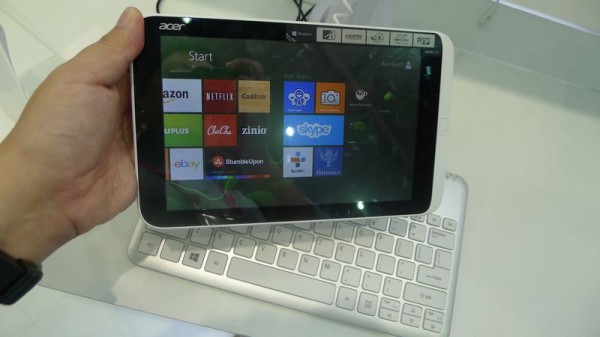 What's a little hard to see is the Windows desktop, when you fire up your traditional Windows programs, like Excel. During a quick hands-on, I can tell that the screen was too small for serious editing. Don't even think of sharing programs on the screen. It's just too small.
Which leaves you in mostly the Metro touch interface on Windows 8. Sadly, there aren't many apps here yet, compared to either an Apple iPad mini or an Android tablet.
Not just that, while the US$379 asking price isn't unreasonable for the hardware, the question is on usage. If you're using the machine mainly as a small tablet, Android tablets are getting cheaper all the time, as Asus' MeMo Pad HD7 shows.