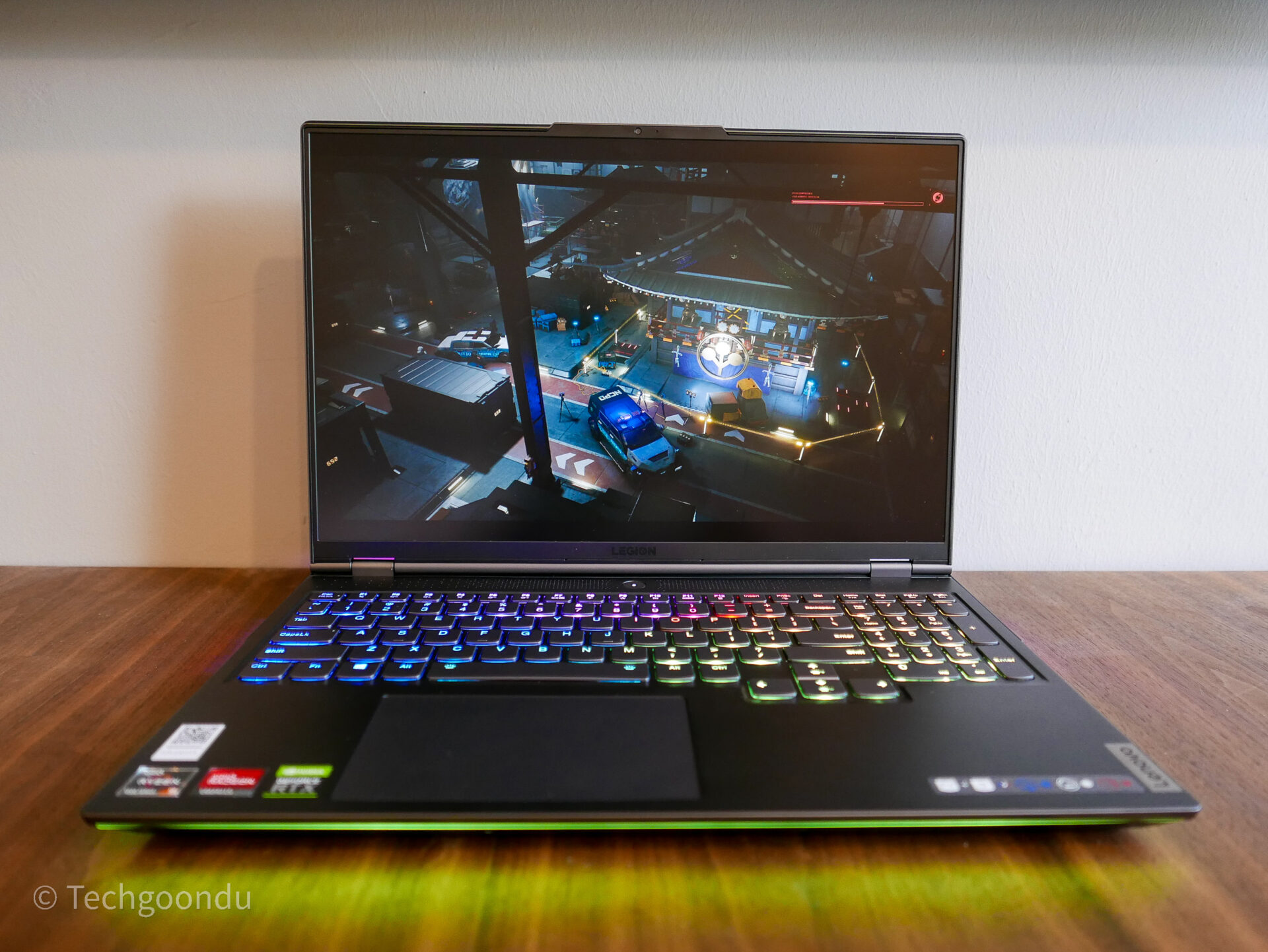 If you fancy a gaming notebook rocking the fastest processor and graphics chips plus an ample 16-inch screen, then the new Lenovo Legion 7 for 2021 is something that will catch your eye.
In terms of performance, the upgraded gaming gig from the PC maker promises to be a monster of a machine.
The review unit I had with me sported top-of-the-line hardware, including an AMD Ryzen 9 5900HX processor, 32GB of RAM, an Nvidia GeForce RTX 3080 graphics chip and a 1TB solid state drive (SSD).
In other words, the best of the best PC gaming components packed into an attractive aluminium chassis.
The 2.5kg weight means that this is not a machine you'd be carrying around every day, though it is mercifully slim (at 20.1mm) compared to some of yesteryear's chunky gaming machines.
The "storm grey" finish is contrasted with a lot of RGB lights on both the keyboard as well as the exhaust vents that bring the heat off the high-performance components.
I'm not a fan of bright colours but I understand why some gamers like the bling. And in this case, Lenovo seems to have done it in a rather tasteful manner, with diffuse lighting at the bottom, for example.
Most important here, of course, is gaming performance. I fired up Cyberpunk 2077, a game which eats a lot of PCs for fun, and found the Legion 7 standing up to the test.
The 2,560 x 1,600 (QHD) resolution on the screen is a welcome improvement over the Full HD on many other gaming machines and it also means you need more graphics horsepower.
Yet, I could still fire up the game on the maximum Ultra settings with basic ray-tracing turned on, and without the help from Nvidia's DLSS (Deep Learning Super Sampling).
In other words, the graphics chip is doing all the work on its own, and not by "filling in" any graphical content using an algorithm from Nvidia.
During my playthrough of the game's last mission, the Legion 7 mostly ran at a framerate of about 40-plus frames per second (fps), which is smooth enough for me, but below the 60fps that many users desire for truly smooth gameplay.
For that, you need to either turn off ray-tracing, a feature that dramatically enhances the visuals in the game but demands a performance hit on the PC, or turn down the resolution to Full HD.
Of course, you can also turn on Nvidia's DLSS, which gets you 40-plus fps most of the time (dropping to 30+ and hitting 50) with ray tracing set to Ultra. I'm happy with that.
In older and less demanding games, the Legion 7 makes short work of the tasks asked of it.
I fired up the trusty Destiny 2 game's opening level with graphics set to max and I got mostly about 140fps, down to 130 in some busy scenes with multiple enemies and lighting effects.
Just for comparison, I also ran a few less demanding 3DMark tests, which simulate real games to measure a PC's performance. The Legion 7 scored 38,403 in the Night Raid subtest, 23,051 in Fire Strike and 10,428 in Time Spy.
In comparison, a regular thin-and-light laptop more for everyday work, the Dynabook Portégé X30L-J, scored 13,557, 3,531 and 1,388 respectively.
Not apples to apples, I know, but this shows what you're pay for in a gaming machine, and a top-of-the-line one with the best graphics chip.
To be honest, this is performance you'd expect. Given the headroom from the Nvidia GeForce RTX 3080, you can also connect the notebook to a larger monitor at even 4K resolution, if you wish (read our Cyberpunk in 4K story).
For the record, I also ran the PCMark benchmark on the Legion 7. In a test that measures PC performance in everyday tasks like video calls and spreadsheets, the Lenovo notebook scored a high 7,117. The Portege machine, in comparison, got 4,771.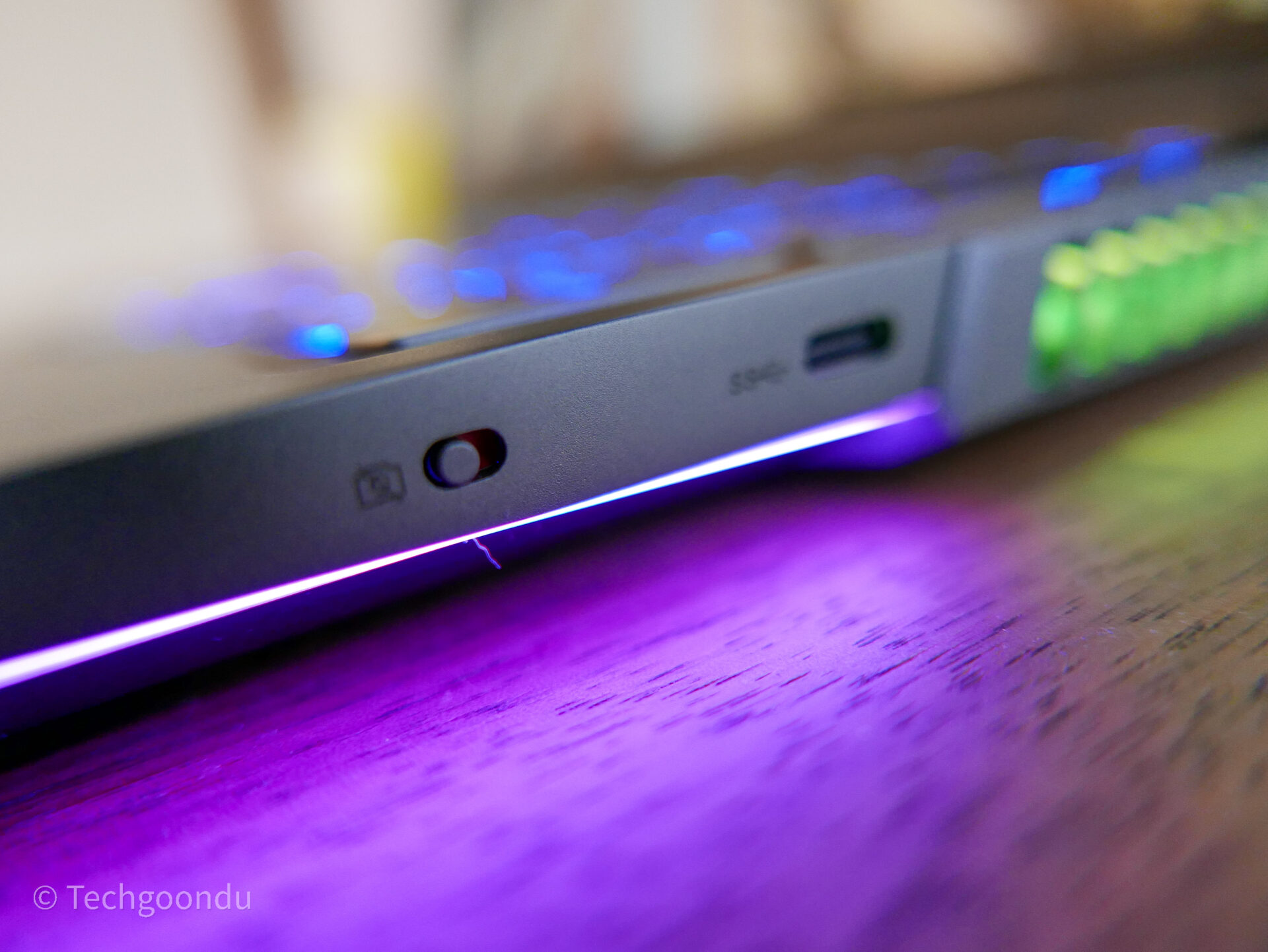 Performance is a must for this PC segment, but just as important is usability. In this regard, Lenovo has done well, too.
The 16-inch screen, as I mentioned briefly, is a joy to use. Large enough for a first-person shooter such as Cyberpunk 2077, it is also bright and sharp enough for its size.
Supporting 100 per cent sRGB colour gamut and with Vesa HR400 certification, it is great for both making and watching movies on. When not playing games, yes, you can create YouTube content here too.
I also like the sound of things on the Legion 7. The two 2-watt Harman speakers do a good job in delivering the punchy sounds and powerful slam of explosions going all around. They have a heft that's unusual for notebooks.
Of course, the downside of not using headphones is that you can hear the sound of the fans spinning in front of you when you are gaming. Not crazy-loud but they are audible.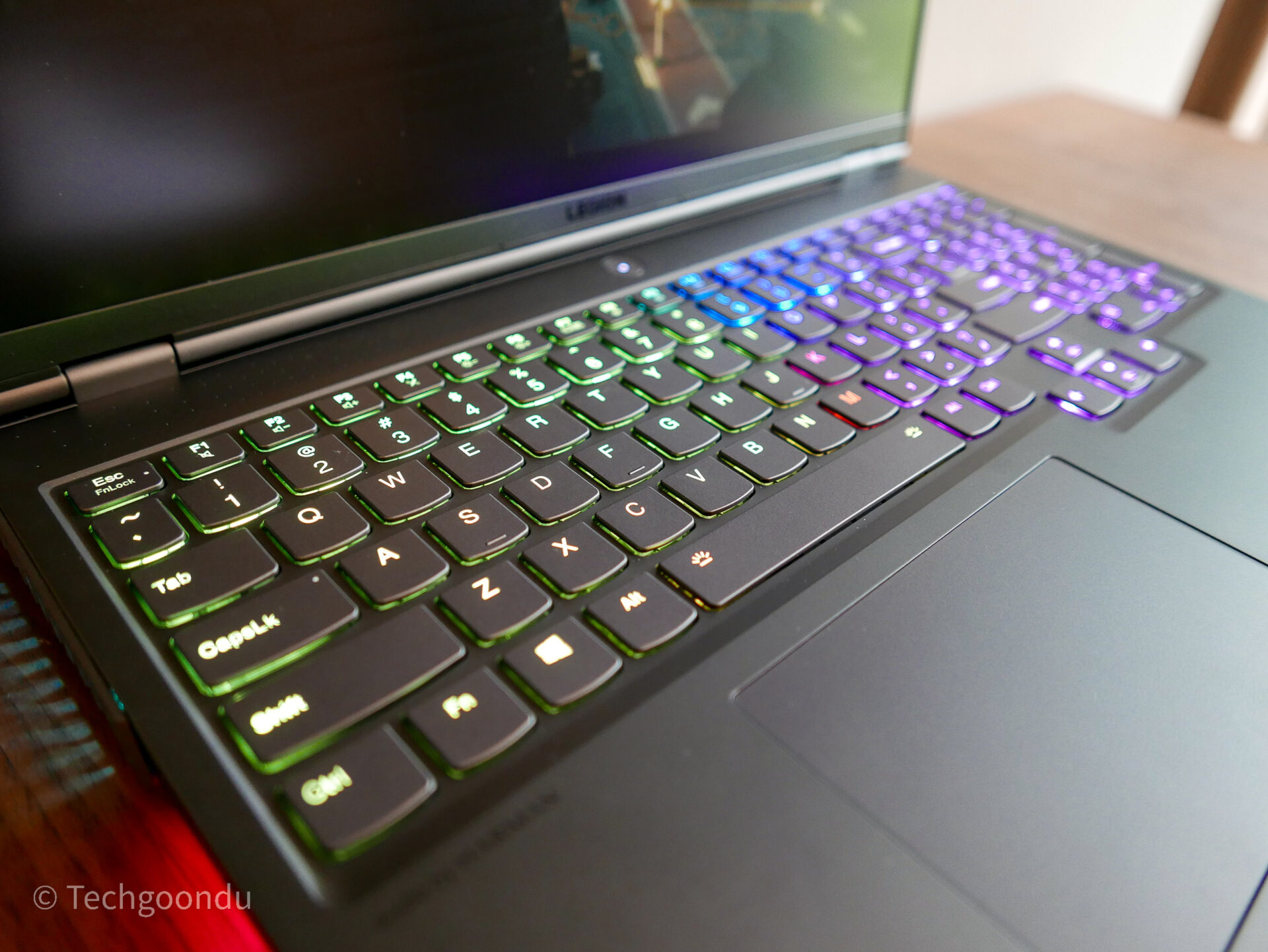 That said, there are a lot of handy features to like about the Lenovo machine, such as its keyboard.
With a key travel of 1.3mm, it offers good tactile feel for typing and is responsive in fast-paced games. Yes, size matters when it comes to a good keyboard.
There are other touches that impress as well. The electronic webcam shutter, new to this year's Legion 7 series, lets you easily protect your privacy without resorting to tape.
There are areas for improvement, to be sure. While the vapour chamber design under the chassis pulls cool air into the system to support an impressive TDP (thermal design power) or "heat load" of 195 watts, there is a slight drawback.
Okay, the keyboard area is sufficiently cool, so you don't feel the heat on your palm when resting on the notebook.
The heat, however, is not totally exhausted from the vents – during gameplay, some of it collects on the front panel below the screen. It's pretty hot to touch.
I guess the heat has to go somewhere, especially from such a tight chassis. To be fair, this is the big hitter and hot running GeForce RTX 3080 graphics chip that's inside.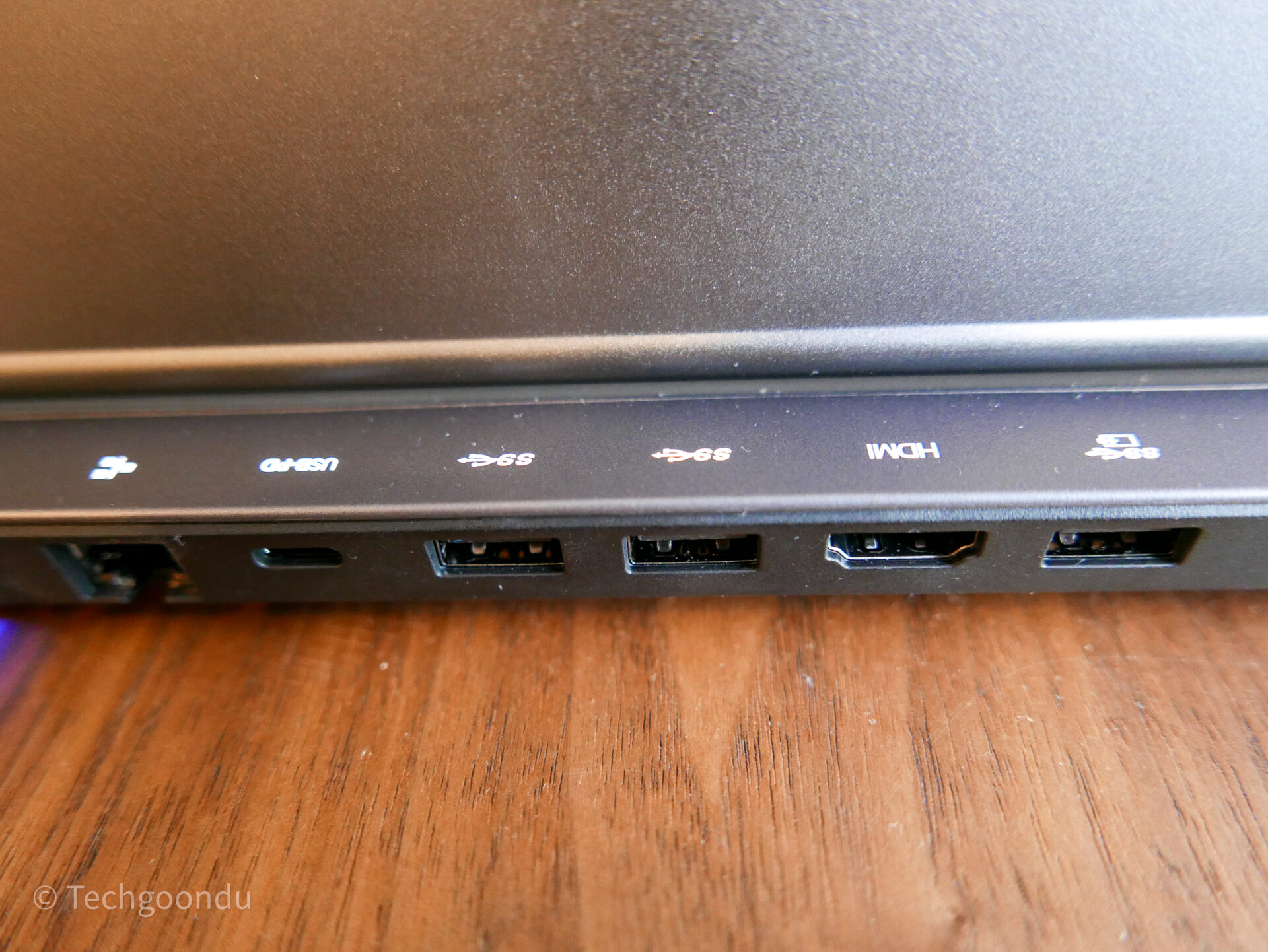 Another thing to note is that many of the ports are located at the back of the notebook.
They are great if you want to keep your messy HDMI, Ethernet and USB cables out of sight, but if you want to plug in an old USB flash drive, you have to reach behind or plug in a USB hub. On the sides, there are only smaller USB-C ports.
All said, the Legion 7 is an attractive gaming machine that will appeal to its user base. I'm not a laptop guy when it comes to gaming – a DIY desktop is usually cheaper for the same components and performance – but I can see the appeal of the Legion 7.
With a sufficiently large screen and top-notch performance, this is one gaming machine that many users will like on their desk. You can game for hours on it and be happy, as I did. It's just not cheap at S$4,199.