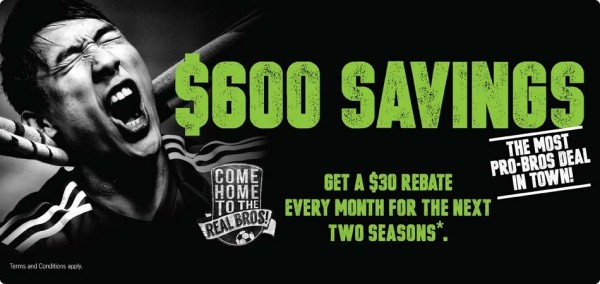 StarHub has promised to slash S$30 off the bills of cable TV customers who sign up to watch Barclays Premier League matches, upping the stakes in an unprecedented price war just a week before the football season kicks off.
The "green" operator has come back with an improved offer today, after first saying it would take S$300 off the bill last weekend. It now says its rebate will go up to S$600 over two years.
There will also be no contract tied to it, and users do not have to subscribe to a bundle that also includes broadband services.
In other words, users only have to sign up for a cable TV service from StarHub and watch the football matches carried on its channels. Those whose bills are lower than the S$30 rebate would not need to pay anything for TV but they would not carry over any credit, according to StarHub.
To watch the matches, viewers still have to pay S$59.90 to SingTel, which owns the TV rights here. Two weeks ago, it was ordered by the authorities to show the matches on both its mio TV and StarHub's cable TV channels.
The price cut from StarHub is the strongest sign yet that competition is heating up in a pay-TV market previously mired in lock-in deals that stemmed from exclusive contracts with overseas content owners, such as the Football Association Premier League (FAPL).
After StarHub released its previous round of price cuts – criticised by some as too confusing – SingTel had responded with an offer of its own. It bettered StarHub's S$300 offer with a S$480 rebate.
Now StarHub has raised the stakes again. It said today the average revenue per cable TV customer is S$52 a month, so S$30 off means it would be cutting more than half of its revenues for pay-TV for the next two years, assuming most of its subscribers would sign up to the football channels.
Don't forget that this doesn't come with any bundles with broadband or cellphone services. These viewers also pay the full S$59.90 for BPL matches to SingTel.
What's StarHub game? Viewers can only assume that it has done its sums and is out to spoil the party for its "red" rival. More importantly, its rebate means BPL can actually be cheaper to watch now than before.
This is because SingTel had raised the price from S$34.90 previously to S$59.90 – a S$25 increase. With StarHub's S$30 discount, it might be cheaper by S$5 than before to watch the matches now.
Who would have thought this cross carriage rule, pushed through by government regulators with much resistance from overseas lobby groups and challenged by the months-long saga with SingTel, might actually make things better for couch potatoes?