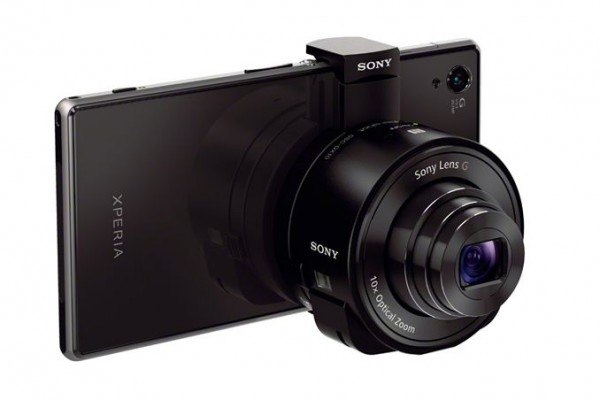 If you want better pictures than what your phone can capture, but don't want to carry a separate camera around, Sony's innovative DSC-QX10 shooter will definitely interest you.
As a smart point-and-shoot camera, it also links up wirelessly with your smartphone, so you can use it as a portable lens to improve your smartphone's image quality.
Shaped like a small can of sardines, the QX10 houses Sony's 1/2.3-inch Exmor R, 18.9-megapixel CMOS sensor as well as a Sony G 10x optical zoom lens with f3.3 as the lowest aperture at the widest focal length.
It relies on the same Sony PlayMemories app that other Wi-Fi-enabled Sony cameras use to enable any Android tablet or smartphone to control a camera's white balance, power zoom, timer, exposure value and shutter wirelessly.
Direct control is also possible, enabling the user to zoom and take shots using the lever and the shutter button on the side of the unit. However you will still need to aim your camera via your smartphone or tablet screen.
Like any wireless-enabled device, the chink in the camera's armour is basically the Wi-Fi connection. It is still acceptable for data downloading but for real time shooting, the transfer of live images from the camera to the smartphone screen will be affected as the distance between them increases.
Image lag can also be seen when there are more devices using Wi-Fi nearby, thereby degrading the wireless connection. A bad, intermittent link also contributes to shutter lag and things can be rather frustrating at times.
Why go through all the hassle? Well, images taken by the QX10 are definitely better than those shot by smartphones and tablets.
Simple interface with no Scene Modes. The interface could be better, like by having a timer button and white balance shortcut.
Handheld shot of Marina Bay Sands. Definitely better than shots from many smartphones.
A unique perspective not so easily achievable with a regular camera but is a breeze with the QX10.
A problem – there's no flash to fill in the dark areas of the subject. A button within the App to use the smartphone's flash would be a nice touch.
The QX10 can do with improvements in a few areas though. The most obvious issue is the lack of a flash light as there is not much space on the compact chassis to add a proper flash. One suggestion for Sony here – what about enabling LED flash control within the PlayMemories App itself for the camera?
The camera control app is also very rudimentary with three modes and no scene modes that one would expect to see in a consumer camera.
That said, the QX10 is probably the first of its kind now. Kudos to the engineers and designers of for thinking out of the box for this S$349 gadget and add-on that have surprised many jaded photo buffs and smartphone users.