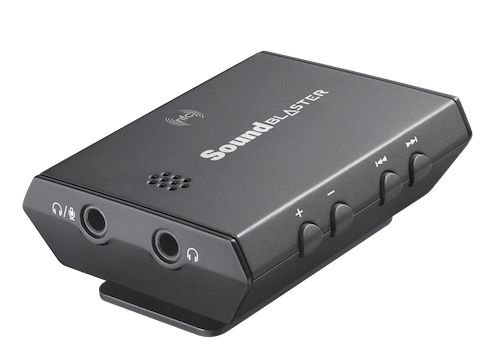 If you've always found the audio quality of your smartphone or PC a tad underwhelming, consider a portable headphone amp to boost your music listening experience by several notches.
Take Creative's Sound Blaster E3, a nifty little gadget that will make your music on your mobile devices and computers sound better, thanks to its built-in 600-ohm headphone amp and digital-to-analogue converter (DAC) that will jazz up your tunes.
The connectivity options on the E3 are ample, letting you hook up a variety of audio sources via Bluetooth, USB and an analogue stereo input. But for the E3's Texas Instruments DAC to work its magic, you need to use the USB and Bluetooth connections.
Offering a signal-to-noise ratio of 112dB, the E3's 24-bit/96kHz DAC produces smooth-sounding tunes that belies the size of the gadget, especially when listening to vocals on a laptop.
When I hooked up the E3 to an early 2011 Macbook Pro via USB, Adele's vocals on a pair of Plantronics Backbeat Pro immediately came to life. In Rolling In The Deep, her voice stood out amid the accompanying music and background vocalists, surpassing what I've been hearing from the laptop's onboard audio controller.
In more complex instrumental pieces like Chris Spheeris' Aria, I was treated to some tight bass tones, though any crowded soundstage would cause the E3 to slip up. Some tracks sounded 'messy', with the trebles seemingly less refined compared to what I've been hearing on the laptop.
The E3 only gives you 24-bit/48kHz audio while listening to music on a smartphone via Bluetooth, but the difference in audio quality, as compared to that via USB on a PC/Mac, is not a deal breaker.
Moreover, the wireless convenience offered by the E3's Bluetooth and NFC pairing capabilities more than makes up for any dip in audio quality. And that's if you have a large collection of high-resolution audio tracks to begin with.
The E3 comes with a pair of headphone jacks too, so you can let a friend or partner listen to the same tunes while on the go. You can also clip the E3 onto a shirt or bag strap, pick up calls and control music playback/volume using its dedicated controls.
While the S$169 E3 will not replace more expensive, audiophile quality headphone amps in the market, it's reasonably priced for those who are looking to upgrade the audio capabilities of their mobile devices.