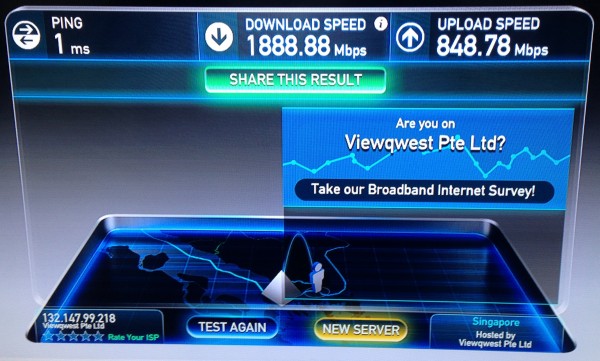 ViewQwest is offering a 2Gbps fibre broadband plan from S$89.95 a month, the fastest in Singapore and the first such service outside Japan.

The Internet service provider had run a trial from November last year with 50 customers, and decided to start making it a commercial offering today, ahead of the IT Show this weekend.
It also stopped offering 1Gbps services today and will enable its existing 1Gbps customers to upgrade to the new plan.
The new 2Gbps service comes as 1Gbps services are just beginning to be popular in Singapore, with prices falling under S$50.
What will users do with all that bandwidth? It's a question that most service providers might struggle to answer. Giving all that bandwidth, however, could open up new uses, such as sharing large files among friends and family in future.
Perhaps more appealing is the promise that users will never run out of bandwidth, certainly not for any application they would likely use at home. Whether they use all that bandwidth, of course, is another issue.
To go with its new services, ViewQwest is offering a "single network" deal for S$89.95 a month and another "multi-network" offering at S$99.95 a month.
The more expensive option gives users a maximum speed of 2Gbps on a single PC. For savvy users who like to tinker with network technology, plugging a S$600 enterprise-grade network card into a PC would let them combine essentially two 1Gbps connections to have a 2Gbps link on their machine.
That is one way to overcome the usual 1Gbps limit on even the fastest consumer-grade routers and network cards in the market today.
A cheaper way to enjoy the 2Gbps – without paying for enterprise-grade hardware – is to have the 2Gbps aggregated over various network devices at home.
This means you don't get the 2Gbps delivered in full to one single PC. However, through a couple of regular routers each supporting 1Gbps, you can still get 2Gbps for various family members at home. This is the cheaper option that ViewQwest is offering at S$89.95 a month.
Both services come with three months of the company's VPN (virtual private networking) offering, as well as its Android video streaming box and residential phone line service.