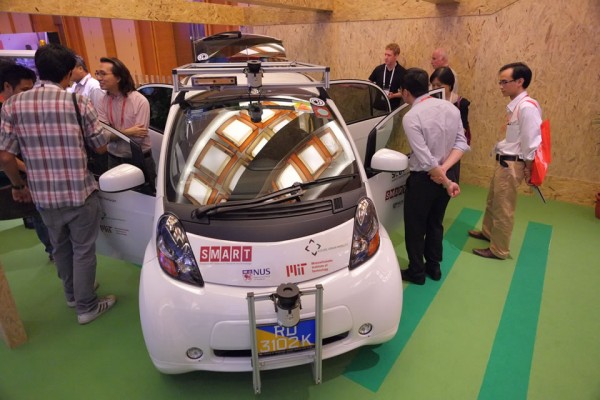 Brought to you by CommunicAsia2015
At home, in the office and on the go, an orchestra of smart devices connected to a new Internet of Things is set to radically change the way people live in Asia-Pacific.
Whether they are collaborating with colleagues, seeing a doctor or watching a movie, a newly connected world will link more people and devices faster, crunch data better to understand trends more deeply and bring richer entertainment to homes.
At its core is a new, more robust way of connecting up millions of new devices, from home automation devices to wearable fitness trackers.
The networks that are making this possible are also changing, with upgrades planned for a flood of data to flow through the Internet in the years ahead. And Asia-Pacific is not far from the action.
By 2017, the Internet of Things will be one of the fastest growing segments in the region's technology industry, according to research firm Frost & Sullivan. It is forecasting that US$59 billion will be spent on this new Internet of Things in Asia-Pacific by 2002.
While this creates immense opportunities for businesses to tap into, it also puts added pressure on businesses to innovate faster in order to keep up with the rapid adoption of all things digital, said Andrew Milroy, the senior vice president for Frost & Sullivan's ICT Practice in Asia-Pacific.
Building smart cities
One of the biggest drivers of the new connected technologies would be smart city projects, in places such as Singapore. Indeed, the city-state is embarking on perhaps the world's first smart nation rollout.
From weather sensors to smart cameras, it is seeking to provide timely information to city authorities as well as citizens to improve life in one of the world's most well-connected urban environments.
Singapore also wants to roll out a heterogeneous network, one that automatically and seamlessly hooks up users based on the best network connections available, even if they are on the go. A trial is ongoing this year.
Other new network technologies, such as the upcoming 5G that will offer near instantaneous, low-latency access to data, will also change how people interact with information in a city.
Whether this is in the realm of education, banking and finance, transportation, public safety, healthcare or retail, the possibilities with an always-on and fast link is going to revolutionalise urban living in the years ahead.
Evolving enterprises
What this also means is that governments and companies have to be in the thick of the action. With opportunity comes an urgent need to upgrade capabilities.
In the enterprise, the digital business world means a number of new technologies will be crucial to keep connected with customers and improve efficiencies internally.
With a flood of information from customers, possibly from wearables or other embedded sensors in smart devices, a company has to know how to make sense of changing trends and issues.
An example here is the smart tooth brush. Would dentists one day be able to know how frequently a patient has brushed and if he has brushed correctly, to understand his situation better before he even visits the clinic?
This calls for Big Data and business analytics to better crunch the raw information into actionable intelligence to face complex business challenges. Information is the new gold, it's been said, but the real value is in the sense that one can make from the data.
When large amounts of information, in particular, private information, is being collected, stored and transferred, one word that would keep turning up in IT leaders' minds is security.
High-profile leaks of information in corporations in the past year have focused the industry's efforts to harden their defences. In Asia-Pacific, there have been increased efforts to build up expertise as well as infrastructure, such as security operations centres, to protect against intrusions.
Changing lifestyles
These big changes on a macro scale ultimately affect the lifestyles of individuals, and it's here that some of the most compelling technologies are catching the eye of late.
From the advent of 3D printing to wearables, people are getting access to information – and producing data – at an unprecedented rate. Consider a person on a jog in the park. The distance he travels and his heart rate during the jog are but two important elements that were previously not measured.
This enables him to keep track of his fitness, as many are doing today with fitness bands and smart watches. If he shares this information voluntarily with his insurance firm to show he is in the pink of health, it could even help secure a better deal in terms of premiums.
Besides Big Data, lifestyles will be also change with better connected homes. Already, broadcasters are moving into non-linear, over-the-top (OTT) video content delivered over the Net. In the next few years, expect more to embrace such new strategies as homes become better connected with high-speed broadband.
The advent of 4K TV will also be a major change in terms of the telecom, technology and media landscape.
Bringing four times the sharpness of existing Full HD programmes, the new programmes streamed online will change the way users consume entertainment content.
In producing 4K content, upscaled production and post-production capabilities, and higher latency and bandwidth is required.
With sales of 4K enabled screens gathering momentum, much rests on the availability of a content stream and enhanced communications infrastructure to further drive 4K adoption.
Keeping up with the advent of 4K for the masses, and the infocomm revolution brought about by megatrends such as IoT, OTT and TV Everywhere, CommunicAsia2015, EntepriseIT2015 and BroadcastAsia2015, held from 2 – 5 June at Marina Bay Sands, Singapore, will be Asia's largest industry showcase of technological innovation impacting cities, enterprises and consumers.
Together the events will provide solutions for businesses to navigate the converged ecosystem of info-communications, broadcasting and digital multimedia.