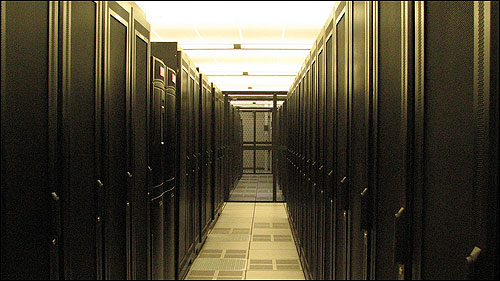 Walk into any data centre and you will find racks of servers, network switches and storage drives that power the apps and social media tools that we rely on each day.
Hooking up those systems is not always an easy task. IT managers can spend months testing and configuring additional storage or servers to cater to increased usage of an app or shopping website.
To solve the problem, the tech industry has been touting the idea of hyper convergence, where all infrastructure is virtualised and managed entirely using software.
If more computing resources are needed, a virtual machine, complete with storage and networking capabilities, can be provided on the fly without the need to tinkle with a hodgepodge of hardware components.
In an IDC whitepaper commissioned by virtualisation giant VMware, businesses in the Asia-Pacific region can avoid over US$92 billion in costs from 2014 to 2020 by using the so-called software-defined approach to managing IT resources.
Last August, VMware introduced the Evo Rail, an IT appliance that combines pre-integrated hardware and virtualisation software in a single box. Enterprise tech geeks call this hyper converged infrastructure, but think of it as a building block for creating a software-defined data centre.
The concept of converged infrastructure is not new. In 2009, Cisco, VMware and EMC formed the Virtual Computing Environment (VCE) coalition, which unveiled the Vblock, an infrastructure package comprising Cisco UCS servers and network switches, EMC's storage systems and VMware's virtualisation software.
By using appliances like the Vblock and Evo Rail, companies do not need to undertake extensive testing to integrate various data centre components, reducing the time it takes to deploy new hardware by as much as 40 per cent in some cases.
And as there are no silos of independent IT components, there's also no need to manage discrete devices or have specialised training in things like storage area networks either.
But VMware and its Evo Rail partners such as Fujitsu, Dell, EMC, HP and NetApp aren't the only ones offering hyper converged systems.
For one thing, start-ups such as Nutanix have been disrupting the market with hyper converged software and appliances that support different hypervisors including VMware's vSphere ESXi, KVM and Microsoft's Hyper-V.
While some see Evo Rail as a direct response to the competition from these start-ups, VMware chief executive officer Pat Gelsinger noted that most of Nutanix's business is based on VMware's vSphere.
He added that tech companies often work with and compete with one another, and that the hyper convergence space is no exception. "There will be some competitive and cooperative dynamics," Gelsinger said yesterday during VMware's CIO Leaders Summit in Bali, Indonesia.
To stay ahead of its rivals, VMware will continue to innovate, such as coming up with the next version of Virtual SAN and helping partners develop more services on its vCloud platform, Gelsinger said.
How the nascent hyper convergence market will play out remains unclear. Meanwhile, industry watchers such as IDC expect fierce competition and buyer demand to eventually lead to a mature market dominated by a few vendors.
Furthermore, open source–based stacks will add an additional dimension of complexity and challenges, IDC said, adding that the only survivors in this market may be vendors with robust partner ecosystems and or vendors with commercial variants of open source platforms.
Eric Sheppard, IDC's research director for storage software, said: "As businesses embark on a transformation to become data-driven entities, they will demand a data infrastructure that supports extreme scalability and flexible acquisition patterns and offer unprecedented economies of scale."
"Hyper converged systems hold the promise and the potential to assist buyers along this data-driven journey. Vendors offering hyper converged platforms with the most compelling value proposition will survive. Others will perish. This is a race to the finish."