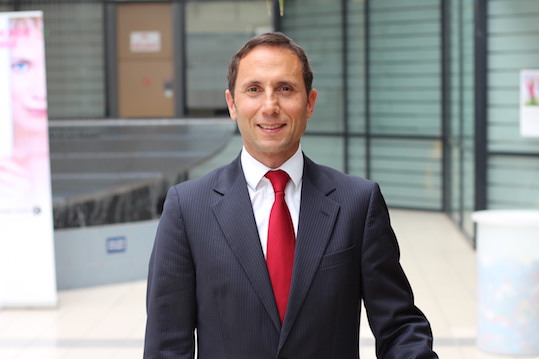 In yet another deal between a Western tech company and a Chinese firm, technology investment company China Huaxin bought an 85 per cent stake in Alcatel-Lucent Enterprise (ALE) last October.
The majority stake in ALE, a business valued at US$362 million, was seen as a boon to China Huaxin, which would be able to shore up its data-networking and unified communications capabilities. The deal was part of Alcatel-Lucent's plan to focus on its broadband and IP portfolio.
In this month's Q&A, we got hold of Matthieu Destot, ALE's vice president for Asia Pacific, to tell us more about what the deal means for customers, as well as the growth areas that the company would pursue with the financial backing of its new owner.
(Note: The responses have been edited for brevity and house style)
What's the thinking behind the sale of a majority stake to China Huaxin?
With Alcatel-Lucent concentrating its growth and R&D investment on becoming a specialist in IP networking and ultra-broadband access under The Shift Plan, the company decided to seek a partner company for ALE, eager and capable of making the needed investments.
The general market in which ALE operates is in a period of profound transformation, consolidation and even accelerating growth. The new market landscape, even more competitive due to an accelerated consolidation and new entrants, requires a size and go-to-market capacity larger than what ALE had.
A change in scale, through significant investments, is the condition to making ALE a profitable and significant player while maintaining the standards in the domain of innovation and user experience.
With this change, ALE now is better able to present ourselves as a company dedicated to the enterprise market.
Huaxin is the most favourable and sustainable partner for the business and its employees in terms of growth prospects and guarantees. We believe that Huaxin offers the right support and continuity to the current ALE strategy, along with the right investment in R&D to gain market share and expand into new market segments.
The business model Huaxin will adopt also provides guarantees on employment, continuity for business partners and customers, and enables Huaxin to build a new category. In turn, it will enable ALE to grow in Asia Pacific, especially China.
Finally, we are now in good stead as we are a debt-free company with significant investment capabilities. We are now able to channel our own earnings with greater agility into our product portfolio, leveraging our expertise in unified communications, networking and the cloud to develop new offerings.
Has there been any change in focus or tweaks made to ALE's strategies to tackle the enterprise communications and networking market since last October?
While our core mission of helping companies transform the way people communicate, harnessing capabilities offered by ever smarter devices and new use models remains the same, we now have a whole new world of opportunities. We are now better positioned to become a leaner, faster, and more focused enterprise.
What is different now is that we have greater agility and freedom to invest more in R&D and to make quicker decisions to benefit our customers. This is key to our growth strategy and go-to-market capacities in the near future.
We are co-investing in building up capabilities in certain markets. India is one such example, where our strong growth plan has gained us an additional 35 partners in the country.
We are also doing the same in markets such as the Philippines and Malaysia, and are witnessing distributors making the switch to ALE's solutions. Additionally, we have merged our services team with our sales teams, enabling a more integrated professional services support team for better customer and partner outreach.
Asia Pacific is a key growth market where demand for seamless cloud-based collaboration and broader network and communication solutions is on the rise. We look forward to empowering our customers as a leaner, faster and more focused enterprise.
With China Huaxin's financial backing, are there new growth areas that ALE may be looking into?
The transformation of the enterprise communications market requires investments, now possible with an investor fully committed to the success of our business. This new partnership will enable us to attain our ambitions: to become a significant competitor, doubling in size in the next five years, be sustainably profitable and have continued recognition as a leader in the markets we address. This is fully beneficial for us, our customers and our partners.
In Asia, we target to grow the team by 25 per cent with a focus on four key markets: South Korea, India, Australia and Singapore. We aim to achieve a top three position in those markets with more than 15 per cent market share.
There are four key verticals that we are focusing on now – hospitality, healthcare, education, and manufacturing. We aim to be in the top three and garner at least 15 per cent market share in each of these verticals within the next five years. We will accomplish this by adopting a vertical centric approach to meet the individual needs of each market.
SMBs account for between 20 to 50 per cent of GDP across the Asia-Pacific region, and dominate the corporate community in many countries. As economies advance in the region, ALE will be looking to expand and improve its offerings for the SMB sector, and to partner them in achieving business growth and success in the region.
On top of our four core markets, we are also focusing on SMB-dominant markets such as Malaysia, Indonesia and the Philippines. We recognise that pricing is a chief concern for SMBs, and are evolving to provide them with fast, flexible and customised solutions to meet their needs.
For example, we are witnessing the growth of SMBs and hospitality in Indonesia – the emerging hotels and enterprises offer ALE many opportunities for our mid-sized data centre solutions. This is also in line with the government's initiatives to provide ultra-broadband access across the country.
Some analysts have pointed out that while China Huaxin's majority ownership will increase ALE's revenue in Asia, it could limit the company's success in the US. Do you agree? Why and why not?
No, we are still doing well globally. With the exception of Vital Solutions, upon US government request, all the existing portfolios of solutions and services are transferred to the new company, thus ensuring total continuity in business operations for our business partners, and a guarantee for our customers our commitment to continued investment in innovation and research and development.
It does not impact our core products and solutions such as unified communications, next-gen comms or LAN switching products. On the contrary we are investigating how we can accelerate our innovation capabilities.
We also plan to continue to operate in all current countries and territories we are already present in. We will follow the current go-to-market models for all territories and current structure of the contractual arrangements for business partner contracts.
It is the intention to invest in improving the geographical presence and go-to-market in territories where the market is growing and our market shares are relatively low. In fact, we were recently granted approval by the US government to sell solutions to the defence sector – a testament to the strength and capabilities of our products and services.
What would you say to customers who have concerns over majority Chinese ownership of the company?
Being a "new" company does not change our core mission. We are dedicated to helping companies transform the way people communicate, harnessing capabilities offered by ever smarter devices and new use models. Even after the acquisition by Huaxin, we are still dedicated to the above objectives.
Huaxin is an industrial investor which will bring additional development capabilities, thus providing new opportunities for our partners. We continue our efforts in R&D to stay at the forefront of innovation in the enterprise communications space and will maintain the same workforce.
Our go-to-market strategy remains the same with significant geographic investments planned, and we will continue  to  invest  in  our  core  markets – communications  and  networking – while strengthening our offerings in cloud services.
With Huaxin, we are now debt-free and are better able to invest in the future. Today, we are and will continue to be a France-based entity that is number one for communications and top three for networking in Europe. We remain vested in R&D operations in France for communications technology, and the United States for networking solutions.