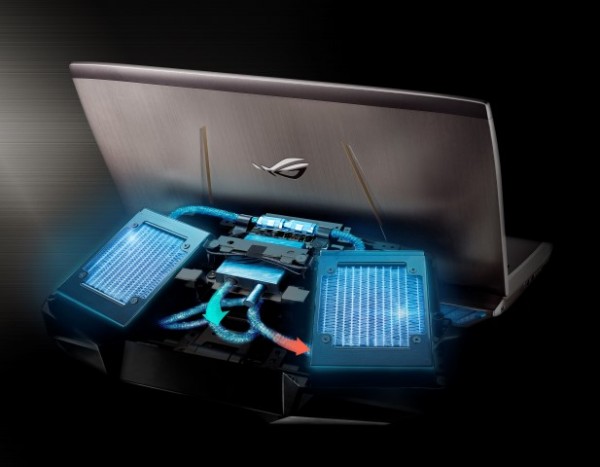 What would you do if you would like to squeeze a high performance desktop graphics card such as the Nvidia GeForce GTX 980 that comes with 8GB RAM into a laptop? You simply design a liquid cooling system to dock the laptop with.
That's the premise of the GX700, Asus' latest gaming laptop launched last week in Singapore under the Republic of Gamers or ROG banner.
What it has that other laptops don't is an Hydro Overclocking System. This watercooling system that attaches to the laptop externally allows water to flow through the whole laptop to cool the hot components much like a car's radiator before pumping the liquid back through the laptop again.
With an efficient cooling system in place, the latest Intel Core i7-6820HK Processor and the Nvidia GTX 980 graphics chip on the laptop can yield a much higher performance than that of a typical gaming machine with passive heat sinks.
Officially, Asus says that the system's processor can be overclocked by up to 48 per cent, the memory BClock could boost to around 31 per cent more and clock frequency can be pushed up to 4GHz. That's certainly not to be scoffed at.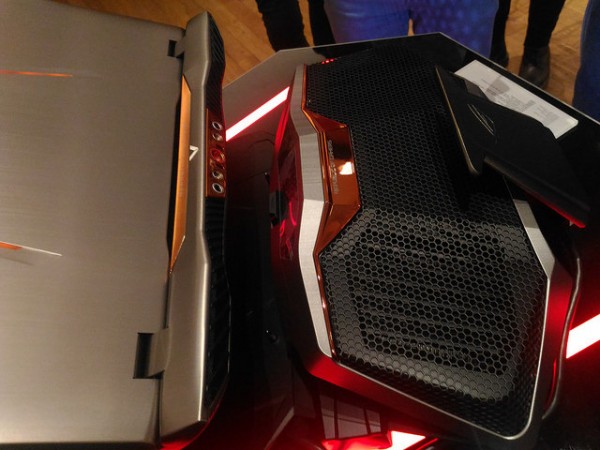 The GX700 can be undocked and the liquid from the cooling system will stay inside the laptop thanks to its specially designed connectors. The downside of this design is that the laptop doesn't come with an optical drive but other connectors are still around including one new USB 3.1 Type C port with Thunderbolt.
The laptop, measuring 429 x 309 x 35mm, is not small considering that it has a 17.5-inch Full HD (1,920 x 1,080) IPS LED-backlit display.
The laptop itself weighs in at 3.6KG even without the cooling system so using this as a typical laptop will be a back breaking exercise. You'll need a desk, for sure.
And to lug the 8.4kg system around, you get a padded luggage bag, similar to those that professional photographers and videographers use for storing and transporting their heavy equipment.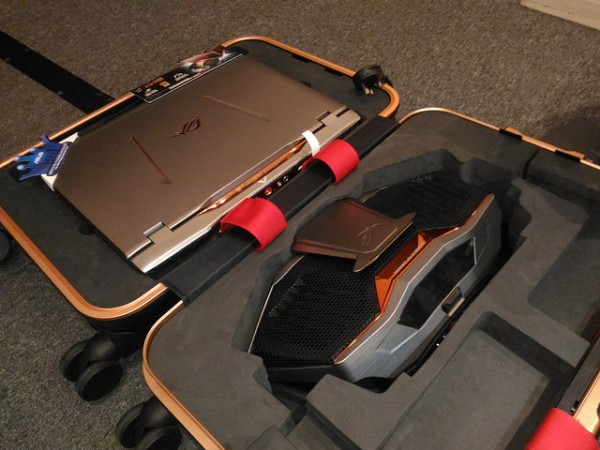 The superlatives don't stop there. Within the confines of the aluminum laptop casing are 32GB of DDR4 2400 RAM (upgradable to 64GB) and two 256GB solid state drives in RAID 0 configuration giving 512GB worth of storage with data access speed being the main consideration.
The GX700 also has four speakers emanating sound upwards from the back of the keyboard. A gaming headset should provide a much better aural experience.
One area that disappoints, despite the hefty S$6,198 price, is the screen. I would at least expect the resolution to be at Quad HD (2,560 x 1,440), something that its 17.5-inch screen and top-end graphics card would have no trouble producing beautiful visuals with.
Portable this whole system is not. So you'll ask why have all of this in a laptop configuration. Would an all-in-one desktop PC, with a similar liquid cooling system, be a better solution?
No doubt there would be gamers out there who would marvel at this technological behemoth. One thing's certain, the GX700 gives new owners bragging rights of having a watercooled laptop – a rarity.
If fragging an opponent is more important, then there are able gaming laptops out there that can do so at less than half the asking price of the GX700. Then again, if you have the skills to match Asus' over-the-top machine…