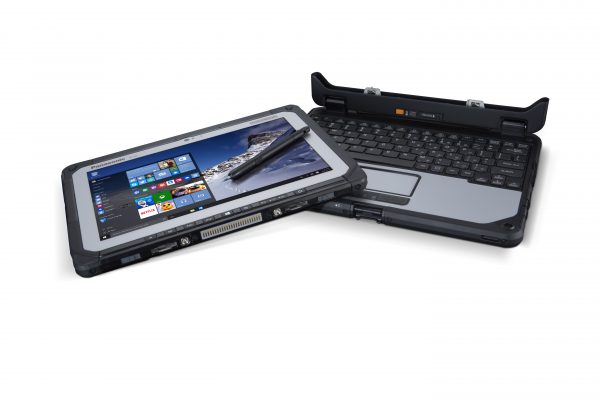 For people who constantly work on the go, a normal consumer laptop or tablet may not be durable enough to endure the challenging conditions in an outdoor environment. This is where Panasonic's Toughbook CF-20 comes into play.
The successor to the Toughbook CF-19, the CF-20 model is a detachable laptop that caters to field professionals such as engineers and military personnel.
With a ruggedised magnesium body, the CF-20 has a IP65 (which means it is water- and dust-resistant) and MIL-STD 810G (which means it can endure a variety of extreme environmental conditions) rating. It can also withstand drops of up to 120cm.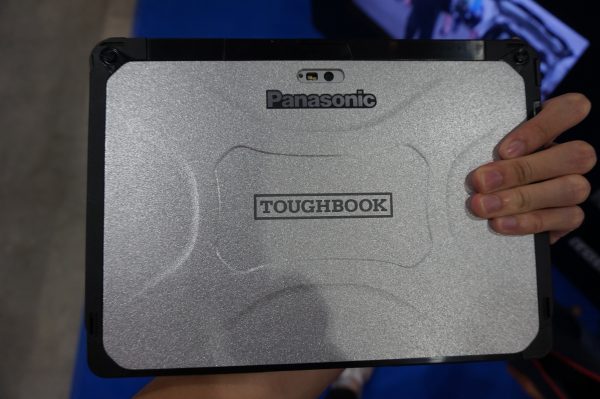 Holding it in my hand yesterday at the CommunicAsia show, I could feel the "tough" in Toughbook. The device felt extremely solid, and I suspect it could possibly survive higher drops than what Panasonic claims. However, I did not try dropping it as the CF-20 has a hefty starting price of S$5,178.
For that, you get a 256GB solid state drive (SSD) and 8GB of RAM. It comes with an Intel Core m5-6Y57 vPro processor and Windows 10 Pro installed.
It also sports a 10.1-inch LCD screen with a 1,920 x 1,200 resolution that is capable of brightness levels of up to 800cd/m2, making it very visible while outdoors.
The screen is a 10-finger multi-touchscreen that can be used even with gloves on. Above the screen is a 2-megapixel front camera, with an 8-megapixel rear camera on the other side.
The screen of the CF-20 can be detached to turn it into a tablet, or even reattached with the screen facing the other way around to make it easier to show something to another person.
Detaching the top is simple enough – you just slide the locking mechanism at the bottom of the screen and pull the screen out. To reattach it, simply insert the screen back and it will automatically lock in with a satisfying click.
The keyboard of the CF-20 is decent enough to type on. It's not great by any means, but it is more than sufficient, especially when you are using it outdoors.
What is impressive about the CF-20 is its weight. The tablet portion alone only weighs 0.95kg. With the keyboard base, it weighs 1.76kg, which is still very portable especially for such a durable device.
The bulkiness of the device makes it feel as if it were heavier than the stated weight, but not uncomfortably so. It would definitely not be an issue for people who constantly work outdoors.
The CF-20 also has a seven-hour battery life, which might not seem like much for folks who don't have a power source nearby. However, it features hot swapping capabilities, allowing you to switch out the battery for a fresh one without powering down the device, so battery life is not a major issue.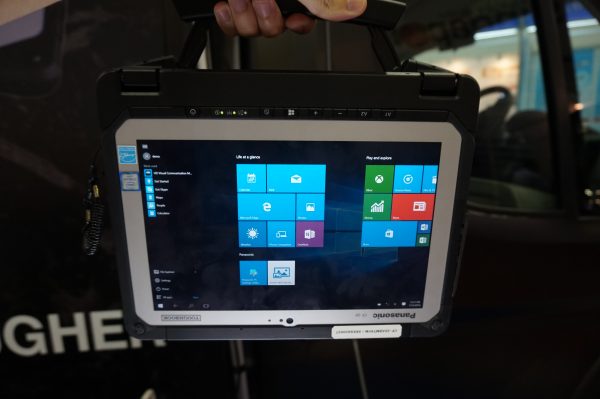 Panasonic has also built in an integrated handle to make it easier to carry the CF-20 around. The handle is flexible around the hinges, and it felt really comfortable to hold.
The most attractive aspect of the CF-20 is its customisability. Businesses can add modules to the CF-20 to make it more suitable for their needs. For example, a secondary battery can be added to the keyboard base, increasing the battery life to 14 hours. Like the primary battery, the secondary battery can also be hot swapped.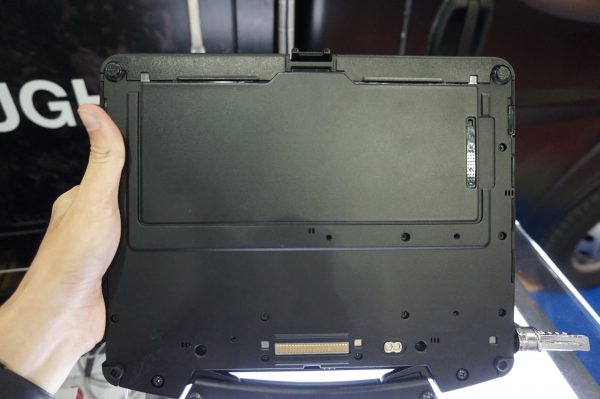 Other modules that can be added include a smartcard reader, a fingerprint reader, and NFC (near field communications). The CF-20 can also be customised to use 4G, and an IP55 digitiser can be added on as a stylus for the touchscreen. I was able to test out the stylus, and I am pleased to say that the writing experience is incredibly smooth.
The device can also be used with a vehicle mount, making it suitable for military use.
The Toughbook CF-20 is not a device for consumers. There are plenty of devices available that are far superior for the average person.
However, for businesses that involve plenty of work in outdoor environments, the CF-20 is an excellent device that can survive challenging environments.
The portability and customisability of the device also makes it extremely versatile and adaptable.
The Toughbook CF-20 is available now, and interested enterprise customers can contact Panasonic to place an order.