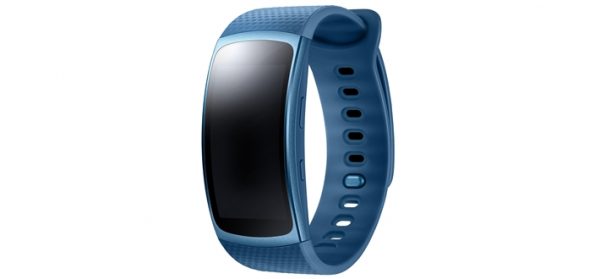 Samsung yesterday showed off the new Gear Fit2 and the Gear IconX at its Galaxy Studio consumer event in Singapore, bringing updated features to its wearable lineup here.
Compared to the original Gear Fit, the Gear Fit2 is a marked improvement, with an additional GPS and barometer sensor built into it, accompanying the heart rate monitor, accelerometer and gyrometer. Furthermore, unlike its predecessor, the Gear Fit2 has 4GB of internal memory, allowing it to be used as a standalone music player.
The Gear Fit2 is also able to receive notifications from your phone, so you do not need to keep interrupting your workout by taking out your phone all the time. It has a IP68 certification as well, meaning that it is dust and water resistant.
Samsung says that the Gear Fit2 is able to accurately track your activities without having you manually activate the band. This will help forgetful people avoid missing out on keeping record of their workouts.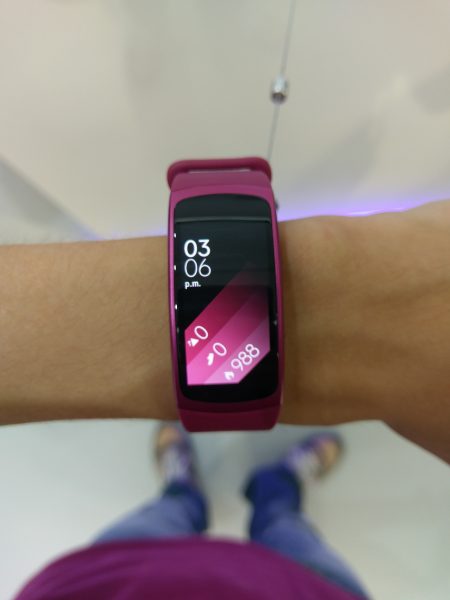 Sporting a dual-core 1GHz processor, 512MB of RAM as well as Samsung's Tizen operating system, the Gear Fit2 was easy to navigate through when I tried it out. It helps to have smooth animation and a responsive display. The straps feel comfortable enough, although it can be quite difficult to put one on with one hand.
The demo set that I tried on was a bit too big for my thin wrists. Thankfully, Samsung offers the Gear Fit2 in both small and large. The small size caters to 125mm to 170mm wrists, whereas the big size encompasses 155mm to 210mm.
According to a Samsung rep, the Gear Fit2 should give you approximately two to three days of battery life. This seems to be fairly short compared to something like the Fitbit Blaze, which offers 5 days of battery life.
The Gear Fit2 will be available in three colours: black, blue and pink. You can buy it from June 10 onwards at S$298 from local telcos, major consumer electronics stores and Samsung Experience Stores.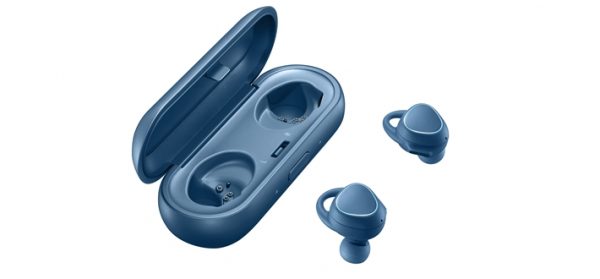 The Gear IconX is Samsung's take on Bluetooth earphones for sports. However, unlike traditional Bluetooth earphones, the Gear IconX is completely cord-free, and takes the form of two simple-looking earbuds.
With a built-in accelerometer and heart rate monitor, the Gear IconX allows users to track their fitness data, such as the amount of calories burnt and heart rate, by syncing with S Health, Samsung's fitness-tracking app. It also offers a Voice Guide feature that gives you voice feedback on your progress.
The earbuds are also splash resistant, thanks to a P2i nano coating.
What I like about the Gear IconX is its simplicity. To activate it, you simply have to insert the earbuds into your ears, and it will automatically start playing music. It can play music from your Bluetooth-connected phone, or from its own 4GB of internal memory.
To control the music playlist, the Gear IconX incorporates gestures on the back of the earbuds. A single tap starts or pauses the playlist. A double tap goes to the next song. A triple tap goes back one song. Swiping up or down adjusts the volume of the music.
While these gestures sound simple enough, they seem a bit hard to get used to. During my quick tests, I found it difficult to adjust the volume, with my attempts to swipe up or down sometimes registering as a tap. I am not sure how this would play out when actually using the earbuds while running.
With three different sizes of eartips and wingtips, the Gear IconX is rather comfortable to wear, and the earbuds can be secured quite easily.
Unfortunately, for a S$298 product, the battery life of the Gear IconX leaves much to be desired. According to a Samsung rep, the battery lasts up to three hours of usage. While most workouts will would not last that long, some activities, such as a full marathon for example, would easily last more than three hours.
This also means that the Gear IconX is not as feasible as a pair of regular earphones for everyday use, as it would need to be constantly charged.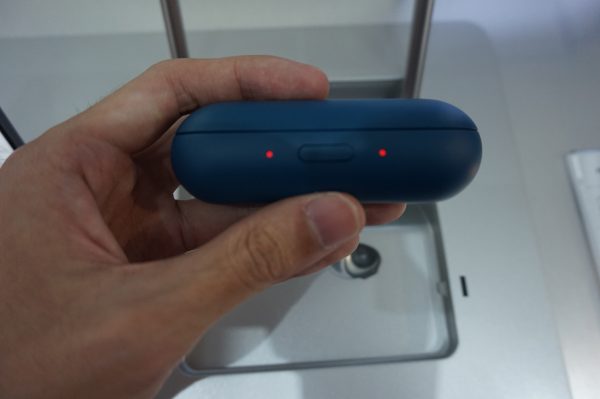 Thankfully, charging the Gear IconX is simple enough. Samsung incorporated the charging mechanism into the case that comes with the earbuds. By placing the earbuds into their respective slots and closing the case, red lights will appear on the carrier to indicate that the earbuds are being charged.
Samsung says that the charging case is able to fully charge the earbuds two times. While this does not solve the rather short battery life, at the very least it makes charging the earbuds pretty much hassle-free. Of course, you would still have to charge the case itself, which once again gives you another device to constantly worry about charging.
The Gear IconX will be available in black, blue and white from the third quarter of 2016 onwards.