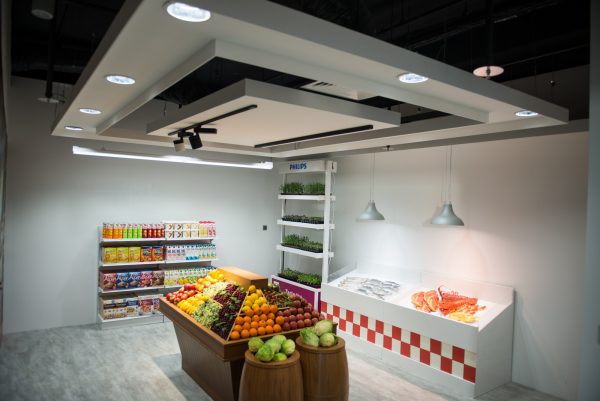 When people think of finding their way in a mall, the usual technologies involved are Bluetooth and Wi-Fi, which communicate wirelessly with beacons placed indoors to track their movement.
Now, a relatively new technology using the different frequencies emitting from a ceiling light is making its way to a mall in Singapore, allowing people to use their phones to find their way around shops.
Called visible light communications (VLC), it relies on the different frequency from each lighting fixture to identify the various locations in a mall that a user might be in.
All he has to do is switch on his phone's camera and fire up an app to look out for these lights.
He can then be guided through a mall, much like an outdoor GPS system or existing indoor mapping apps. Can't find the shoe department? The technology can help.
VLC is being tested in a CapitaLand mall in Singapore by the end of this year, in a first such trial in a mall.
Philips Lighting, the company setting up the LED lights at the mall, has run similar setups in supermarkets in Dubai and Lille, but Singapore will give it a better idea of how far the technology can go.
One big plus is that users choose when they want to be "seen" by the system by only firing up the camera and app when they need to, said Eric Rondolat, the chief executive officer of Philips Lighting.
This would be welcome by users who want the convenience of indoor guidance, but don't wish to be tracked all the time as they walk around a mall, he told reporters at the opening of a Philips Lighting facility in Singapore on Thursday.
He, however, declined to reveal the location of the trial in Singapore, only saying that the test could eventually lead to more such rollouts if it was successful.
Though the current range of lights is limited to white lighting now, in future the colour temperature can be adjusted to offer a warmer feel, with more models in the pipeline, according to Philips Lighting.
Besides indoor positioning, the company also has other smart lighting systems aimed at cutting costs and improving control for large commercial buildings.
Toll Global Logistics, which operates a six-storey, 100,000-square-metre warehouse in Tuas in Singapore, runs a Philips lighting system that uses a ZigBee wireless network for remote control and sensing. It can detect how occupied a zone in the warehouse is, for example.
The setup also relies on Power over Ethernet, a technology that uses regular Ethernet cables to transmit electricity, to power the 2,500 light points. In all, the logistics company is said to cut its carbon footprint and costs by at least 50 per cent.