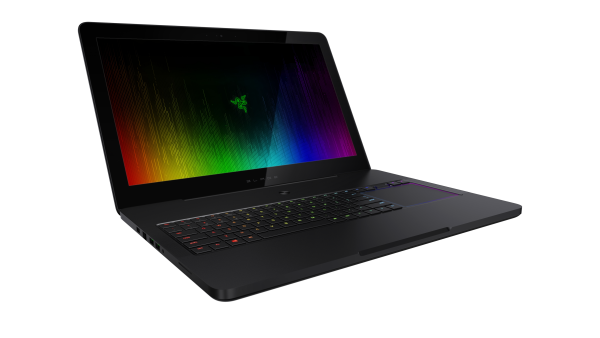 Gaming peripheral maker Razer unveiled on Friday the Blade Pro, packing desktop-class components like a quad-core Intel i7-6700HQ processor, 17.3-inch 4k resolution screen, and flagship Nvidia GTX 1080 graphics into a 3.5kg package.
The goodies do not end there, as the gaming notebook supports up to 32GB of DDR4 dual-channel memory, and can offer up to 2TB of PCI M.2-based flash storage that can be configured to run in RAID 0.
It even features high-speed Thunderbolt 3 connectivity, three USB 3.0 ports, and an SD card reader. In other words, what you'd pop into a build of a top-end gaming desktop today.
Razer claims the Blade Pro's 0.88-inch, unibody CNC aluminium chassis is nearly an inch thinner and a kilogram lighter than competing products offering the same specifications.
The Blade Pro features a vapour chamber for cooling. It is basically a vacuum-sealed metal chamber that contains a liquid. The liquid changes into gas when heat is applied on one end of the chamber.
The heated gas will then flow to the cooler end of the chamber, where it will condense and flow back to the warmer source before repeating the cycle.
Razer says it has paired the vapour chamber with a custom fan and heat exchanger, in order to ensure the Blade Pro stays cool despite the small frame.
The keyboard also uses Razer's own ultra-low-profile mechanical switches, which aims to mimic the feel of full-size mechanical keyboards with its actual actuation and reset points.
The specifications on the Blade Pro also exceed minimum hardware requirements for HTC Vive, Oculus Rift and OSVR HDK 2, which would be helpful for mobile virtual-reality gaming.
All-in-all, the top-of-the-line component choices on the Razer Blade Pro mean its performance should not disappoint.
The small frame does limit its potential for expansion, however, which can be troubling since even the best parts today will have a replacement by next year.
It makes more senses for frequent attendees of LAN parties who expect to lug their gear along, or if you truly have no space for a desktop gaming setup at home.
Units are expected to ship this November from Razerzone.com and select retailers starting at US$3,699.