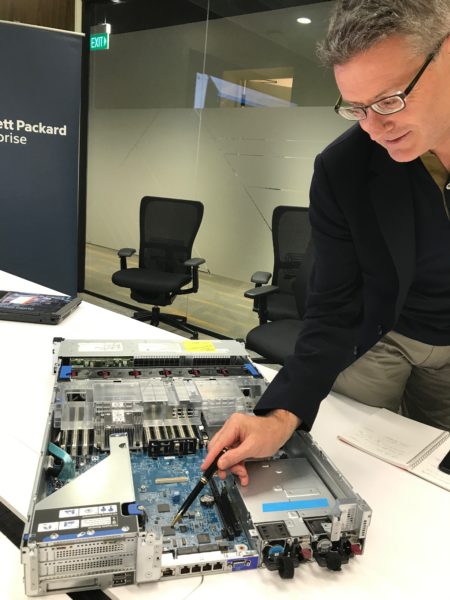 Hewlett Packard Enterprise (HPE) launched its Cloud28+ initiative in Asia-Pacific, in a bid to enable businesses to easily identify and implement hybrid cloud services.
Cloud 28+ has 20,000 cloud services offered by over 570 cloud partners. The wide range of services available is aimed at large companies and small- and medium-sized businesses looking to move to a cloud platform while complying with local regulations.
Pradeep Khemani, HPE director service providers for Asia-Pacific and Japan, said the wide selection offers choice, freeing customers from having to search for the services they need.
Ultimately, Cloud28+ is a one-stop shop to ensure that customers find access to cloud services as simple and convenient as possible. While Cloud 28+ is free, HPE will be able to "monetise" it when it sells equipment for the businesses to roll out cloud services.
Khemani explained that businesses thinking about cloud services have a few things to consider. Among them are data sovereignty and residency to comply with regulations as well as security and latency requirements. From among the pool of cloud providers, businesses will be able to find what they need.
Cloud 28+ is currently available in English, Korean and Japanese. The largest cloud services portal, it began three years ago in Europe and the Middle East and is now being expanded globally.
About 40 cloud providers in the Asia-Pacific and Japan region are part of this platform. HPE is in discussions with about four to five cloud providers in Singapore to join this initiative.
"For our partners, Cloud28+ drives down costs, increasing their business opportunities. It will create new leads, building new business alliances and offerings. Overall, it will expand their market visibility," said Khemani in a press briefing last week.
Providers include systems integrators, cloud distributors, and independent software vendors, all committed to boosting enterprise cloud services in Asia-Pacific and Japan.
Last week, HPE also announced its next-generation ProLiant server called the Gen10. It is taking a different direction in server development by building silicon-based security into its industry standard services.
Building the security directly into the silicon provides a higher level of security yet while also granting the ability to recover the essential server firmware automatically.
HPE's technology creates a fingerprint in the silicon. If the firmware does not match the fingerprint, the server will not boot up and thus not fall to a cyber attack.
HPE has control over both the silicon chips and the firmware, making it currently the only vendor that can provide this level of security, said a media release from the company.
Grace Chng is a veteran tech writer.