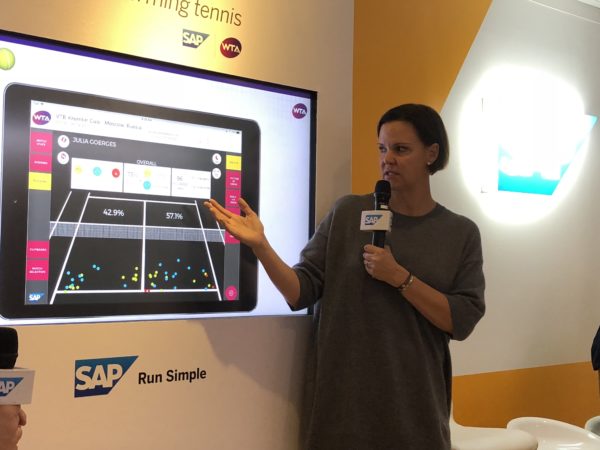 Sports journalists often face one common frustration – they cannot get historical and live data for important matches, which would add much-needed context and colour to a story.
How many matches, for example, have been played between top players like Venus Williams and Simona Halep? How many aces did Williams fire into the court in matches between them?
Software giant SAP and the Women's Tennis Association (WTA) now want to eliminate this problem by making such statistics available to sports journalists.
At the WTA Finals now playing at the Indoor Stadium, they launched a new online portal, SAP Tennis Analytics, that will provide data and insights to the media in real-time during the WTA tournaments.
SAP and WTA have been working with local sports media to fine-tune the portal and the software before making it available globally from the 2018 tennis season on a number of devices.
The portal runs SAP Leonardo Machine Learning capabilities and SAP Predictive Analytics software to provide deeper analysis and insights based on historical and live data. Sports journalists can access the data through tablets, mobile phones or PCs.
SAP's head of tennis technology, Jenni Lewis, said the portal includes instant side-by-side player, tournament and career comparisons during live matches.
There is also an "alerts" feature that highlights outliers in benchmarked player data and gives sports journalists access to statistical data.
"The real-time nature of insights has the ability to help media create richer content," she said at a media briefing to announce the new portal earlier this week.
With machine learning, the software can suggest to the journalist interesting things she could be writing about, she explained.
It provides greater granularity, allowing the journalist to provide more colour, such as how players deal with playing with the sun in their eyes or in higher altitude, she added.
"We're not replacing the journalists but providing more information so that they write better stories," she stressed.
This portal will be useful to tennis bloggers, commentators and journalists alike. It would reinforce what they see during a match, allowing them to provide better description of matches, said former world number one player, Lindsay Davenport, who was present at the media briefing.
She had also been a tennis TV commentator for TV broadcast networks before switching over to coaching.
Data for the software is a combination of the historical data which is already in the system. Real-time data is collected from the Hawk-eye computer system which uses several on-court cameras to track the trajectory of balls.
It is this system which is used to verify the accuracy of whether a ball is called in or out by the line judges.
SAP Tennis Analytics is an extension of a similar software available for coaches. It has already been in use for several years, providing playing patterns and statistics which coaches – and players – can use to improve game play.
SAP also provides data and analytics for other sports such as basketball and ice hockey.
Davenport uses this software when coaching up-and-coming American tennis player Madison Keys. "She trusts me when I tell her about her playing pattern. But with the stats on my tablet, the analysis becomes clearer."