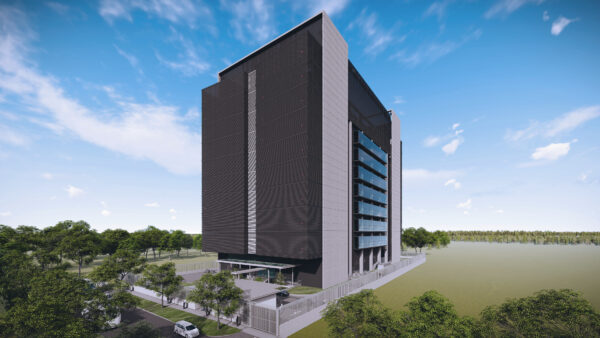 Equinix has just unveiled SG5, its fifth data centre in Singapore, to meet the growing demand for cloud services as enterprises pursue their digital transformation journey.
The nine-storey facility at the Tanjong Kling data centre park, built with an initial investment of US$144 million, will strengthen Equinix's cross-island presence and location diversity, said Equinix South Asia managing director Leong Yee May,.
SG5, with about 18,400 sq ft of co-location space, is expected to open in the first half of next year and provide a capacity of 1,300 cabinets.
This new data centre will open in phases. When completed, it will have a total co-location space of nearly 129,000 sq ft and a capacity for about 5,000 cabinets.
In an interview with Techgoondu, Leong pointed to the spike in cloud computing and services as a result of Covid-19. Traditional businesses including those in the region are going digital as the pandemic accelerates digital transformation in Asia-Pacific.
As a digital infrastructure company, Equinix aims to interconnect organisations from centralised locations to distributed edge locations and support businesses and interactions that occur real-time from anywhere and at any time.
The rapid adoption of digital transformation has contributed to an explosion of the global installed interconnection bandwidth which is expected to reach over 16,300 Tbps by 2023.
This will drive about 64 zettabytes of data exchange, which is enough bandwidth for every one of the 7.8 billion people to transmit their full DNA sequence in an hour.
With organisations consuming more data, Leong said businesses are using Equinix services in analytics and AI to gain insights, to be more predictive to offer better customer experience.
Like its other data centres here, SG5 will adopt green features for efficient energy use. These include motion-activated LED lights, automated control and regulation of motors, as well as hot aisle containment.
Recycled NEWater will also be used for cooling purposes, which is an energy-saving process that is aligned with the Singapore government's green initiatives.
Sandra Ng, a group vice president at IDC Asia/Pacific, said that in the "next normal", Equinix is well-placed to harness the opportunities arising from businesses' efforts to build up their IT infrastructure to support resilient operations and good customer experience.
"Equinix's investment in Singapore will further strengthen the country's digital infrastructure to support its Smart Nation journey as well as enterprise digitalisation and resiliency," added Ng.
The pandemic did cause construction of the new data centre to halt temporarily. However, work re-started around early September and the opening changed to next year.
SG5 will be directly linked to the four other Equinix data centres here via low-latency dark fibre links. Customers will be able to connect via Equinix's interconnection platform, to other cloud services including AWS, Google Cloud and Microsoft Azure.
Globally, Equinix has more than 220 data centres across 63 cities, offering services to over 9,500 leading businesses.
In Asia-Pacific, it has 46 data centres in key cities across Australia, China, Hong Kong, Korea, Japan and Singapore. Equinix also recently announced its plan to open more data centres in Osaka and in Perth.