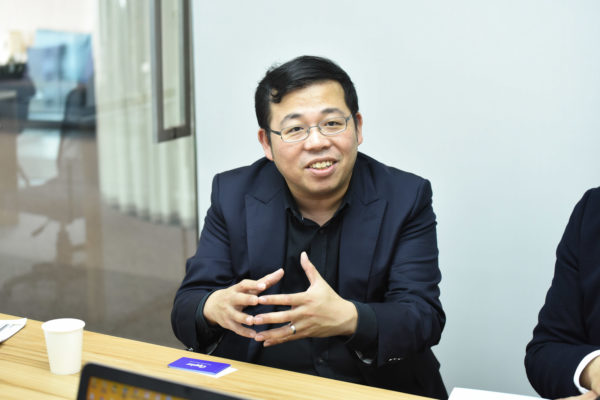 In the 2000s, computer scientist and AI specialist Yu Chih-Han was in the United States developing self-adapting robotics systems to help polio patients walk correctly.
However, he realised that it would be 20 years before he could make the robot function like a person. He switched focus, deciding to use AI to solve  business problems.
"I want my work to have an impact. But it will take a long time to build a robot that could be more human-like. So I started Appier," said Yu at a media and analyst conference the company held in Taipei last week.
Together with two co-founders, he started a company in his small apartment in Boston. They were Yu's wife, Winnie Lee, and fellow Taiwanese and AI specialist Joe Su.
That was in 2012. Today, the company counts among its customers 1,000 global brands including Carrefour, Paktor, Minute Maid, Tokopedia, Audi, Estee Lauder and Taj Hotels and Resorts.
Fortune magazine listed Appier in 2017 among the top 50 AI companies in the world for making it easy for businesses to use AI to grow and succeed in a cross screen era for example, browsing on a mobile phone and then buying the product on a desktop.
Last month, Appier was named an IDC Innovator in Data-as-a-Service Provider (DaaS) in Asia-Pacific for developing AI to help organisations identify what audiences to target, at what time of day and on what screen.
Yu said AI is now driving business transformation in the large tech companies like Apple, Alphabet and Amazon. Every company today needs an AI strategy.
Globally, image classification, speech recognition and deep learning and machine learning are the key cutting-edge AI applications today, driving growth at a compound annual growth rate of 50.51 per cent.
Appier's products aim to use AI to help organisations understand user behavior and how it impacts their business. They are used in a wide variety of applications including advertising marketing, business analytics and prediction.
Not all of Appier's work is in revenue generating products. It is also involved in scientific quests, looking to answer big problems like can AI be as creative as a human.
In a demo Yu showed, an AI system learns about creativity in fashion. It reviews hundreds of thousands of items on fashion websites, learns about pairing shirts and trousers, blouses and jackets, shoes and handbags and others.
Then it designs items for a user. From the demo, the AI created designs look like they have been done by a person.
Lest people worry that AI will take away jobs, Yu hastened to say that "creative AI will help designers in their day-to-day work". His proviso: Expect this to happen sooner rather than later."
Last week, Appier announced that it had integrated its AI-powered data intelligence solution called Axion into messaging platform Line.
The integration allows business organisations using Line Business Connect, a service for corporate clients, to generate insights on usage trend and user behavior so that real-time cross-platform marketing activities can be undertaken.
Appier also released last week its 2017 Digital Consumer Behavior Report, which is based on the analysis of over five trillion data points generated from Appier-run marketing campaigns across Asia last year.
A key finding should influence the way brands market their products: society is now in the age of multi-device ownership, with four or more devices per user as the dominant profile. The more devices a consumer owns, the more his time is split between the devices.
The company has 250 employees mostly AI scientists and engineers in the US and Asia including Singapore and Japan. Among its investors are Sequoia Capital, Softbank Group and EDBI who have  invested a total of about US$82 million
On the sidelines of the media conference, Yu met with the Singapore media, answering questions on the impact of AI on jobs, his vision for the company, talent and research. His responses have been edited for brevity and clarity.
Q: Will AI take over jobs from humans?
A: The AI revolution is progressing but it is not rapid enough to takeover jobs yet. For sure AI will affect how people work but it can't replace jobs that require human touch and emotion. All jobs will need to evolve, even AI scientists have to evolve the way they think because there are now great software that mimics how AI scientists think.
Q: There is a global shortage of AI specialists. How do you find the talent?
A: We've some advantage, we know people globally as we are one of the AI thought leaders, we find it easier to attract people. We've also published over 300 papers in top tier journals, conferences and workshops, so people in the AI community know us.
Q: How does the company balance between scientific research and product development?
A: We spend time looking at the science because it allows us to imagine. That's important. But really, these two areas co-exist. When you look at new products, there maybe areas that need solving, so we then look at the science and try to solve the problems. That way we achieve scientific breakthroughs which can be applied to new product developments.
Q: What's the vision and long term plans for the company?
A: In 10 years, we want to be the leader in AI for the commerce sector. Our focus is to address important problems and solve them well. I can't think of doing anything else. There's no better thing than building a company and pursuing my interest. Besides I would love to continue working.
CORRECTION at 18/4/2018 11:30am: The original story wrongly identified the founders of Appier. This has been corrected in the current version. We are sorry for the errors.