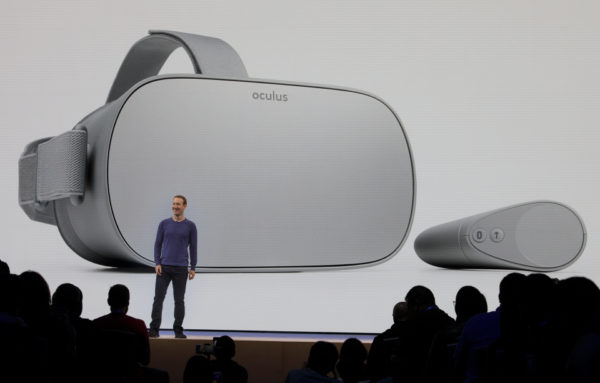 Buoyed by Chinese demand and a surge in virtual (VR) and augmented reality (AR) gaming, the amount spent on the two technologies in Asia Pacific (excluding Japan) is set to balloon from US$4.6 billion in 2017 to US$11.1 billion this year, according to IDC.
The research firm sees China accounting for 91.3 per cent of overall AR and VR expenditure in the region. It predicts this figure to rise further, with a mean annual growth of 70.5 per cent from 2017 to 2022. 
Overall, AR and VR investment in Asia Pacific is slated to grow 68.5 per cent yearly from 2017 to 2022.
Consumer demand will propel 51.3 per cent of total spending in Asia Pacific in 2018. This is helped by strong demand for VR gaming, which accounts for almost 40 per cent of total expenditure.
Hardware innovation is driving demand for VR, as new headsets support VR by themselves and remove the need for consumers to spend more on extra hardware.
New standalone VR headsets such as Oculus Go from Facebook and Mirage Solo from Lenovo are expected to drive adoption as well as content spending in 2018 and beyond, said Avinav Trigunait, a director at IDC Asia Pacific.
These headsets eradicate the need for pairing with PCs or consoles that used to drive costs higher for AR/VR experiences, he explained.
For AR, consumers will spend more on services in 2018, as new software development kit platforms by Google and Apple should spur new games and applications made for their ecosystems.
Overall, AR games are projected to register a mean annual growth of 90.9 per cent between 2017 and 2022. VR games will see 54.7 per cent growth in the same time period.
On the other hand, enterprise spending accounts for about 48 per cent of total spending in 2018 but it is predicted to surpass consumer expenditure and rise to 58 per cent by 2022.
This is attributed to the growing use of AR and VR across the manufacturing, services, and public sectors in Asia Pacific in 2018 and the coming years.
The distribution and services sector will lead the way in 2018 with US$2 billion to be spent. Most of this will go into training and retail showcases, with about US$329 million of projected spending.
For the public sector, AR and VR will see most use in infrastructure maintenance and government training in 2018.
The manufacturing and resources sector will spend US$1.7 billion in 2018, with AR and VR most heavily used in training, industrial maintenance, and project management.
"Many enterprises in the region have already developed solutions utilizing AR and VR such as for design and visualization, corporate training, field maintenance and customer experience and marketing applications," added Trigunait.
AR and VR spending in Asia Pacific should continue growing as businesses digitise. The education industry will spend the most between 2019 and 2022, while retail, manufacturing, and healthcare were also marked as key engines for future VR and AR growth in the region, according to IDC.
Swati Chaturvedi, an analyst at IDC, said: "AR/VR technologies are quickly crossing the chasm with several real-world applications emerging every day in both enterprise and consumer segments."