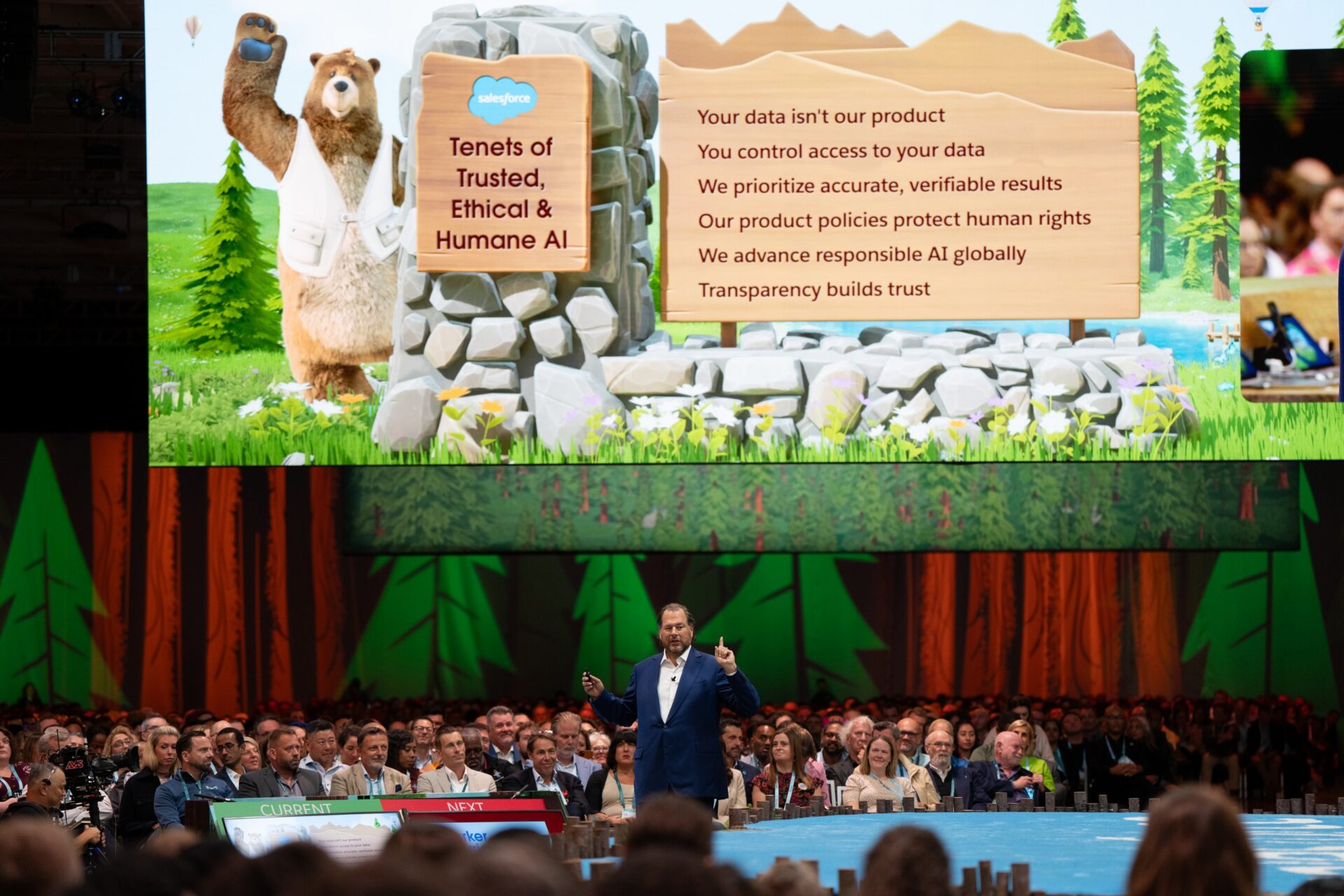 Generative AI is exciting and will change anything and everything, but there needs to be a "trust revolution" to close the "trust gap", said Marc Benioff, the chief executive officer of Salesforce, at the company's customer and partner event in the United States this week.
"Somehow, there might not have been as much trust built into these technologies, as you might have expected," he said. He gave the example of Large Language Models (LLMs) that are trained with data trawled from the Internet, with the way the data is being used raising ethical considerations.
According to Michael Costigan, vice-president for Salesforce Futures at Salesforce, generative AI has empowered organisations and "elevated the way they manage [customer] relationships."
"Instead of just targeting customers with transactional messages and requests… they're going have to think about how they can build trust, personalise and adapt over time," he added. "And if they don't, they'll find themselves outside the trust boundary."
A recent study by research firm IDC of 500 respondents, of which 130 are from Asia-Pacific, found that data trust and bias are some of the challenges to AI adoption.
The biggest barriers identified are: the talent gap with a lack of skilled personnel like data engineers and AI modelers (35 per cent of respondents), data governance and risk management (34 per cent), cost (34 per cent), and trustworthiness and bias in data (31 per cent).
The study also identified the factors driving adoption of AI is led by improving productivity. This included helping employees do their jobs better (45 per cent) and reducing repetitive tasks (42 per cent).
Salesforce says it has focused on pursuing a responsible approach to AI innovations. At Dreamforce, Salesforce announced new innovations to Einstein, its proprietary AI technology, and Data Cloud, its real-time hyperscale data engine.
The company's Einstein Trust Layer is a privacy-focused, zero retention architecture that allows customers to use generative AI while keeping their enterprise data secure and adhering to compliance regulations.
Einstein Copilot, a conversational AI assistant, is now built to every Salesforce CRM application and customer experience. The Einstein Copilot Studio allows companies to customise Einstein Copilot with specific prompts, skills and AI models.
Responsible AI is becoming a significant topic in India, with a data privacy bill passed recently. Data-driven analytics and AI used to enhance customer experience and customer service through CRM (customer relationship management), now have to comply with it.
"It's an exciting confluence of consumer protection, customer experience, and all of that coming together with data analytics and technology to provide newer, better and faster experiences for our customers," said Milind Nagnur, the chief technology officer of Kotak Mahindra Bank, who was at Dreamforce.
AI also helps to make informed, data-driven decisions. These enable valuable insights into passenger preferences and trends, said Mac Munsayac, the vice-president and head of customer experience at Philippine Airlines.
"[AI] helps us better understand our passengers' needs and come up with products that actually meet their needs," he added. "That can allow us to make quick decisions, be agile about our strategies, and ensure that we maintain that competitive advantage."