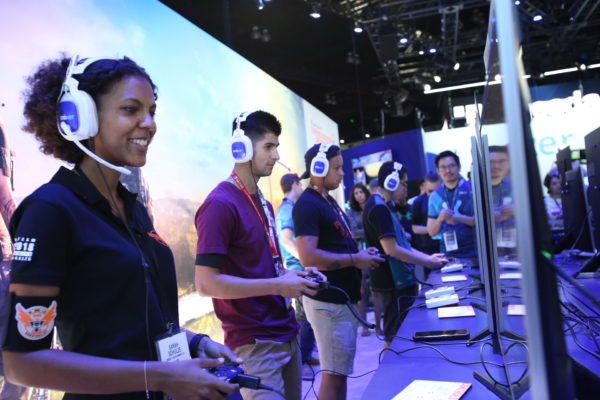 Another year, another game fest at this year's Electronic Entertainment Expo (E3). Yet the latest edition, held from June 12 to 14 in Los Angeles, is pretty thin on hardware news and virtual reality (VR) titles.
The biggest announcements that took centrestage came from the games themselves. From big franchises to sequels and expansions for familiar worlds to indie titles, there are plenty of exciting titles on all platforms and genres to please gamers.
One thing I am happy to see in this E3 is that there are more female protagonists in the new game lineup. For one, we can finally we can choose to play as a female character in an Assassin's Creed Odyssey.
Also, Gears (of War) 5 will feature Kait as the protagonist, while a grown up Ellie will be the protagonist in The Last of Us Part II. Even Battlefield V's campaign showed a very cool female fighter in its promotional materials.
Not to mention Lara Croft, our original action adventure heroine in The Shadow of the Tomb Raider, as well as the young girl Kay in Sea of Solitude – an indie game developed under the EA Originals program.
Another piece of good news for gamers: Electronic Arts has learnt from the Star Wars: Battlefront II debacle that loot boxes are a bad idea. It repeatedly announced to a cheering crowd that there will be no more loot boxes in the new games. What a relief!
On the console hardware front, the only notable announcement is from Microsoft, said it is developing a new Xbox console. Nothing much to get excited about at this point, but Microsoft's hardware team are working to "set the benchmark for console gaming".
Another exciting bit of news that Microsoft shared is that their cloud engineers are working on streaming console quality games on any device. Would this be the killer app for more mobile data consumption?
Microsoft Studios also announced that they acquired five gaming studios, namely The Initiative, Undead Labs, Playground Games, Ninja Theory, and Compulsion Games.
Already, we have Forza Horizon (Playground Games) and State of Decay (Undead Labs) as Xbox exclusive games, and with these acquisitions, we can expect more "Xbox only" titles.
Will this help Microsoft's Xbox in the battle for more exclusive content with Sony's PlayStation? We shall see.
Here are some noteworthy titles announced in E3 2018 to look forward to:
Assassin's Creed Odyssey
– Ubisoft for PC, PS4, and Xbox One (October 5, 2018)
Wait, is this another new Assassin's Creed (AC) game? It sure looks a lot like AC Origins. Judging by the gameplay trailer, there does seem to be a lot of similarities. What's different is that AC Odyssey is set in ancient Greece, before the events in Origins.
The developers touted it as a full blown RPG, which got me worried that the franchise is detracting further and further away from the stealth-based assassinations of the original games.
But I was happy to see that you can choose to play as a male or female protagonist, which is something I had been hoping to see since the first AC game.
The interactive dialogue with choices that will affect how the game pans out plays up a lot more of the RPG element – again, something that resembles more of a regular RPG than an AC game.
The trailer also showed Spartan and Athenian mercenaries who will attack when nearby, emphasising more on combat than stealth. Even so, fans will lap things up simply because the AC games are just so much fun and so satisfying.
Spider-Man
– Insomniac for PS4 (September 7, 2018)
Yes, we have been seeing this Spider-Man game showcased quite often over the past couple of E3s, but finally a meaty gameplay trailer is revealed.
And wow, it does look like a lot of fun. We see Spidey using a variety of webs,pulling enemies closer and delivering drop kicks, sticking enemies to the floor using webs and of course, swinging through New York City via web slinging.
Looks like a game that will keep you on your toes with plenty of fast paced action and quick combos for web tactics, swinging and combat moves.
Cyberpunk 2077
– CD Projekt RED (platform and release date not announced)
One of the most promising-looking titles in this E3 is Cyberpunk 2077, an open world RPG set in a futuristic dystopian world with heavy cyberpunk influence.
You play a character named V, who can be male or female, and your character can be customised with weapons, gear and even abilities augmented through the use of inhalers.
There are also vehicles such as cars and motorcycles that you can use to get around. The developers, CD Projeckt Red, revealed that Cyberpunk 2077 will be a solely single player game intended for a more mature audience.
Although I am personally quite excited by the setting and the visuals shown in the trailer, I am curbing my enthusiasm until I see the actual gameplay.
Too often have game trailers shown so much promise but fail to deliver as an end product. Here's hoping that Cyberpunk 2077 lives up to the hype.
The Elder Scrolls VI
– Bethesda Game Studios (platform and release date not announced)
Do I hear collective screams of excitement, Elder Scrolls fans? It has been seven years since Skyrim was released, and how our lives have changed since. Namely, how many hours of our lives have we spent questing and adventuring in the massive world of Skyrim.
So it was amid wild excitement that The Elder Scrolls VI was announced. Unfortunately, there is not much to see in the teaser trailer here except for some stunning scenery of the mountains and the shoreline.
Skyrim fans have speculated that it shows a departure from Skyrim towards Hammerfell. There was also no announcement of the release date, so don't get your hopes up so soon.
If you need to satiate your hunger for Elder Scrolls, you can instead look forward to The Elder Scrolls: Blades (to be released in the fall of 2018), a first person RPG for the mobile. Sign up for early access here if you simply cannot wait.
Halo Infinite
– 343 Industries (platform and release date not announced but most definitely on Xbox One)
Master Chief is back! Or so it seems in Halo Infinite, a new game set in the Halo universe.
Again, a very tantalising trailer with zero information about the game but we do see some amazing scenery, including herds of animals in a grassland, a dry desert, a wooded forest, and of course, the iconic ringworld.
The developer, 343 Industries, revealed that they are using a brand new game engine named Slipspace to develop the ambitious Halo Infinite.
What kind of worlds are they creating? How will the game play? We do see Master Chief's instantly recognisable helmet making an appearance, so Master Chief fans, rejoice!
Death Stranding
– Kojima Productions for PS4 (release date not announced)
After the very tantalising and surreal trailer released in E3 2016, the extended trailer revealed by Kojima Productions this year showed a lot more of what Death Stranding is about. But you can expect more questions than answers after viewing the trailer.
Set in a rugged landscape that looks a lot like Iceland, and accompanied by moody atmospheric music, the game is looking even more surreal than before.
We see the character played by Norman Reedus doing a lot of "deliveries" – walking around carrying large crates strapped to his back. Wait – is that a dead body in a body bag he's carrying.
We also see him cradling a baby in a jar, floating black oily creatures that kill people, as well as an invisible creatures that leave handprints on the ground and who seemed to be able to detect people if they breathe.
What the heck is going on? Only Kojima knows. Take a look at the trailer and be intrigued.
The Last of Us Part II
– Naughty Dog for PS4 (release date not announced)
A sequel to the acclaimed 2013 survival horror game by Naughty Dog, The Last of Us Part II is set five years after the first game. Ellie, the little girl in the last game, is now all grown up and tough as hell.
The gameplay trailer showed off some amazing combat moves, stealth action and stunning cinematic scenes but it is not suitable for viewing the immature or the intolerant.
Apart from plentiful violence in the form of stabbing, gutting and shooting people in the face, as well as liberal swearing, there is also an exceptionally well-animated and passionate kiss between Ellie and a girlfriend.
With Naughty Dog's strong track record of making games with memorable characters, great story and engaging gameplay, The Last of Us Part II is definitely a game worth looking out for.
Sea of Solitude
– Jo-Mei Games for PC, PS4, Xbox One (early 2019)
One of the most visually interesting and refreshing games showcased by Electronic Arts (EA) is Sea of Solitude.
Developed by Jo-Mei games from Germany under the EA Originals program which supports small indie developers, Sea of Solitude is a breath of fresh air in the gaming industry that seems to churn out tired spin offs and sequels endlessly (seriously, how many FIFA or Madden NFL games do we really need?).
It deals with the theme of loneliness and dealing with your inner demons. Set in a flooded world where loneliness drives humans to become monsters, a young girl Kay seeks to change back to her human form by seeking other monsters in the deep.
Anthem
– Bioware for PC, PS4, Xbox One (February 22, 2019)
In last year's E3, Bioware showcased a short trailer for Anthem showing players in a mechanised Javelin exosuit flying around in some incredible environments.
This year, Bioware treated us to more gameplay action and offered us some context for the game – "something is out there. It wants to destroy us all".
We see abundant airborne shooting, firing of heavy weaponry and melee combat set in a beautifully rendered world with magnificent cliffs, waterfalls and forests. Apart from flying in the air, the suits can also propel the wearer underwater.
The developers also revealed that gamers will play as freelancers who are experts in controlling the exosuits and will be fighting in a hostile planet against an enemy known as the Dominion.
There are four different Javelin suits with different abilities, namely Ranger, Colossus, Interceptor and Storm. Would love to get my hands on this one.
The Shadow of the Tomb Raider
– Eidos Montréal and Crystal Dynamics for PC, PS4, Xbox One (September 14, 2018)
Touted as "the defining moment" when Lara Croft becomes the Tomb Raider, the third in the series of the rebooted Tomb Raider franchise does look fantastic with the dense jungle foliage, swirling waters and beautiful archaeological ruins.
In the Shadow of the Tomb Raider, Lara Croft continues in her tomb raiding adventures to find a Mayan relic that has a connection to her late father.
With more puzzles, spectacular feats and sweaty palmed action, Lara Croft fans and those who love action adventure games will be in for a treat.
Tom Clancy's The Division 2
– Massive Entertainment for PC, PS4, Xbox One (March 15, 2019)
The sequel to its successful 2016 open world shooter RPG predecessor, Tom Clancy's The Division 2 will be set in Washington DC, where lawlessness has taken over and mass graves are prevalent.
You will play a member of The Division – a group of civilian fighters working to take back Washington DC. The cinematic trailer showed off the stunning detail of the city and its heartbreaking state of chaos.
At Ubisoft's press conference, they showcased the an obviously scripted multiplayer demo where the team actually worked and communicated seamlessly together, taking down enemies near a downed aircraft. Why doesn't it ever work like this in the real world?
Anyway, The Division 2 does look like a promising game with a strong campaign, co-op, and PvP modes. A piece of good news – Ubisoft has announced that the first three expansions are free! Yes to more free things!
If you cannot wait until March next year to play, sign up for the beta here.
Ghost of Tsushima
– Sucker Punch for PS4 (release date not announced)
Set in feudal Japan during the Mongol invasion of Tsushima Island, Ghost of Tsushima is an open-world samurai game that focuses on stealth and sword fighting. The trailer showed off beautiful scenes of bamboo forests, falling autumn leaves and vast grasslands.
We also see some elements of stealthy assassinations, bloody sword fights with katanas and horse riding. Unfortunately, the gameplay trailer did not show any in-game menus or heads-up displays so it's hard to tell much about the gameplay.
Plus, the developers did not announce a release date so we don't even know when it will be ready. But it's a samurai game so it's definitely worth looking out for.
Super Smash Bros. Ultimate
– Bandai Namco for Nintendo Switch (December 7, 2018)
Nintendo has been rather low key this year, but they did a lengthy showcase Super Smash Bros. Ultimate, a fighting game which features a massive catalogue of fighters including Solid Snake from Metal Gear Solid, Cloud Strife from Final Fantasy VII, Jigglypuff from the Pokemon games, and even the Wii Fit Trainer.
As they kept touting, "Everyone is here!", it looks like a huge fighting party with all your favourite (or not) characters. What's different in Ultimate from previous Super Smash Bros. games is that the more damage your opponent takes, the further they will be launched from the stage.
If your passion in life is blasting opponents off a stage with well placed combos, this is the game for you.
Let's Go, Pikachu! / Let's Go, Eevee!
– Game Freak for Nintendo Switch (November 16, 2018)
Finally! A Pokémon game on the Nintendo Switch! Although it looks a lot like a more modern version of the Pokémon games we used to play on the Nintendo Gameboy handhelds, we now see Pokémons rendered in full 3D – kind of like those we see on Pokémon Go.
The developers also showed Pokémons in the surroundings, so one can pick which Pokémon they want to catch rather than wandering around in the tall grass hoping for a random encounter.
What got me interested is the Pokéball Plus accessory that you can use to play Let's Go Pikachu/Eevee! on the Switch as well as Pokémon Go on the mobile. See this wondrous device here.