Oracle goes AI in a big way with cloud, database services

Enterprise

Oracle executive chairman, Larry Ellison, speaking to the audience at the company's OpenWorld user event last week. PHOTO: Handout
Cloud and autonomous technologies were two interconnected words that dominated Oracle's annual OpenWorld show in San Francisco last week.
Oracle's key products, database and cloud services, are now being built on artificial intelligence (AI) and machine learning.
Larry Ellison, executive chairman and chief technology officer, emphasised that Oracle Gen2 Cloud offered the most complete stack of cloud services and applications.
It is self-servicing and fully automated, the promise goes. A free tier of cloud services packed with new application tools and Oracle SQL Developer is available immediately. It closely integrates with Oracle Autonomous Database, the other product that grabbed headlines during the three-day event.
Speaking at the event's opening at the Moscone Convention Centre in San Francisco, Ellison also underscored the value of Oracle Autonomous Database.
Described as a "self-driving" database technology that automates upgrading, patching, and tuning tasks, it uses machine learning and promises total automation of database functions. In the process, cost savings and security improves, the company says.
True to form for the technology veteran, Ellison didn't lack colour in his keynote, as he also took the opportunity to bash the competition especially Amazon Web Services (AWS).
He pointed to a number of high-profile data breaches in recent months, including the American financial firm Capital One hack, where a hacker gained access to 100 million credit card applications and accounts. Capital One was an AWS customer, a fact Ellison highlighted.
By doing away with people and introducing automation, Ellison said data breaches will be minimised. "When you use the Oracle Autonomous Database, it configures itself. It's not possible for customers to make configuration errors, because there are no pilots to make errors. The system configures itself."
The product, unveiled in 2017, has matured. Ellison was confident that the system will protect any data loss, going as far as to say that Oracle will be responsible for customer data in the autonomous system.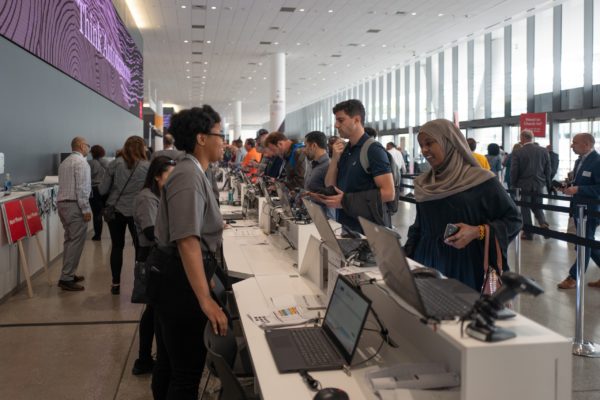 Oracle OpenWorld is the annual user conference where the company unveils new products and partnerships. About 100,000 people attended the event at the Moscone Centre this year.
Missing from this event was Mark Hurd, the company's CEO who is on indefinite medical leave. He was supposed to give the opening keynote at the event but due to his illness, Ellison stepped in.
During the closing keynote, Ellison stopped halfway in his presentation to say: "I miss Mark Hurd."
Choking up, he added: "I love him and I hope he gets well as I don't have many friends left."
Ellision, 75, is among a handful of CEOs who founded the first wave of technology companies in the United States. He founded Oracle 42 years ago as a database firm. Through the four decades, it has accumulated hundreds of thousands of Oracle Database instances running around the world.
It would be logical for many of these companies running on-premises databases to move to the cloud via the Autonomous Database. In the last year, the company has added more than 500 customers.
Earlier this year, IDC analyst Carl Olofson said in a Techcrunch report that the Oracle Cloud promises much lower operational costs which could give the company a leg up in the Database as a Service market.
"What Oracle offers that is most significant here is the fact that patches are applied without any operational disruption, and that the database is self-tuning and, to a large degree, self-healing," he said.
Adam Ronthal, an analyst at Gartner, said in the same Techcrunch report that while Oracle is behind AWS and Azure, Microsoft's cloud service, it is developing products that are built for cloud.
It had scalability, elasticity and a low operational footprint, which made it appealing to customers, he added.
In Asean, Oracle is a market leader in the Autonomous Database sector, said Cherian Varghese, Oracle regional managing director for Asean and South Asian Growing Economies.
"All my Asean customers are in the cloud," he added. To cope with growth, Singapore will be one of the 20 new locations where Oracle will develop data centre regions next year.
Speaking to Asean journalists in San Francisco, Varghese said the technology giant will probably partner with a third-party data centre operator to provide cloud services in Singapore and to Asean countries. Discussions have begun with the new facility expected in the next six to 12 months.
Asean customers include 7-Eleven Philippines, which uses Oracle Cloud for cloud tooling, data migration to the cloud, automation and centralised management.
Oracle also counts as customers Indonesian logistics and courier firm P.T. Tiki JNE, which uses Oracle autonomous data warehouse to manage information faster. Separately, Seylan Bank in Sri Lanka uses Oracle Cloud for its digital transformation journey.
Other new products and developments at Oracle OpenWorld 2019 include:
Oracle Linux joins autonomous platform: This automates patching and upgrades even while the system is running. This automation reduces unnecessary and costly downtime to applications.
"Coopetition": New cloud partnerships were inked with Microsoft and VMware. Since Oracle customers also run Microsoft applications, linking up their cloud services will enable their customers to easily access the services they need.
By partnering with Oracle, VMware will enable its customers to set up hybrid cloud environments that combine VMware infrastructure in their own data centres with public clouds.
Speak to your database: Oracle launched its AI-based Oracle Digital Assistant for the enterprise. Based on machine learning, it will be trained to analyse enterprise-specific and domain-specific vocabulary.
New logo: This is a simple, minimalistic and stylised O, a departure from its trademark red-colored logo and theme. Observers and attendees have said that the new branding is more modern. From the backdrops and overhead banners to its portal and handouts, the new branding was visible everywhere.