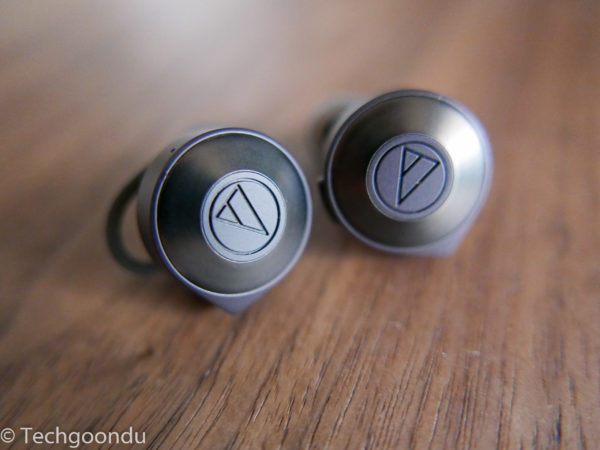 True to form for a Japanese company, the Audio-Technica ATH-CKS5TW Bluetooth earphones come with a model name that is hard to remember and even harder to pronounce.
This would have been no issue if they sound like so many of its headphones that are so bang for buck, but unfortunately, the new earphones are rather inconsistent with sonic material and lean too much on a bass-heavy sound.
The first thing you'd notice is how large the earphones are. Place them in your palm and it's obvious the ATH-CKS5TW aren't the dainty ear pieces you might have been looking for.
That space inside is needed to house the 10mm dynamic drivers that promise a sensitivity of 110 dB/mW. Also in there is a 3.7-volt lithium-ion battery, so you don't have any wires to contend with.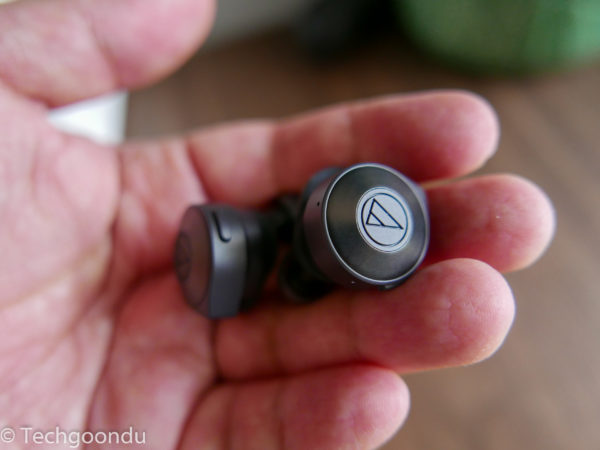 That battery is good for 15 hours, according to Audio-Technica, and after trying the earphones out, I have little reason to believe otherwise.
You can also extend the usage with an included charging case. The battery inside holds two charges so, theoretically, you can have 45 hours on the go. You have to take the earphones out of your ears to charge, of course.
The charging case here is a no-frills affair, without even faux leather, though it does the job well with a battery indicator to tell you how close you are to fully juicing up the power pack.
At 8 grams each, the Audio-Technica ear pieces are roughly what you'd expect of wireless Bluetooth earphones. However, the ATH-CKS5TW are fairly large and they seem to rest on your ear walls rather heavily.
If you wish to wear them for a workout – they are rated IPX2, good for keeping out rainwater or sweat – you'd have to think of how well they will wear on your ears.
There are niftier versions from Audio-Technica in the ATH-CK3T but you get only 6 hours of usage on one charge on them. If you often go on long-haul flights, then the bigger ATH-CKS5TW will last you throughout the trip.
Unfortunately, I find it hard to recommend these in-ear gizmos for the way the audio is tuned. It slants too much towards bass and lacks detail and clarity.
Perhaps that should have been obvious for a pair of earphones marketed as providing solid bass. Yes, expect to lose something in exchange for a booming sound, unless that's what you prefer.
On the Tidal streaming service, the lead violin in Coldplay's Sunrise track lacks shine and light. The same can be said of some of the vocals on the band's new album – they come across as veiled and muddy.
Almost disbelieving my own ears, I switched to Spotify during my tests. Okay, the opening track sounded a little less bloated here, for some reason, but it was still some distance from what I remembered about Audio-Technica's sound. The second track had a booming background that made it hard to focus on other aspects of the song.
I searched for an app to see if I could tune down the bass a little. Unfortunately, what Audio-Technica offers is a very rudimentary one that doesn't even have an equaliser for you to adjust the sound.
You get useful information such as the remaining battery power, but there's little else you can do. You can switch codecs, say, from the regular AAC to Qualcomm's aptX, but beware.
Switching to a codec that is not supported means you have to reset things. That means placing the earphones in the charging case and taking them out again to reconnect to your phone.
On some albums, like Rodrigo Panassolo's Versos Dobrados, you can try hard to ignore the rather intrusive background bass notes coming into your focus, but it's tough.
Even with bass-heavy tracks, say, something from Massive Attack, which you think might benefit from the added heft, you still end up wishing for the low notes to be a little less bogged down and more fleet-footed.
I wouldn't say the Audio-Technica ATH-CKS5TW is a bad product for its price – S$218 on Amazon Singapore – but there are many competitive offerings today.
Okay, Sony's WF-1000XM3 cost more than S$100 more, but they come with a more open and transparent sound, plus nifty features like touch controls. Audio-Technica still relies on physical buttons.
To be fair, you get what you pay for in the ATH-CKS5TW. It's a no-frills entry into the world of fully wireless earphones. Many users will be happy with the solid battery performance.
However, I find the audio tuning a little less than what I usually expect from the Japanese company known for bang-for-buck audiophile offerings. Guess I'm sticking with my cheaper wired, noise-cancelling ones.