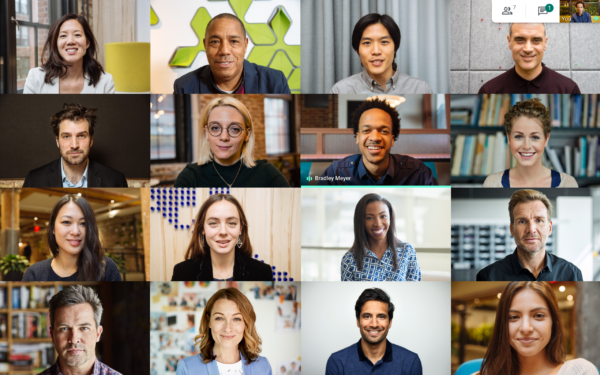 Google Cloud is making its premium videoconferencing service, Meet, free in the coming weeks, starting with rollouts from early May, as it ramps up its battle with the rival Zoom service.
The Meet service used to be available only to G Suite customers – essentially enterprises that use Google Cloud services such as Gmail and Drive – that pay from US$6 a month for each user.
Now, anyone with an e-mail address can make use of the more advanced features such as screen sharing to keep in touch with friends, families and colleagues during the current pandemic.
Meetings are limited to 60 minutes for the free product, though this time limit will not be enforced by Google until after September 30.
Consumers previously only had Hangouts, a simpler version of a chat service that all free Gmail users could use. However, that does not have features that let workers collaborate easily, such as virtual whiteboards or screen sharing.
In its announcement today, Google said it will be gradually expanding Meet's availability to more people over the following weeks. While users might not be able to create meetings at meet.google.com right away, they can sign up to be notified when it's available .
Google has seen daily usage of Meet go up by 30 times, it revealed today. So far this month, Meet has hosted three billion minutes of video meetings and added roughly three million new users every day. And as of last week, the number of daily meeting participants has surpassed 100 million.
The cloud-based company is keen to highlight the security behind its videoconferencing service at a time when people at locked down and rely on such tools for weekly work-in-progress meetings or even discussions on sensitive financial information.
Meeting codes are complex by default and resilient to brute-force "guessing," Google said today, alluding not too subtly to hackers who broke into Zoom meetings by "war dialling" meeting IDs during the current crisis.
Another jab at Zoom can be seen in Google's point about transparency – it says it publishes the locations of its data centres, which will assuage some governments and regulated industries such as banking that are sensitive where their data travels to.
Earlier this month, Zoom admitted that user data was "mistakenly" routed to China, a no-no for many Western organisations that don't trust the country's communist government.
In Singapore, the education ministry suspended the use of Zoom for virtual learning earlier this month after hackers broke into a meeting and showed obscene pictures to students.
Zoom was progressively eased back in a week later, after it worked with the authorities, for example, to add a security button to toughen up defences against hackers.
Despite being slow to the game, after Zoom has got an important headstart, Google can call on its installed base of 6 million G Suite users and more than 1.5 billion Gmail users to ramp up the adoption of Meet.
With calendars and e-mail automatically sync'd, it promises users a fuss-free interface. Plus, since it is tightly integrated into Chrome and other modern browsers, there is no need to install a separate plugin.
Of course, Google won't win over all users. As a cloud service provider that also offers G Suite and Meet, it competes with some of its customers to deliver such online services.
So, while there was some surprise that Zoom yesterday picked Oracle's cloud infrastructure to deliver its videos calls in future, the decision was rather understandable.
The biggest cloud providers all have their own rival services – Microsoft has Skype and Teams, Amazon Web Services offers the lesser known Chime and now Google is ramping up Meet.