Brought to you by the Infocomm Media Development Authority (IMDA)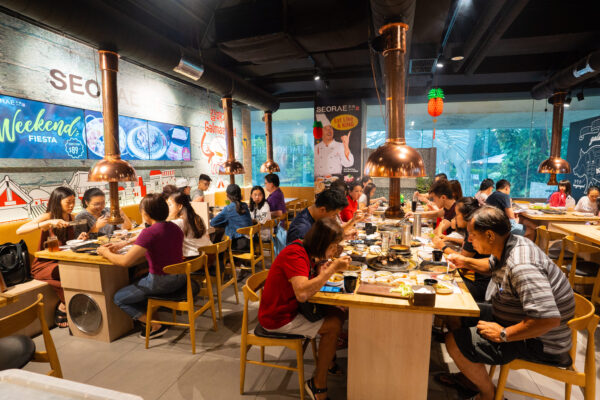 When Singapore's Circuit Breaker period started in early April 2020, Korean food services specialist Seonggong found itself in the shoes of many retailers and restaurants at the time – it had to find a way to overcome the lack of walk-in customers.
The strict safe distancing rules meant that the only source of income for its various restaurants – SEORAE Korean Charcoal BBQ, PATBINGSOO Korean Dining House and HONGDAE OPPA Korean Dining House – was takeout orders. There was no more dine-in revenue.
The restaurant group already ran a takeout restaurant called 9PM KKOCHI Korean Skewers, but it had to expand the deliveries for all its restaurants to cover for the lost income.
Seonggong founder and CEO, Wilyawati Tjiu, immediately explored technology to transform her business to adapt to the new situation. The first thing on her mind was boosting her takeout orders.
Most urgent were online food delivery and digital ordering solutions.
Though the various Seonggong restaurants had previously tapped on online food delivery solutions, funding support from the government allowed them to further boost their use of services such as GrabFood, foodpanda and Deliveroo to bring in more revenue from takeout orders.
It also took up a digital ordering solution – the Oddle e-shop, payments and orders management solution – to make it easy for customers to place their orders online.
Today, with the slight easing of restrictions after the Circuit Breaker, Seonggong is still facing a drop of 30 per cent in dine-in sales. However, its delivery business has been boosted by 20 per cent.
The digital solutions that Seonggong adopted, according to Tjiu, or "Cucu" as she is also known as, has helped to minimise its revenue loss.
She said the company had been a keen adopter of technology even before the pandemic but the severe disruption it brought about has forced many businesses like hers to fast-track their digital transformation.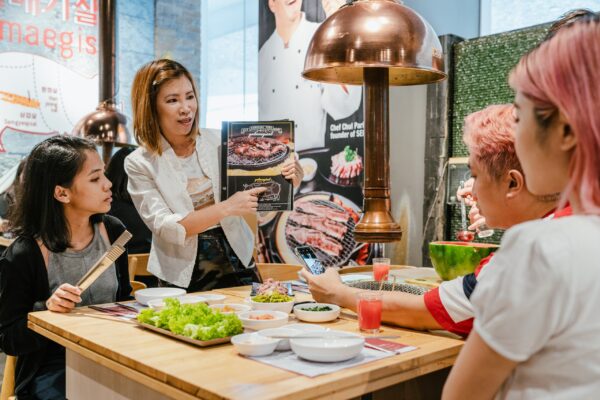 Today, Seonggong uses the PayNow Corporate service to facilitate contactless payment by customers. This reduces close contact at each restaurant, thus improving safety for customers and staff.
Other initiatives that Seonggong has put in place or is in the midst of rolling out include digitalising back-office functions that enable its staff to work more efficiently and safely.
For example, by registering on the Nationwide E-invoicing Network, it is now easier to track and manage invoices from suppliers, reducing the need for paperwork and face-to-face interactions. For this, Seonggong also received the S$200 E-invoicing Registration Grant in June 2020.
Currently, Seonggong is looking to implement the Xero cloud accounting solution, with support from the Productivity Solutions Grant, as part of its efforts to fully digitalise both its front- and back-office operations.
Similarly, a human resource solution that uses face recognition by JustLogin is enabling it to easily manage its manpower in the restaurants and head office.
Instead of clocking in and out manually and maintaining Excel spreadsheets on overtime, for example, each outlet can automatically log the hours worked and ensure that the right amount of additional salary is paid out.
We had to find a way to cover the revenue loss from the absence of dine-in customers during the Circuit Breaker, so we decided to turn to online food delivery instead. Thankfully, we did, as our delivery business grew by 20 per cent.

Seonggong founder and CEO, Wilyawati "Cucu" Tjiu.
Cucu was aware that staff may be resistant to using the new digital solutions at first, so there was a need to explain how each change affected them. For example, in the outlets, managers discovered that they no longer had to maintain Excel spreadsheets on staff's working hours.
At the head office, its digital solutions are going to have invoices seamlessly included in its accounting system without manual intervention – a boon to the accounting staff who have to deal with 300 to 600 supplier invoices a month.
Support from SMEs Go Digital
Seonggong is an example of an F&B SME that has tapped on the support and adopted various digital solutions under the SMEs Go Digital programme, which aims to help make going digital simple for SMEs.
The recently announced Digital Resilience Bonus, under the SMEs Go Digital programme, also adds as an extra incentive to uplift the digital capabilities of enterprises in the Food Services and Retail sectors, which are most affected by the safe distancing requirements as we reopen the economy.
There is a greater urgency for these sectors to digitalise and adapt quickly due to the consumer-facing nature of their businesses so that they are well-positioned for recovery.
For a start, eligible enterprises in these two sectors can receive one-time cash payouts of up to $10,000 if they adopt pre-defined categories of solutions – such as e-invoicing, business process solutions, food delivery and e-commerce and advanced data analytics by June 30 2021.
These solutions help enterprises to improve their business processes, reach out to customers online and optimise their business operations through the use of data.
Seonggang has implemented or intends to implement PayNow Corporate, the Nationwide E-invoicing Network, accounting solution (Xero Cloud Accounting Solution), human resource solution (JustLogin HR Cloud), digital ordering solution (Oddle e-shop), e-procurement solution (fnbmarket.com by Bizmann Systems) and online food delivery solution (GrabFood, foodpanda and Deliveroo).
After it implements and starts using these solutions, it can receive up to S$5,000 in DRB payouts.
Cucu said more SMEs should take up solutions that qualify for such support to help overcome the challenges during the pandemic. For the initial outlay to buy new digital solutions, she suggested signing on for a bridging loan from a bank to get things started.
For her, the digital journey has just begun. Eventually, she would like to understand more about her customers' spending habits through the digital solutions being rolled out now.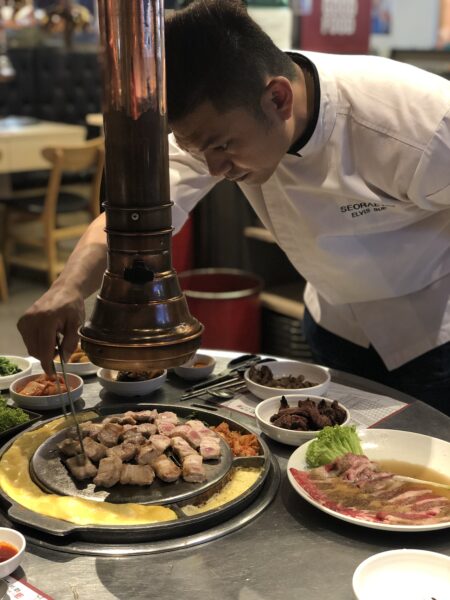 It is considering a new digital ordering system that lets customers use their phones to place an order and pay for it. With this solution, Seonggong can better find out what their likes or dislikes are.
This means that it can better deliver the products that its customers prefer, based on actual data gleaned from their ordering habits at the restaurants. The added insights can guide it to develop dishes that cater to their specific tastes.
As with all technologies, however, the key is making sure that they deliver the desired results on the ground. At Seonggong, the solutions are usually tested with staff at one restaurant before they are deployed to the others.
"There will be resistance if there is no understanding of the key challenges on the ground," said Cucu. "If there are problems, we need to connect back to the vendor (to make changes and adapt to the users)."
There is no question that digitalisation is the way forward, she noted, adding that SMEs should tap on the support available during this difficult situation. "We should invest in technology. It will keep us afloat in the long run."
More on the SMEs Go Digital programme
What is the SMEs Go Digital programme?
In April 2017, IMDA launched the SMEs Go Digital programme to make going digital simple for SMEs, through Industry Digital Plans, pre-approved solutions and digital consultancy. More than 20,000 SMEs have adopted various digital solutions under the programme. Details here.
How can SMEs benefit from the programme?
SMEs can use the Industry Digital Plans for their sector to find out if their business is digital-ready.
They can adopt relevant pre-approved solutions based on their stage of growth and receive support under the Productivity Solutions Grant. These pre-approved solutions are listed on Tech Depot.
Newly incorporated SMEs and those that have not digitalised can take up a Start Digital Pack to get a head start. Each Start Digital Pack consists of two foundational solutions. SMEs that sign up for a minimum 18-month contract will receive cost waivers for at least six months. Details here.
SMEs that are looking to grow their business and sell overseas, can go onto established Business-to-Consumer (B2C) and Business-to-Business (B2B) e-commerce platforms under the Grow Digital initiative.
In addition to all these support measures, the Digital Resilience Bonus, as announced during the Fortitude Budget, provides extra support to uplift the digital capabilities of enterprises in the Food Services and Retail sectors. Details here.
If you are from the Food Services or Retail sector, find out how you can go digital and receive the DRB auto-payouts of up to $10,000. Visit IMDA or contact your nearest SME Centre or one of the supporting banks (DBS, OCBC or UOB) for assistance.