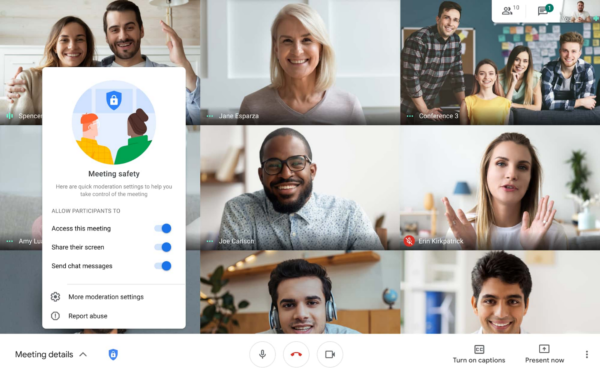 Users of Google's online tools such as Meet, Gmail and Chat are getting new cybersecurity features to keep out emerging threats as they spend more time working remotely from home.
The Meet video call service, for starters, will let hosts specify who can "knock" and join their virtual meetings, to minimise any disruption. Currently, those not included on a meeting's calendar invite have to knock and ask to be admitted to a meeting.
Adding to this, the new controls also make sure that those who are ejected from a meeting cannot attempt to rejoin by knocking. They have to be re-invited by the host.
If a user's knocking request has been denied multiple times, he will be automatically blocked from sending more requests to join the meeting.
Additionally, new safety locks that Google introduced yesterday, as part of a series of security updates for its online tools, will include the need for users to obtain explicit approval to join.
Hosts can also set up a meeting where they have to join first before any user can start a meeting. A chat lock and present lock will control which attendees can chat or present.
These controls, according to Google, will help prevent brute-force attacks, so even if an attacker guesses a meeting code correctly, he won't be able to attend without a host's permission.
Even if a host mistakenly admits an attacker, he can rely on the safety locks to ensure the attacker does not disrupt the meeting, as happened a few months ago when hackers gatecrashed Zoom meetings and disrupted school lessons.
Besides Meet, Google also boosted the security features in its Chat tool, which is used often for text chats instead of video calls.
If a link is shared over a chat, it will be checked against real-time data from Google's Safe Browsing database, which tracks dangerous sites that may install malware on unsuspecting users.
This new feature is aimed at reducing the chances of users unwittingly clicking on a link that opens up their PC or phone to malware.
Gmail, the tool that most Google users rely on for e-mail, is also being hardened to keep users from being hit by costly cyberattacks.
It will test out Brand Indicators for Message Identification (BIMI), a new e-mail specification which enables businesses to authenticate their e-mails and to validate ownership of their corporate logos and securely transmit them to Google.
Once these e-mails are checked and okayed by Google, they will appear on Gmail with the logos displayed clearly for the recipient.
This makes it is harder for phishing e-mails to mimic legitimate businesses – such as those pretending to be from your bank by using its logo in a message – to steal your personal data.
These security updates are yet another significant upgrade from Google, which only last week showcased a more tightly integrated set of tools for its G Suite users.
It is facing up to competition from Zoom, which has won over many users with its ease of use despite earlier security issues.
Also competing with Google are other collaboration tools such as Microsoft Teams, which promises to more closely integrate many of today's tools, from wordprocessing to e-mail, so that office workers can easily work on projects despite working from home.