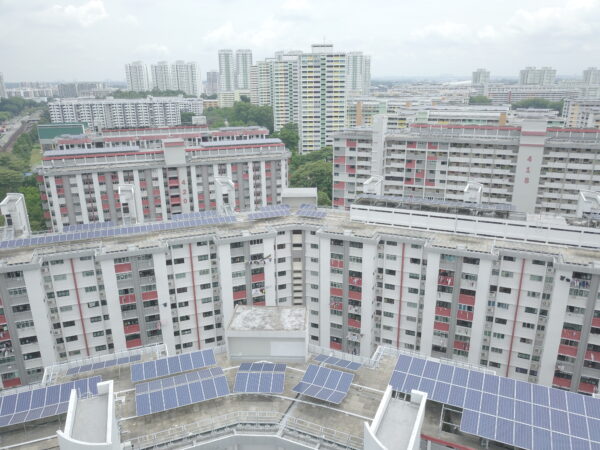 Google will be using solar energy from 500 HDB flats in Singapore to help power its operations in the country, as part of the company's global efforts to make its data centres run entirely on carbon-free electricity by 2030.
The Internet giant announced a multi-year deal with Sembcorp today to make use of the renewable energy collected at the HDB flats' rooftop solar installations.
The power generated goes directly into the electricity supply of Google Singapore's operations, thanks to a three-party collaboration with both the power retailer Sembcorp Power and the solar developer Sembcorp Solar, according to Google.
Unfortunately, details are scant on the agreement, the first such renewable energy deal for Google in Southeast Asia.
Asked by Techgoondu about the amount of power generated and what portion of its operations will be powered by renewable energy, a Google media representative said it was unable to share details, citing the agreement's confidentiality.
The company did say that the deal with Sembcorp was the first step among others it would take in the Asia-Pacific region to use locally-sourced renewable energy.
This will be particularly interesting to watch in the fast-growing region, where the digital economy is expected to grow at a rapid pace with more Internet users coming onboard.
In Southeast Asia alone, the Internet economy will expand from US$100 billion in 2019 to US$300 billion in 2025, according to a study put out last year by Bain & Company, Google and Temasek.
This means more energy-hungry data centres to feed and process data that is used in transactions from ride hailing to e-commerce, which necessitates the search for more sustainable energy sources.
A major physical oil trading hub, Singapore has been relatively slow to adapt renewable energy. However, the pace has quickened in recent years with advances in technology, which help overcome oft-cited limitations in solar power in the past, such as cloud cover causing irregular supply.
In Singapore, Google isn't the first to use solar energy to power its operations. In April, Singtel said that solar panels the size of two football fields are used to generate 10 per cent of the energy needed at a data centre in Singapore.
Earlier in 2018, Microsoft inked a deal with Singapore energy provider, Sunseap Group, to purchase renewable energy to power its Singapore data centre, which delivers cloud services such as Microsoft Azure and Office 365.
CORRECTIONS at September 16, 2020, 11:27am: The names of Sembcorp and Sunseap Group were spelt incorrectly in an earlier version of the story. These have been corrected. We are sorry for the errors.