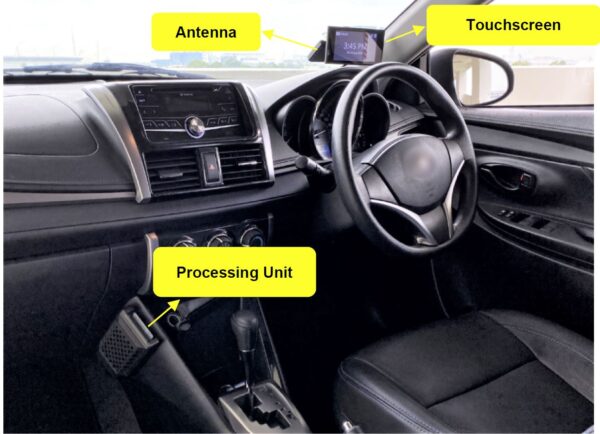 At a time when your smartwatch can track your runs and even pay for a cuppa, the transport authorities in Singapore this week introduced a so-called "next-gen" toll collection module that comes in a clunky three-piece unit to be installed in cars from mid-2021.
This cumbersome setup, including a screen and an antenna near the windscreen, as well as a processing unit tucked away near the passenger seat, seems like it's more from a decade ago than "next gen".
Just looking at the photos tells you that this gadget that has taken years to build, starting from its conceptualisation in the early 2000s to now, appears outdated before it's even been deployed.
The Singapore government only took weeks to come up with an app and a small Bluetooth token to help contact-trace the millions of people here during the Covid-19 pandemic. Yet, it is forcing car owners to install this unwieldy kit to track cars on the road?
And why was there no public consultation on this onboard unit (OBU)? Alright, the government needs to track cars over satellite to collect toll but why the need for some road navigation service? Did anyone ask for it? We've got Google Maps now.
Taking to Facebook to respond to public feedback on September 10, new Transport Minister Ong Ye Kung acknowledged as much that the way this gadget was developed had to be improved.
"We will have to see how to do this better next time," he said in a post that was shared more than 200 times at the timing of writing.
He explained that the Land Transport Authority (LTA) was contractually bound to a system it had picked when selecting a winning tender, so that changes in design would affect the contract.
That's pretty revealing, isn't it? Does the contract mean that folks at LTA were bound by a design that any motorist could have told them was problematic?
Other than the obvious problems with an additional screen blocking out part of your windscreen, there is also a need to run cables between the pieces of the kit inside your car.
Perhaps the most troubling thing about this new kit is that it's not even being used – at least for now – for the one task that it was originally expected to carry out.
Distance-based charging, Ong said, will be held back because it's a policy change that has to be studied. In other words, the new kit will be basically doing the same thing as before and there will still be gantries in town, though they would be smaller.
That really sums up the issues here. A project that took years to complete looks like it's lost its way along the way. What's the reason for this unit now?
Ong hinted that the display part of the unit might even be optional in future, saying that smartphones can be a possible upgrade in future. To start off, it's better to have a standard-issue unit, he explained.
Well, why not make the entire OBU optional altogether? Smartphone apps today are feature-rich and easily upgraded so that they are the way to launch any new functionalities on the go.
Many cars today also support Apple iOS and Google Android, so their screens can double up as additional displays to show whatever information the LTA wants. There's really no need for additional retrofitted gear in your car.
The bigger issue, of course, is how such government technology projects are conceptualised, developed and rolled out.
This is the age of cloud computing, iterative development and constant user feedback and updates. No longer should large projects take years to develop, then find themselves obsolete by the time they are rolled out.
Compare this OBU kit's development to how the TraceTogether app and device were created by another government agency, GovTech.
Though there are still worries about privacy about the contact-tracing technology, the developers have at least let people take the Bluetooth device apart to check what it does. That wins trust.
When launching the OBU kit, the LTA would only say that the data it collects would be anonymised and that vehicle-specific data will only be used for payment, charges and enforcement.
Could it perhaps allow more scrutiny into this actual device, much like what the TraceTogether Bluetooth dongle was subjected to, as well? What about telling us what data the unit actually collects and how long it's kept?
In the past few years, the Singapore government has been actively setting up software stacks or basic foundations that agencies across the government can tap on to create new apps, software and services to better serve citizens.
This means faster development – weeks and months instead of years – and with features like cybersecurity baked in from the start.
That is how a government team created a mass temperature screening device from low-cost parts, by using artificial intelligence (AI). It saved organisations thousands of dollars on commercial scanners when checking people entering a building, for example.
In this environment, the OBU kit stands out like a relic from a previous era. The best thing the authorities can do now is to find a way to incorporate user feedback and make this kit optional.
Ask the folks who created the TraceTogether app if they can make a road toll app that can be used on motorists' mobile devices instead of this clunky kit.
That will take less technology but more of an attitude to embrace change. Yes, truly next-gen.