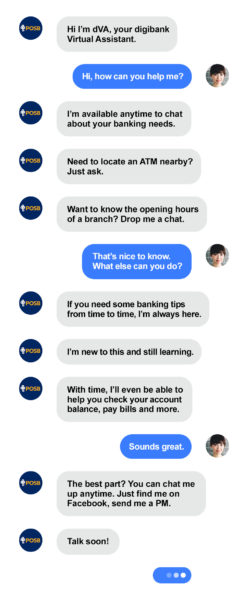 Artificial intelligence (AI) is all the rage these days. Companies like Apple, Microsoft and Google are known for their AI assistants, Siri, Cortana, and the Google Assistant. Now, another AI assistant has entered Singapore in the form of POSB's digibank Virtual Assistant.
This is a AI-driven chatbot that allows customers to converse with POSB on Facebook. They simply visit POSB's Facebook page and message the bank via Facebook Messenger to begin conversing with the always available virtual assistant.
A culmination of the Singaporean bank's partnership with the United States' Kasisto, a spin-off from SRI International which helped to create Apple's Siri, this is the latest use of chatbots to serve customers round the clock and take the load off human operators.
Jeremy Soo, head of consumer banking group (Singapore) at DBS Bank, the parent of POSB, said customers can converse with the bank as easily as they would with their contacts without waiting in line to get a response.
"Customers can also soon look forward to conducting their banking transactions via this service," he said today in an announcement.
Currently, the virtual assistant is still in its nascent stages, and can only answer basic questions, say, about foreign exchange rates or branch locations. When I tried to ask for banking services such as my account balance today, I was simply directed to the iBanking website.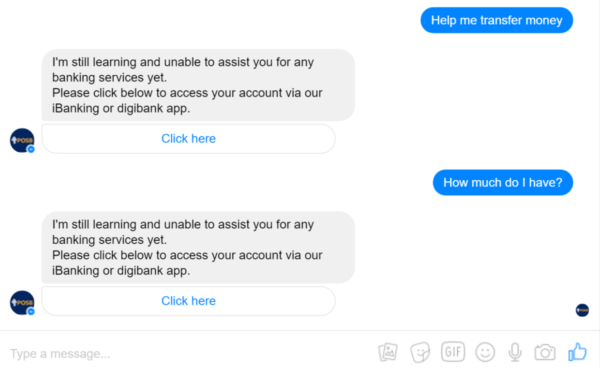 For basic questions, it works relatively fine. The virtual assistant responds by giving you a link to the relevant page on the DBS website.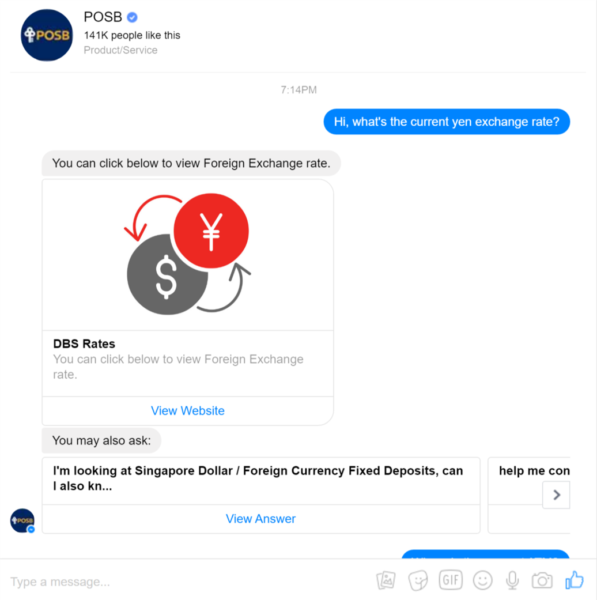 However, I had thought that the virtual assistant would be able to specifically answer my queries directly in the conversation instead of giving me a link to click on. Why not simply search on Google instead of asking POSB, right?
Do expect such virtual assistants to improve in the near future. POSB has set up an annotation team to review the quality of the virtual assistant's responses. The assistant also has learning abilities, and promises to respond more accurately over time as it answers more questions.
POSB also said that the digital assistant would be able to handle banking transactions, such as account balance queries, fund transfers and card payments, by the second quarter of this year. There are also plans to bring the digital assistant over to other messaging apps such as WhatsApp and WeChat in the future.
When that time comes, users might find the digital assistant more practical. Otherwise, it could feel a little like a glorified search engine.