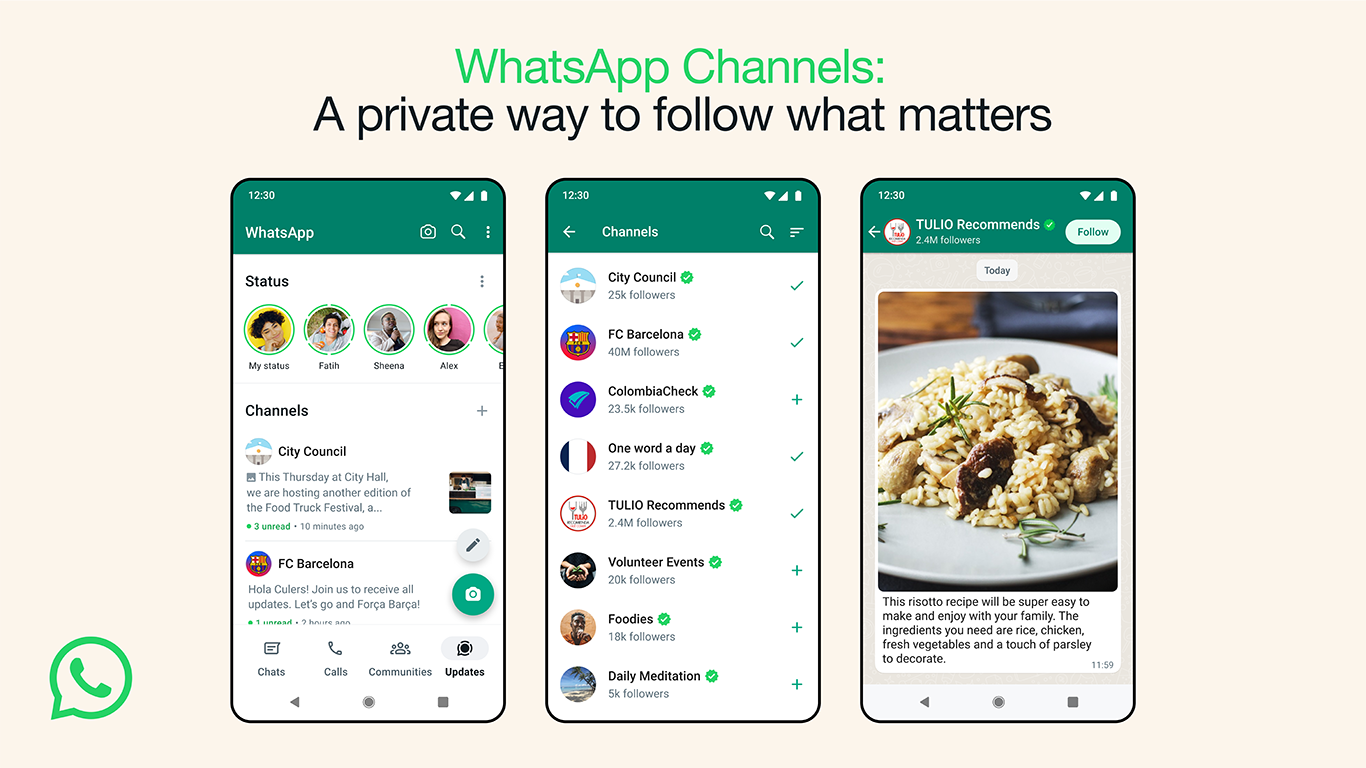 If you're in Singapore or Colombia now, you can now follow your favourite celebrities or sports teams on WhatsApp and have updates sent to you regularly through a new feature called Channels.
The private one-way broadcast feature, launched today in the two countries for a start, will enable organisations and individuals to send important and timely messages to their followers.
In Singapore, one of the first organisations to use WhatsApp Channels is Singapore Heart Foundation. It is expected to send regular updates on heart health and related information to those who sign up for them.
Government agencies such as the Ministry of Communications and Information, Inland Revenue Authority and Land Transport Authority are also using the new feature in Singapore.
Media outlet CNA is another organisation in Singapore that has started using WhatsApp Channels to reach out to its audience. It will broadcast news updates using the popular messaging platform.
Elsewhere, Spanish football giants Real Madrid and FC Barcelona are among the first sports teams to hop on the bandwagon, allowing fans to get updates on WhatsApp.
To sign up for these updates, you have to get a link from the person or organisation sending out the broadcasts. This link can be shared with others.
Meta, which runs WhatsApp as well as Facebook, says the new feature will come with privacy in mind, considering that the messaging service is often used for private conversations, unlike the more open sharing of information on Facebook and other social media networks.
This means administrators sending the WhatsApp broadcasts will not be able to gather any personal information of the recipients of the messages. No phone number is shared with channel owners.
Similarly channel owners do not have to share their phone number or profile photo to followers, potentially allowing for even small businesses that run their own channel broadcasts an improved level of privacy.
For them, the new Channels feature will be handy, especially if it can be linked to in-app payment in future to drive sales. That itself is another recent feature, among new WhatsApp additions in recent months.
It's important to note that WhatsApp Channels messages are not encrypted, unlike regular private messaging between friends and family. They are stored on a server for up to 30 days.
Meta says it will consider making encryption a possibility for non-profit or health organisations in future, as the broadcast feature becomes available around the world in the coming months.