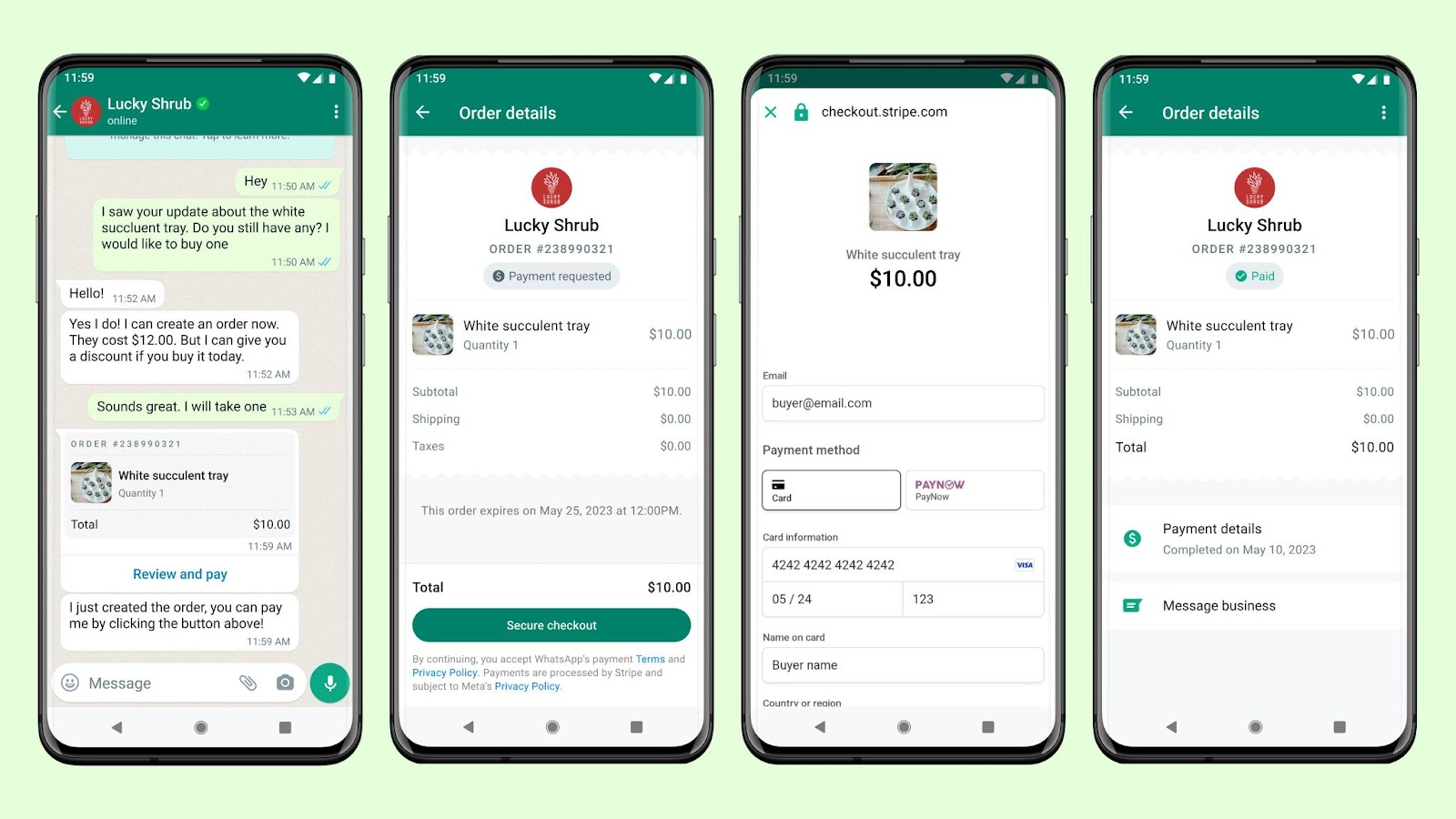 If you're already chatting with a butcher shop or a bakery over WhatsApp about an order, you can now also pay for it directly in the app in Singapore, thanks to the extension of a payment feature here today.
Users can pay a merchant using a credit card, debit card or the national PayNow service without leaving the chat app, thus saving time when making everyday transactions.
This seamless experience is similar to what China-based apps such as WeChat have pioneered in recent years, in a push to make payments more convenient to boost e-commerce.
On WhatsApp, the new feature will make it easy to make payment without having to switch between apps on a mobile phone. For merchants, it also ensures that a customer isn't "lost" while struggling to complete an order and pay for it digitally.
WhatsApp, a part of Meta, which also owns Facebook and Instagram, is kicking off this new feature in Singapore with a few local businesses today.
These include plant-based meat store Love Handle, a gym called No Excuses, lifestyle boutique Tye Tye and pastry shop Baker's 13. More merchants are expected to come online in the months ahead.
Announcing the new feature with a LinkedIn post today, Meta's head of fintech Stephane Kasriel said the new feature would let users connect within a chat on WhatsApp without having to go to a website, open another app or pay in person.
In Singapore, businesses that want to offer this payment service to customers can work with its solution partners to get onboard, he added.
What many users don't see and the real magic behind all this, of course, is the integration of the back-end systems that enable the payments to go through seamlessly.
Here, Stripe is the payments provider that Meta is working with for this rollout. Already, the in-app WhatsApp payment option had been available in India and Brazil before Singapore.
What such an offering means is that Meta and WhatsApp have a more direct link to users than other fintech and Internet rivals, such as Google and Samsung, which also offer payment apps.
This is important, considering that six in 10 consumers in Singapore consumers would like to make purchases directly through a conversational messaging app, according to a survey last year by Twilio, which develops software tools for businesses to manage communications with customers.
The research also revealed that close to four in 10 people in the country would would spend at least 20 per cent more on a brand that offers conversational messaging. For them, it's now even easier to pay with WhatsApp.