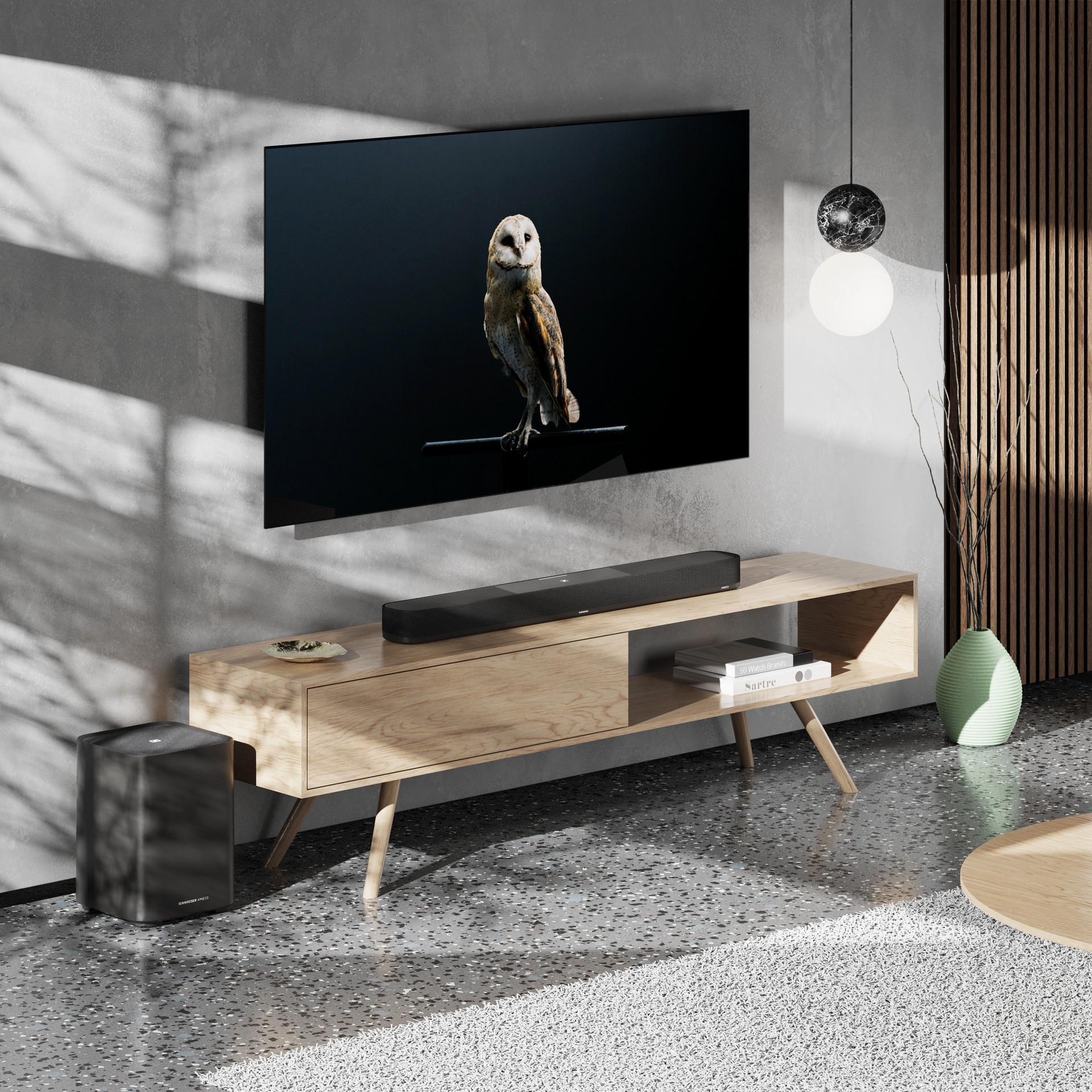 The Sennheiser Ambeo Soundbar Plus is available in Singapore now at a princely price of S$2,299 for folks who want immersive Dolby Atmos audio without wiring up their homes with multiple speakers.
The much-heralded and costly soundbar – Sonos' versions start at a fraction of the price, for example – is the latest foray into this emerging audio segment by the German headphones and professional audio manufacturer.
The relatively compact soundbar is not to be confused with another similarly named one launched last year. That larger version, originally called Ambeo Soundbar, is now the Ambeo Soundbar Max.
This new smaller brother still promises audiophile-quality sound with its 7.1.4 speaker setup, which would attract users who want a bit more from their movies.
Like many soundbars today, the Sennheiser Ambeo Soundbar Plus uses a self-calibration process to read a room's acoustic properties. It then tries to project 11 virtual speakers around the user, who Sennheiser says should feel like there are seven around him and another four overhead.
At least at a media listening session last week, the Ambeo Soundbar Plus sounded interesting and involving. The sounds from movies such as Kong: Skull Island, for example, do seem to be moving all around you. Not just left and right but also from above, which is impressive.
The dialogue, as you'd expect, is also clearly audible in the front and centre, which is important to any home theatre experience.
Even though loud explosions or vehicles moving at high speed may dominate the sound field, it's important you can hear what the characters are saying. Here, the Ambeo Soundbar Plus seems to do a good job, with the short demo that I had.
Along with other members of the media, I listened to the soundbar in a relatively small room, so it would be interesting to see if it stands up to the test in larger settings.
The good news is that it takes just a short calibration process for everything to be set up, which will be a boon to non-geeky users.
Of course, it helps if you also buy a separate subwoofer – the Ambeo Sub – to boost the low end. Driven by a 350-watt Class D amplifier, the 8-inch woofer promises thundering bass and enough control to scale up when needed.
To keep everything neat and tidy, you just have to power up the Ambeo Sub and let the Sennheiser mobile app do its magic to link it up to the soundbar. So, no cables needed between the two speakers but you hope there's no delay in the wireless link.
The subwoofer will cost you an additional S$1,099 if you buy it separately, though Sennheiser is offering a bundle package of both the soundbar and subwoofer at S$3,098.
What's less clear is how well the Sennheiser setup would play back music. The demos I heard during the session last week were clear and free from distortion, but I don't recall being impressed by its detail or soundstaging, for example.
Then again, it'd be hard for any soundbar to beat a proper pair of stereo speakers. We're hopeful of trying out the Sennheiser Ambeo Soundbar Plus soon so stay tuned!