Evil never dies.
In Gears of War 4 (GoW4), set 25 years after the events of the last installment of the action title, meet the disgusting mutations of the reptilian Locust Hordes which you fought previously. And these guys are irritating yet a lot of fun to fight.
In GoW4, you play JD Fenix, son of Marcus Fenix, the protagonist of the previous Gears of War games. JD is part of the Outsiders faction that lives in a village outside the control of the Coalition of Ordered Governments (COG).
A shocking attack by the Swarm devastated the village and some members of the Outsiders were abducted. Together with his Outsider teammates, Kait Diaz and Del Walker, JD sets off on a mission to rescue their loved ones.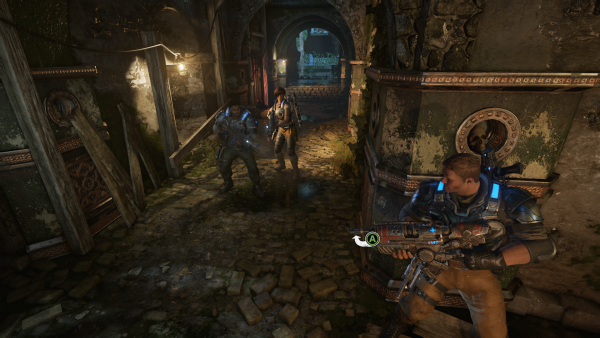 GoW4, at its heart, is an intense third-person shooter that pits you against intelligent enemy AI and forces you to use cover wisely. What help to make the game fun are the great characters, a huge variety of weapons and enemies as well as random challenges thrown at you to keep things fresh.
One such challenge is windflare, which are strong winds that can blow cover away or throw obstacles towards you. When the storm gets really bad, you will need to dodge lightning bolts that cross your path.
JD's quest takes the team through various places. You go from the Outsiders' village to Marcus's huge farm, to an osmium underground mining facility, all the way into the heart of the Swarm's hive.
The game's varied environments makes it fun to play through even though you can often anticipate when you will be attacked. Opening a door into a big area? Lots of potential cover? Better watch out!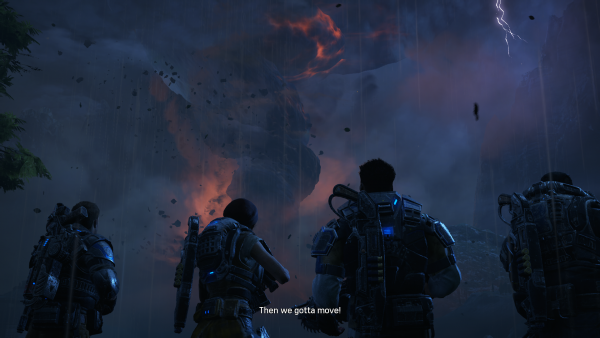 One complaint I have of the game is its pacing – the early part of the game (Act I and II) is rather repetitive and predictable as there are always several waves of robotic enemies brought in by dropships every time you enter a new area.
But stick with the game until Act III and you get to meet various Swarm enemies that demand smart tactics and creative use of your arsenal to beat. I couldn't stop myself playing from Act III all the way to the end.
The enemy of my enemy is…my enemy?
In GoW4, you get to fight two different groups of enemies. The first group, known as "Deebees", are robotic soldiers used by First Minister Jinn of the Coalition of Ordered Governments (COG) to quell the Outsiders. Expect a lot of these guys coming at you in the early part of the game.
The Deebees vary from robotic soldiers on foot, to floating Guardian hiding behind shields, to helicopter-drones like Kestrels and even rolling explosive Pods which you have to kick away if they get too close.
The second group, which I personally prefer, are mutated Locust lifeforms known as the Swarm. Unlike Deebees, Swarm enemies are a lot more interesting.
There are the Pouncers that can jump on you and fire deadly quills from their tails, the ginormous Carriers who can shoot fiery tadpoles from their chests that explode on impact, and the extremely irritating Juveniles or "Juvies" that charge at you and attack up close.
And if you wait too long to kill them, the Swarm will run towards you and attack you at close range. Coupled with the fact that some Swarm enemies who are down can crawl around and be revived, you need to expend even more ammo to make sure they are really, really dead before taking your eyes off them.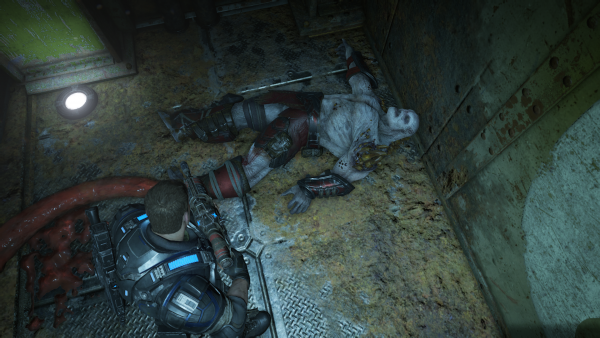 Lock and load (and search for ammo)
GoW4 makes shooting fun and challenging, featuring an arsenal with a good variety of weapons with different recoil, reloading time and clip sizes that deliver extreme firing pleasure.
From a chainsaw rifle combination in the form of a Lancer, to the crowd favourite Gnasher shotgun, to the Trishot minigun, to my favourite Boltok pistol that is lethal at mid and close range, GoW4 features a feast for lovers of shooters. Try them all and find your favourite!
Occasionally you find big guns that are unwieldy and have limited ammo but pack a punch, such as the Dropshot that launches rocket-powered drills, Buzzkill that fires off circular saws, and the Overkill shotgun that shoots four rounds at once.
These are great for the short term when taking out ginormous Swarm beasts but they need to be ditched once the boss fights are over since ammo quantity trumps quality when you are overrun by the hordes.
For snipers, there are long range options such as the Embar that needs to be reloaded after each shot, and the devastating Torque Bow which fires a projectile that explodes on impact.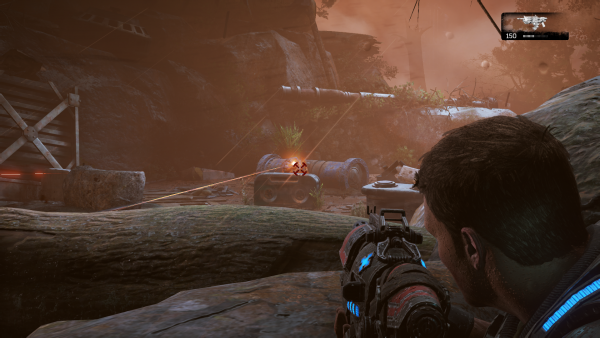 This is one game where it pays to be fully loaded all the time as there are a lot of enemies that come at you at once, as well as insanely powerful boss monsters who seem impervious to bullets.
Be warned that ammo runs out fast since most enemies can take plenty of hits to kill, and you will waste ammo shooting from the hip at the "Juvies" that are agile and fast. Scavenging for ammo from dead enemies or caches was my top priority.
Fortunately, Kait and Del never seem to run out. If all else fails, make you are at least equipped with a Lancer that has a built-in chainsaw so you can saw your enemies to bits when your ammo runs out.
Team Tactics
GoW4 requires different tactics in firefights. You are constantly taking cover and rolling away when an enemy has you in its sight, choosing the right weapons for the different enemies and using items in your environment to your advantage, including mecha-suits, siege engines and explosive barrels.
So it isn't just running into firefights mindlessly with guns blazing – instead, you have to look, duck and shoot.
In the game, JD is always accompanied by two or three members of the squad, which means that team tactics need to be managed well. When your squad members are down, you need to revive them. They will return the favour when you are down too, so don't be a coward and hang around the rear.
For example, when fighting the Snatchers which can swallow a human whole and carry him/her away, you need to stay well away but still be ready to shoot the Snatcher's belly open quickly if it manages to grab a teammate. I hate the Snatchers but seeing them explode when they are defeated is so satisfying.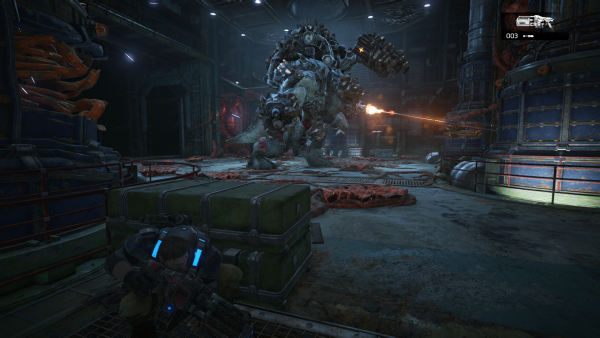 Your squadmates Kait and Del are quite endearing and will grow on you, especially with their witticism and smartass remarks. It helps that you connect with the characters and feel the same urgency as they do when trying to rescue their loved ones.
Another interesting aspect of GoW4 is that reloading needs to be timed for maximum efficiency. So, apart from keeping an eye on the enemy, you need to watch the reloading bar to time when to press the reloading button.
If done correctly, you will get a damage boost and faster loading speed, otherwise the gun might jam. Mastering this is critical when you desperately need to take down enemies as quickly as possible before they wipe out your squad.
An innovative aspect of the gameplay is the Fabricator. It's available during certain missions that let you set up turrets, sentries, barricades, and even decoys, to defend against the waves of enemies.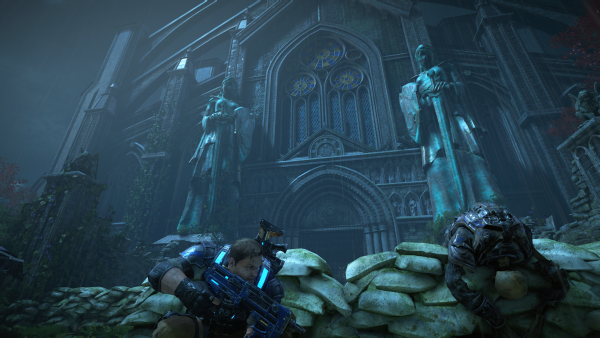 GoW4 also features a great multiplayer mode, both player versus player as well as co-op. What I really enjoy is the Horde multiplayer option where you can team up with four other players to survive waves of enemies.
Dubbed Horde 3.0, it features the Fabricator, which you can use for setting up defensive fortifications like turrets and sentries. If you don't want to play online and have an additional controller, you can play missions co-op via split screen with a friend beside you.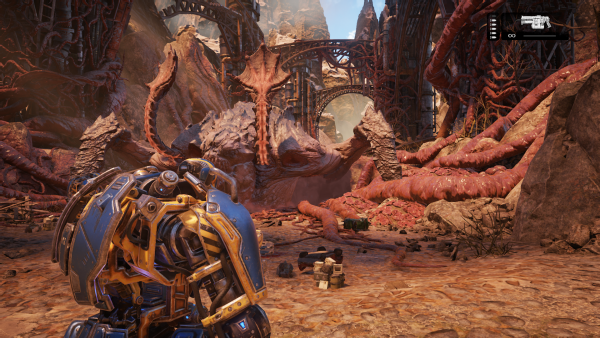 Can't wait to get your hands on the game? You can purchase GoW4 via digital download here at S$69.75.
If you haven't got your Xbox One and are waiting for a good deal, there's a special GoW4 Xbox One bundle at S$349 including a 500GB hard drive and a digital download of the game.
If you are still a PC game stalwart, don't feel left out as GoW4 is an Xbox Play Anywhere title which means that it is also playable on Windows 10 systems.
TL;DR
All said, GoW4 throws you a variety of challenges to overcome. If you love third-person shoot 'em ups that require some tactics, appreciate intelligent enemies, and like to hang out with fun squadmates, you will probably enjoy the game.