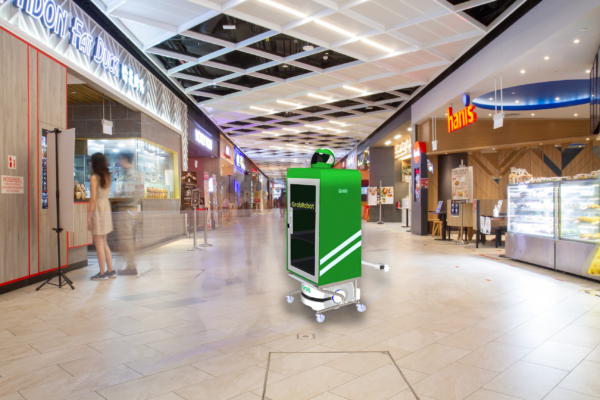 Don't be surprised to see a cupboard on wheels moving on its own when you next visit Paya Lebar Quarter (PLQ), because the mall has teamed up with Grab Singapore to launch a robot runner to collect and carry food deliveries from eateries there.
Come June, the autonomous robot will consolidate orders across several restaurants within the mall before handing them off to delivery partners at a central collection point for last-mile delivery.
This way, riders won't have to dash across the mall to collect orders, Grab said yesterday, adding that this pilot service will shave off between five and 15 minutes for deliveries.
The robot runner will come in handy for new "mix and match" orders that Grab recently introduced.
This service allows customers to order from multiple eateries at a mall or hawker centre for a single fee, but it also means a delivery rider or driver has to rush to multiple locations to collect the orders.
At PLQ, the robot runner will help with that part of the job, according to Grab, which believes this will help it improve the delivery experience.
Just to make sure it doesn't bump into people in the mall, the robot is fitted with Light Detection and Ranging (LIDAR) sensors to detect incoming obstacles.
While it is moving around, an automated voice message alerts shoppers of its presence. Plus, it can scan and monitor its immediate proximity in real-time to avoid sudden obstacles and prevent collision, Grab has promised.
To make sure that a passer-by doesn't take a swipe at the food in the robot, it comes fitted with a combination lock. Only participating merchants and Grab staff manning the collection point can open it.
Besides faster deliveries, the robot made by a firm called Techmetics Robotics also means less person-to-person interactions during the current coronavirus pandemic.
"With a central location for Grab riders to pick up orders and the use of technology to manage logistics workflow, we will be able to minimise people-to-people contact and do our part to safeguard the well-being of riders, tenants and customers," said Audrey Balakrishnan, general manager for PLQ.
At least one eatery – a bubble tea chain – seems happy with the introduction of a robot runner.
Gong Cha chief executive Kang Puay Seng said it could help with the mix-and-mix service, which attracts more people to buy bubble cup as part of their other food orders.
Of course, how well the robot performs will depend on how well the food is delivered to the customer. How does it go up and down the multiple storeys in a mall and not spill a drink, for example?
At least for now, it will serve only merchants in basement two of the mall, ferrying approximately more than 250 orders per day, Grab says.
And for a start, Grab staff member will also guide the robot on its ideal route. This will allow it to learn and adapt in a controlled setting.
Just like humans, it also has a probation period. After a month, Grab will assess the robot's performance and viability before expanding the service to other locations.