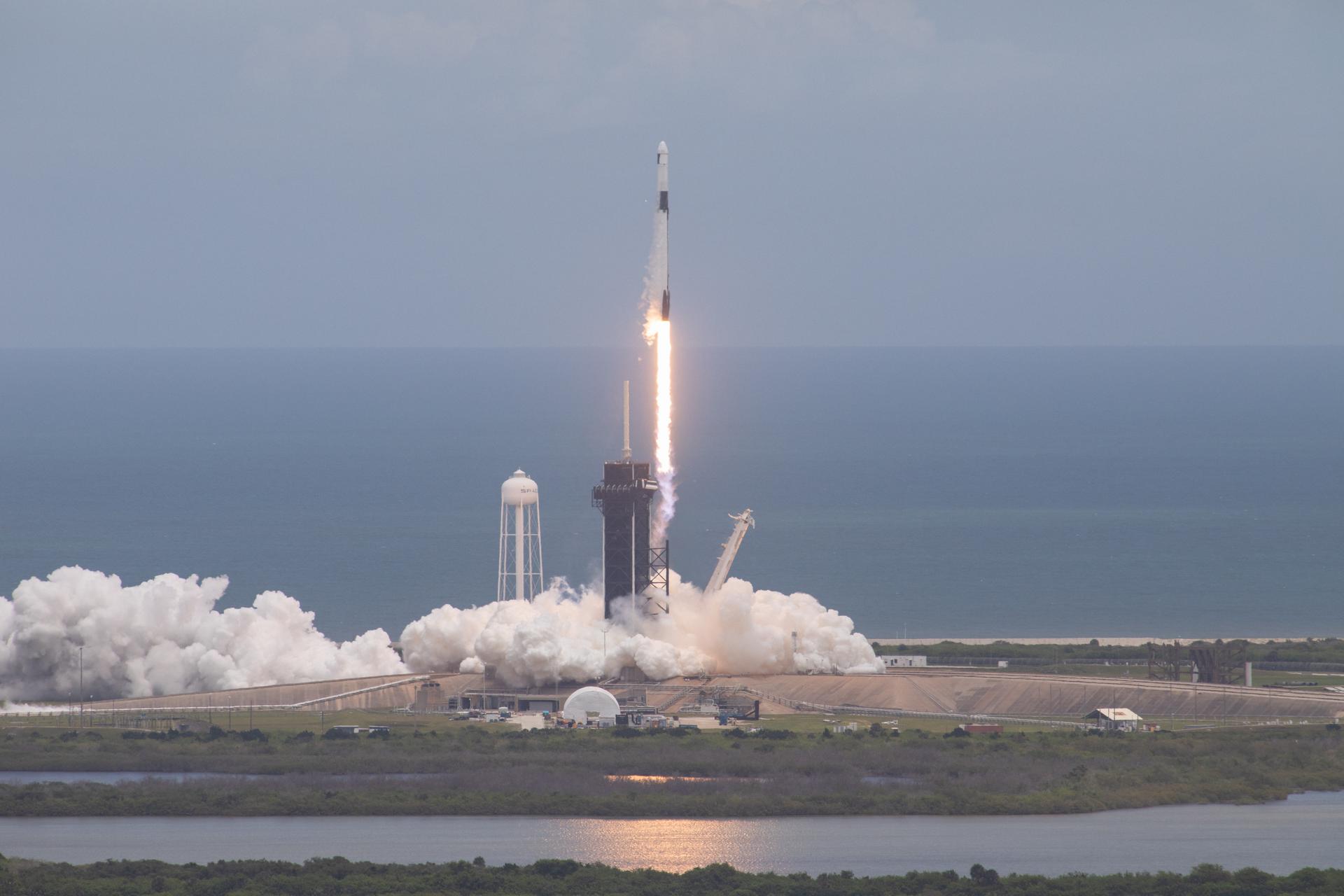 Ethereum, the open source blockchain, has blasted off to space and found a new home at the International Space Station (ISS).
Last week, Singapore startup SpaceChain successfully launched a payload on a SpaceX Falcon 9 rocket to conduct the first demonstration of Ethereum blockchain technology in space.
Once installed, tested and activated at the ISS, this blockchain node will allow organisations to use Ethereum's smart contract platform running in space with greater security and immutability. It already has a customer Nexus, a digital asset firm.
This is a big expansion effort since the open source code of Ethereum was released in 2013. A popular blockchain platform, it is increasingly being used by organisations especially financial institutions to share business, financial services and entertainment applications.
With Ethereum running from the ISS, it is the security and remoteness of space infrastructure that ensures the independence of Ethereum contract operation, which will be unconnected in any way to a centralised terrestrial server.
A blockchain is a distributed ledger where consensus is needed by each network node to record transactions. This consensus feature is important to instill trust and transparency in the ledger and among users.
In another step towards security, this space Ethereum blockchain will also offer multi-signatory transaction services, with data uplinked and downlinked directly through a dedicated space encrypted communication network.
In this way, it will also be a more efficient smart contract operation and will provide greater application possibilities, said Zee Zheng, co-founder and CEO of SpaceChain, in a recent interview.
Nexus founder and CEO John Pollock said the transmission delays between ISS and earth contributes to security as it "demonstrates the deeply controlled levels of electronic safeguarding for all movement of financial assets; guaranteeing the independence of Ethereum contract operations from centralised earth-bound servers".
In a earlier statement, he added that this level of security and transparency is unmatched and expects to develop additional blockchain capabilities for enterprise business applications.
With Ethereum in space, SpaceChain is one step closer to its aim of building a space-as-a-service feature for organisations who want to explore blockchain development in an ultra-secure and tamper-proof environment.
In pursuit of this goal, Zheng aims to build a mesh network of satellites based on blockchain technology. It requires linking satellites owned and run by different companies and countries operating in low earth orbit, to form a different and neutral jurisdiction that is enabled by blockchain.
Work has already begun as a result of a grant it received last year. SpaceChain was one of three organisations that received a £440,000 grant (S$824,000) to jointly develop a decentralised satellite infrastructure that powers a blockchain payload to enable space applications.
The grant was awarded under an Eureka Globalstars-Singapore call which financially supports international co-innovation efforts. This particular grant had the involvement of Innovate UK and Enterprise Singapore.
Explaining further, Zheng said organisations especially sovereign countries are reluctant to use satellites owned by other countries and organisations because of geo-political and trust issues.
The blockchain-based mesh satellite network offers greater transparency since it is a consensus based infrastructure providing a high trust level.
It will advance the development of commercial applications linking up space resource providers, satellite application and fintech companies.
"You don't have to trust me or SpaceChain. But you can trust the blockchain," said Zheng. "Organisations can read our open source code. This is the fundamental global deep technology that we are developing now."
Once it has the technology, the company's space-as-a-service feature will see SpaceChain acting as lead integrator for space blockchain solutions, providing integration and customisation applications for organisations who want to launch their blockchain payloads into space.
The market size of this space-as-a-service solution is unknown as it is a new sector. However, Zheng estimates it will be a trillion-dollar market.
The prohibitive factor now is the high cost of launching a payload, which varies between US$500,000 and US$3 million, excluding other items like research and logistics.
The mesh satellite network will enable new applications in space which in turn will see more companies doing business in space. This will eventually drive down costs.
Last week's blast into space was SpaceChain's fourth launch. It will have another launch on June 24.
In 2019, it had launched a bitcoin payload. The Singapore-headquartered SpaceChain, founded in 2017, is among about 40 firms in the budding space industry here.
By 2040, the global space industry could generate revenue of US$1.1 trillion, according to Morgan Stanley estimates. Singapore is a minnow in this industry. Nevertheless it has attracted about seven per cent of the US$135 billion invested in the global space sector.
This article first appeared in graceblockchainblog.