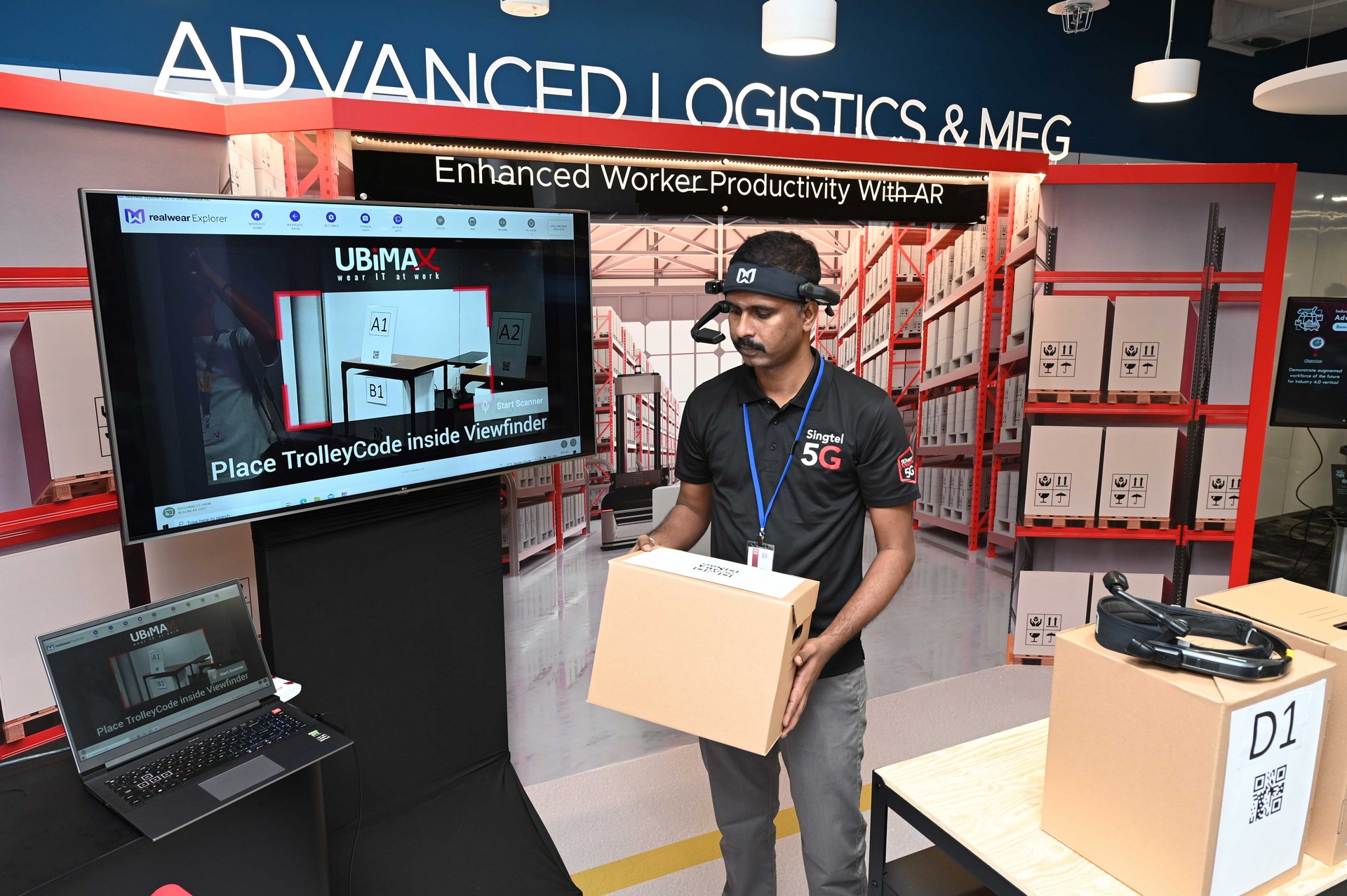 Singtel is rolling out an "all-in-one" platform that promises to let businesses deploy 5G apps and services easily with an ecosystem of pre-tested apps, on-the-fly network slicing and access to ready-built edge computing.
Called Paragon, it is expected to cut development time for apps that could range from fleet management to logistics workflow and augmented reality, enabling businesses to get on the 5G bandwagon much more quickly.
The reason, according to the telecom operator, is that the pieces of the jigsaw are already in place, connected to Singtel's 5G network and its multi-access edge computing (MEC) system launched last year.
Compared to 4G, 5G delivers much higher speeds, which enable large files to be shared quickly, while its low latency allows operators to remotely control autonomous vehicles and machines without worrying about lag.
At the same time, the network slicing available lets customers control how much network resources to give particular users, which comes in handy when they need more bandwidth for unplanned situations.
In demos to the media and industry partners today, it showed how a customer can boost the 5G speeds of a user four-fold on the fly, through a simple Web dashboard. This control can allow, for example, a drone operator to send video feeds back or law enforcement agencies to record a live event.
The control given to customers is a testament of the revamped back-end infrastructure that has been engineered for businesses to be more agile and move fast.
In the past, telecom operators often required customers to fill in forms for small changes in service plans and then wait days for these changes to be implemented.
The Paragon platform is built for customers that are looking for the agility that is critical today, said Bill Chang, chief executive officer for Group Enterprise at Singtel.
It also takes away the complexities of making sure each component – the network, devices and software – worked together seamlessly because they would have been pre-tested by Singtel, he noted.
He added that Paragon is set to be rolled out regionally to Singtel's partner telcos and possibly even to non-Singtel telcos, though they would make their announcements later.
Another plus of Paragon, which Singtel executives were to keen to show off, is the ease of use in setting up apps.
For example, a fleet management app, pre-tested to work with Singtel's infrastructure, can be bought by businesses like a mobile app on an app store. It can be provisioned and running on a virtual machine at an MEC unit almost instantaneously.
Singtel says its "industry-first" platform lets businesses get their apps and services running in weeks, rather than months.
Rival 5G operators StarHub and M1 also have MEC offerings that promise to put the pieces together for customers, though it is unclear if they offer the same apps and ecosystem as Singtel is promising.
What such a platform offers for telcos is a way out of simply provisioning a "dumb pipe" and delivering services that public cloud operators have been offering in recent years. For this, the MEC is key because it is closely tied to the 5G network infrastructure that telcos control.
For its MEC, Singtel has teamed up with Microsoft Azure, so customers already familiar with that stack should be able to deploy apps quickly. Certainly, Singtel isn't starting from scratch.
It's also not trying to lock users in, it would say, because its application programming interfaces (APIs) are open. Plus, not every app will be hosted at the MEC or Paragon. Only the most latency-sensitive ones are likely to be on the platform, with the public cloud fulfilling other needs.
Asked if the Paragon platform would face issues like customers causing security issues with wrong configurations, which public cloud providers have been grappling with, Singtel executives said its network core is isolated in the multi-tenant environment so there should be no disruptions to other customers.
At the same time, customers will be provided with recommendations to get their security settings in place so they adopt the best practices when it comes to beefing up their cyber defences.