People love Minecraft for many reasons — some for its endless experimentation and exploration, others for the challenge of survival and the possibility of creating amazing structures and overcoming enemies with ingenious designs.
Even though the graphics are blocky and pixelated, the environments are charming and mobs are cute enough for gamers to spend hours in the game.
But what about Minecraft spin-off games that try to delve into more action-oriented gameplay?
After the rather disappointing Minecraft Dungeons from 2020, which played like an action Role-playing game (RPG), can Minecraft Legends break the curse of being another mediocre Minecraft spin-off as a Real-time strategy (RTS) game?
Developed by Blackbird Interactive, which has some decent titles under their belt such as Hardspace: Shipbreaker and Homeworld, Minecraft Legends looks like it has potential.
I played a copy of Minecraft Legends provided by Microsoft on the PC with a mouse and keyboard, which I feel offers better precision for RTS games.
War and gifts
You play an unnamed hero in the world of Minecraft who is approached by three caretakers, Foresight, Action and Knowledge, for help in saving their world.
Piglins, which are hostile mobs from the Nether, have invaded their world using nether portals and are setting up bases across the map, and are pillaging villages, holding villagers and friendly mobs hostage.
Being the appointed hero seduced by the "you are our only hope" plea, you drop the pickaxe and wield the diamond sword in an attempt to help everyone everywhere all at once in the Overworld.
Minecraft Legends expands on the concept of illager raids in Minecraft survival mode, but now you actually have more tactics to deal with them.
To that end, the caretakers offer you three pieces of equipment, namely the Legendary Lute, the Banner of Courage and the Flames of Creation. Each has its own specific power.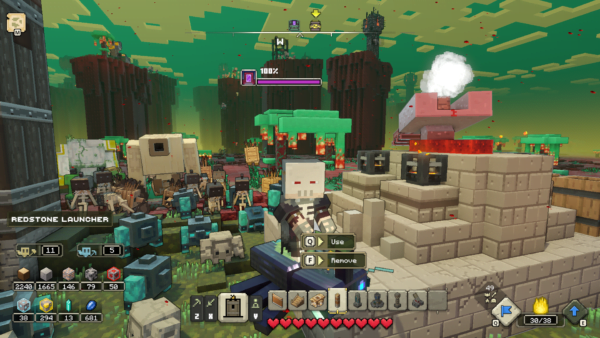 With the Legendary Lute, you can command little flying spirits known as Allays to mine resources and build structures, such as archer towers, walls and gates to defend your villages as well as improvements for enhanced abilities and advanced structures.
You can command Allays to mine a certain area for resources while you run off to do more strategic stuff. Just like in the original Minecraft, resources range from common items like wood, stone, iron and coal, to rare ones like redstone, diamonds and gold. 
The Banner of Courage is used to gather and direct troops, and you can even get random mobs like wolves to join you. An upgraded Banner of Courage will let you gather more troops to follow you, while larger Flames of Creation will let you spawn more units.
Some units are more expensive than others and may require rarer resources, so one has to mine voraciously. Apart from mining resources, you can also obtain resources from villages that successfully repel piglin attacks in the form of daily tributes offered to you in a chest.
Many aspects of gameplay can be upgraded by building structures at the main base known as the Well of Fate. This is where the caretakers hang around and teach you new tunes to play on your Legendary Lute to unlock upgrades.
For instance, you can upgrade Allays to store more resources, or increase the number of Allays working for you, or strengthen the structures you build, or even unlock unique abilities such as being able to enlist the help of gigantic creatures known as The Firsts.
There are also convenience perks to unlock. You can connect all the tributes from villages into a single chest so you don't need to run off to every village every day to collect tributes, for example.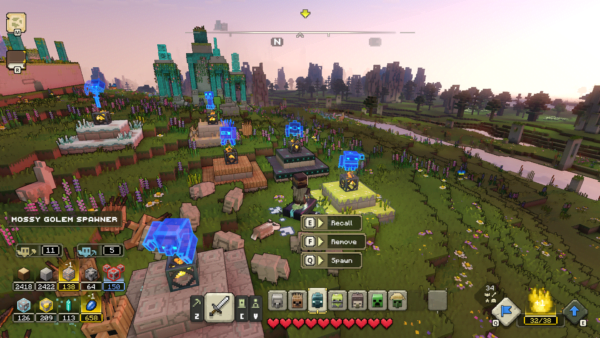 Armed with a diamond sword that you use to attack your foes, your main role is a battle commander rather than an attacker. With no buffs for health nor armour nor improvements for your sword, your best defense is just to avoid getting hit and run away on your mount when the going gets tough.
The game offers four different types of mounts – horse, tiger, bird and beetle – and the last two with flying abilities really help in surviving fall damage when traversing the mountains.
Although there are five different characters that you can choose for your hero, this is a purely cosmetic choice and has zero bearing on ability, weapon or armour, which limits the game's replayability somewhat.
They mostly come at night. Mostly.
Just like in Minecraft's survival mode, the nights in Minecraft Legends are dark and full of terrors. Once it is night, piglin hordes will roam around and attack your troops, build new bases or expand current ones, and attack villages.
There is plenty of preparation for the hero to do every day, and the minimap shows where the piglins' planned invasions or expansions are located.
The minimap also shows the time of the day, which is critical for prioritising what needs to be done to mitigate the damage that the piglins will inflict at nightfall.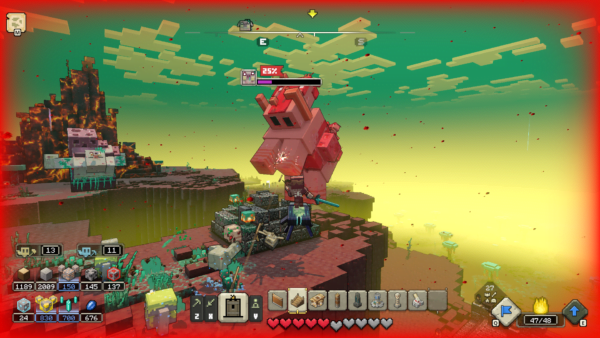 Travel across the map can be rather time-consuming — a good strategy is to discover villages and build well springs so that these can serve as fast travel points. 
Gamers with a hero complex with the need to save the world will find it hard to stop playing. There is always a village that needs saving, or a new outpost being built by the piglins to be destroyed, or allies who need your help in liberating or defending them.
Destroying piglin bases is satisfying but some sieges can take a long time and you need to find a balance between mounting a long siege or defending villages.
Controlling troops in Minecraft Legends is limited to gathering them and sending them off to attack. You can select certain mobs to charge at a spot, but it is usually sufficient to send them all to focus on a key group of enemies and help them by hacking and slashing your way through.
I found controlling the troops particularly difficult in mountainous terrains even with the elevated battlefield view, as the camera angle is severely restricted.
Piglin fortresses which need to be destroyed are built on vile netherrack and tend to be well defended. Larger bases are usually built on high plateaus and fortified with walls as well as destructive structures that fire large projectiles at your troops and stomping machines that push your troops off the cliffs.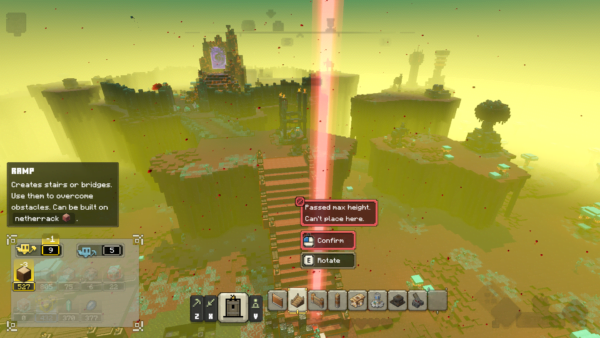 To access enemy structures on high plateaus, ramps can be built. However, finding a spot to build a ramp can be tricky with the restrictive camera angles, and a lot of time is spent by your hero trying to build ramps while facing a barrage of attacks from the piglins.
Not helping matters is the poor pathfinding skill of your troops. They tend to fall off the ramps while trying to follow you and end up stuck at the bottom of the cliff when you need them up top, leaving you to fight the piglins and the bosses alone.
Since they are unable to climb up without leadership, you will often have to climb down to guide them back up, which is extremely frustrating especially when the piglin's portal is close to being destroyed, and the delay causes more enemy troops to spawn.
Apart from being overcome by the hostile piglin hordes and tough bosses, my character died a lot when falling off cliffs, running into thorns or falling into burning lava.
Dead heroes will spawn in the last visited village or well, but precious time is lost when travelling back to resume the attack on the enemy's base.
Friends, foes and war machines
One thing I like about Minecraft Legends is that the familiar mods are united as friends instead of being the annoyances that they were in the usual Minecraft survival mode.
Skeletons, zombies and creepers can be rounded up to fight with you and defend their world, and can also be spawned once you liberate their homesteads. 
The units that you get include melee types like Grindstone golems, ranged units like Plank Golems and Skeletal Archers, and Mossy golems that can heal troops.
My favourite are the Skeletal Archers for their long range but they are expensive as they require rare diamonds to spawn. However, the game lacks variety with less than ten types of units to control.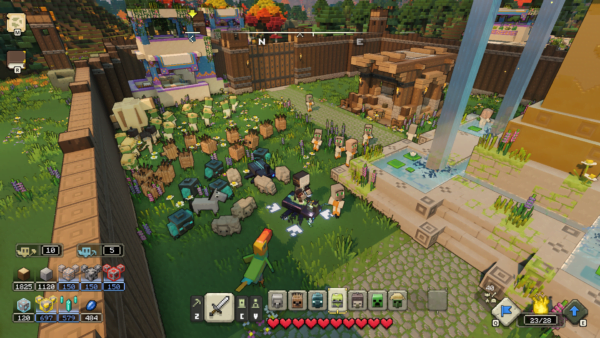 Minecraft Legends offers limited war machines, including a siege weapon in the form of redstone launchers, which are essential in tearing down walls and reinforcements on larger enemy bases, as well as powerful towers that deal Stun, Blast and Frost damage.
These towers need to be discovered and collected while exploring the biomes, and can pack a punch in decimating piglin hordes and bosses, but require a massive amount of resources to build. 
To build launchers and towers within range of the enemy bases, you need to command your Allays to convert the toxic netherrack to neutral surfaces, which adds a tactical complexity that involves managing Allays' between gathering resources and preparing the battlefield.
Minecraft Legends also encourages you to explore the biomes, and rewards you with new allies and weapons of war.
For instance, you can discover and awaken powerful creatures known as The Firsts once you acquire the ability to awaken them by building a special structure at the Well of Fate.
In terms of graphics, Minecraft Legends sports a rather cartoony look for the biomes and characters, which are still charming in their simplicity. However, the action-packed cutscenes do not translate well with the blocky look that Minecraft is famous for.
I can barely make out what the evil piglins are emoting in the lava-filled Nether especially without dialogue, and it's a real eye-strain watching the closeup of pixelated expressions of the evil creatures.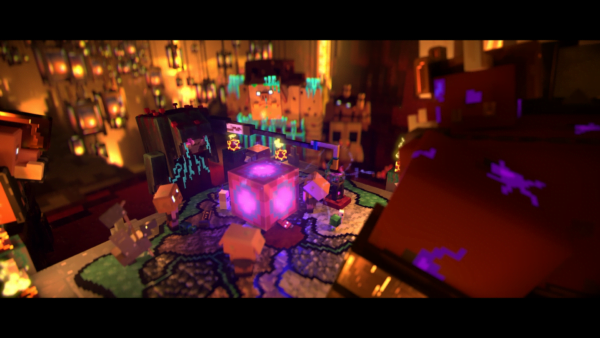 Apart from the rather short single-player campaign, Minecraft Legends features Player versus Player (PvP) and co-operative multiplayer modes for up to four players, so it's a good start for getting the feet wet for gamers new to multiplayer RTS games.
TL;DR
Minecraft Legends is a dumbed-down RTS set in the Minecraft world, with familiar and cute characters like creepers, zombies and skeletons being on your side for once and united against piglins as the common enemy.
The fast-paced action of piglins attacking and expanding at every nightfall will keep you on your toes, and every mineable resource, and discoverable allies and war machines are essential in helping you push back on the piglin assault.
With simplified gameplay and story, it's a great game for younger players, but hardened RTS veterans will wish for better troop variety, control options and more tactical challenges.
The game is addictive especially for gamers with a hero's complex. You might end up trying to help everyone everywhere all at once, but the short campaign and simplified RTS gameplay makes the game feel rather lacking.
Minecraft Legends is free to play for subscribers of Xbox Game Pass​​, and is available for purchase for Xbox Series X|S at S$​​57, for PC on Windows and Steam​​​ at S$56.90, for the digital version on Nintendo Switch at around S$53 (US$39.99), as well as PlayStation 5 and 4​ at S$55.42 from the PlayStation Store. 
Yaay
Unity with previously hostile survival mode mobs
Clever incorporation of mining and exploration
Simple and addictive gameplay
Naay
Bad camera angles hinder strategic gameplay
Poor troop variety and path-finding abilities
Some cutscenes are a strain to watch without dialogue