A vampire-slaying, first-person shooter set in an open world, Redfall comes with high expectations.
After all, the game is developed by Arkane Studios of Dishonored and Deathloop fame and published by Bethesda Softworks. Plus, it comes with a story driven single-player campaign as well as multiplayer co-op gameplay.
As an Xbox and Windows exclusive title following Microsoft's acquisition of ZeniMax Media, parent company of game publisher Bethesda Softworks in 2021, Redfall has been seen as a title that can further cement Microsoft's dominance in the gaming scene.
And the lights all went out in Massachusetts
The story is set in the town of Redfall, Massachusetts, which is being controlled by a group of powerful vampires, who are aided by a bunch of cultists who worship some entity known as the Hollow Man.
Exsanguinated corpses litter the town while remaining survivors try staying alive by banding together and keeping out of sight. You play one of four characters, each with a different set of skills and abilities, delving into the mysterious appearance of the vampires to save the town of Redfall.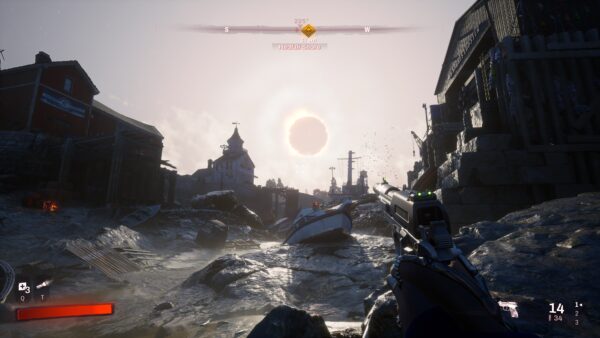 The four characters are: Devinder Crousley, an influencer as well as an expert in cryptozoology with special UV attacks which are useful against vampires; Layla Ellison, who has telekinetic abilities and can conjure various creative apparitions to her advantage; Remi de la Rosa, a robotics wizard accompanied by Bribón, a robot companion who can distract attackers and use C4 charges,; and lastly, Jacob Boyer, a sneaky sniper with a spectral raven companion. 
The game starts with the protagonist awakening on a ferry trying to escape Redfall, and confronted by vampires as well as a character known as Black Sun.
While heading back to Redfall's shore, they witness a strange phenomenon where the sea is peeled away and suspended in motion, and the sun is enshrouded by an eerie permanent eclipse.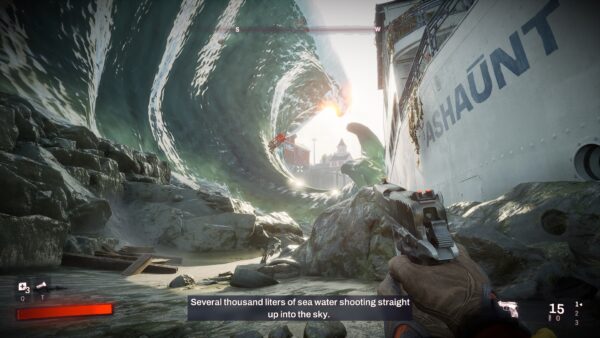 After the tutorial which involves liberating some non-playable characters (NPCs) from a fire station that serves as the base, you go about investigating the origins of vampires and the Hollow Man. You do this by looking through various sites and completing the key story missions.
Along the way, your character is beset by a multitude of enemies. These include cultists who worship an omnipresent character on screens all over town known as the Hollow Man, as well as variants such as the volatile Bloodbags, who are bloated cultists serving as a food source for vampires and even emit a deadly red mist.
Apart from the garden-variety fast-moving floating vampires, there are also Anglers who can turn invisible, Siphons who can steal your health, and Watchers whose eyes can shoot powerful beams that wound you. Most are best dealt with from a distance and by stealth since there are no melee weapons in the game except for your fists.
There are also boss and underboss vampires with special attacks and abilities that offer some extra challenges, so always go in with all weapons – especially the stake launchers – loaded! The base and safehouses offer a quick option to fill up all ammo for a one-time price, which is really useful when you are rushing off to a big battle.
The coastal town of Redfall houses an assortment of multi-storey buildings, residences, streets and alleyways. However, there are also long intervals where there is sparse action without anything notable to explore, just hedges and fields. Thank goodness there are fast travel points in the form of historic landmarks and safehouses to skip the boring parts.
Buildings in Redfall are more interesting to explore, but not all can be entered. For those that can, there is often an alternative entrance that can be accessed on another level if the doors are locked, which rewards the observant player.
The game does feel rather eerie, especially when you're creeping around buildings in the dark and hearing the gross sounds of vampires feeding. Even in the daytime, the perpetual eclipse means that there is more light but vampires can still roam the streets.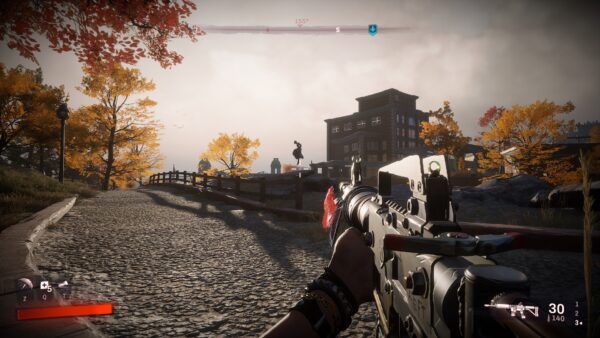 For those who like to go in with guns blazing, the game is a lot less scary. Enemy AI is also very forgiving – I have sniped cultists right in front of their buddies and they will walk away after a minute, muttering something like "must be the wind".
The environment also offers some objects that can be exploited to cause damage to your foes, such as flammable fluids, explosive containers and electrical outlets, which can turn a well-placed shot into a deathtrap. I found it extremely satisfying to blow away a group of enemies near a petrol truck, provided I didn't get caught in the blast too.
Looting, shooting and snooping
The game isn't quite survival horror since there is no need to craft items — there are plentiful food items, ammo and health packs lying around. Much of the time is spent going through buildings to loot for weapons and supplies as well as random items that conveniently turn to money once they are picked up.
You can also find Remnants which serve as a kind of amulet that can be equipped to bestow health, resistances and other powers to your character, as well as creepy Grave Locks that can be collected. These are locks of hair which will unlock a narration that will shed some light on the events that caused the vampires to appear.
Redfall offers a small selection of handguns, shotguns, sniper and assault rifles, and these require a stake to be attached in order to finish off vampires in a final blow.
For weapons, there are some ranked Legendary with added perks, such as boosting damage or increased magazine size. There are specialty weapons like a UV light that can petrify vampires temporarily, as well as my favourite weapon, the slow but powerful stake launcher.
Even though the load time is agonisingly long, you can inflict some serious blood-letting damage on those annoying vampires and bosses with a well-aimed stake, making for some really satisfying kills.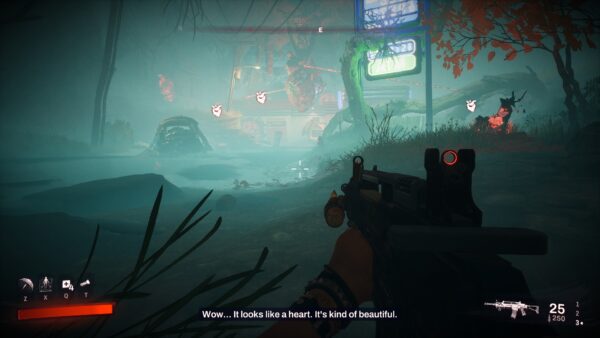 Apart from the main story missions. there are some side quests from NPCs as well as other activities to perform, such as liberating safehouses for other citizens by turning on generators, some semblance of fetch quests or clearing out vampire nests.
Vampire nests are locations where vampires are more powerful, and clearing them out will reduce their influence in the area. This can be accomplished by entering a portal into a dream-like world filled with powerful vampires to free victims and destroy a heart, then running out before the portal collapses.
As you complete quests, you gain experience points and level up with skill points. These can be used to upgrade your character's unique abilities that can give you an edge over the vampires. I played mainly with Layla Ellison since her abilities are most intriguing but unfortunately not the most useful.
For instance, she can summon an elevator that brings her to higher places, use an umbrella as a shield that can explode, and even summon an ex-boyfriend to help out in battles.
These special abilities require Psychic Residues, depicted as glowing blue orbs, which can be obtained from killing vampires and harvested from cultists' jars.
Admittedly, I didn't invest much on Layla's special abilities since they were not particularly useful. For instance, her shield requires close proximity to the target before triggering an explosion — a bad strategy when surrounded by fast-moving vampires.
Redfall offers some replay value since there are four different characters and play styles to try out. Despite the interesting premise, the game does degenerate into a bland shooter and feels at time like a Far Cry game with vampires, only less fun to explore and on a much smaller scale. 
Now we got bad blood
Redfall's visual design and scenery of the town and interiors look decent, and sometimes even pretty during dawn and twilight. However, the graphical performance is rather problematic and inconsistent.
I had to dial back on the default 4K resolution as PC monitor as the game stuttered frequently on my Nvidia GeForce RTX 3070 rig. At Full HD or 1080p, it worked much better.
Even so, there were also instances of shimmering surfaces and poorly rendered shadows. In addition, there were glitches like NPCs being duplicated and floating with arms outstretched, adding some unintended eeriness to the game.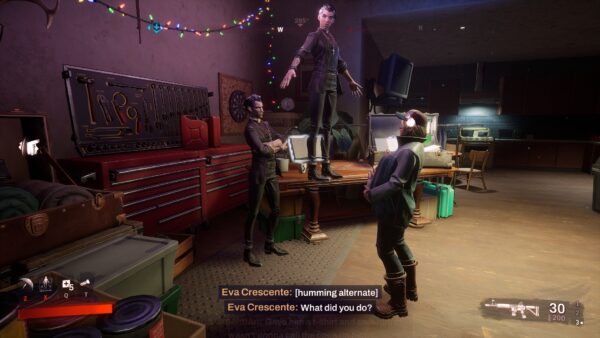 Besides graphical bugs, there were instances where inventory items were misrepresented – I had five health packs but the display kept showing only four and didn't let me pick up more.
That said, while Redfall has a fair number of bugs, it is still comparatively better than Cyberpunk 2077 when it was first released in 2020.
Redfall's tense music adds to the eerie atmosphere — one feels a little unnerved when there is silence while exploring. However, the lively chatter both from the protagonist's monologues as well as the constant coughing, sighing and mutterings from cultists help to relieve some of the tense atmosphere.
Of course, that is until you hear the sickening sounds of vampires feeding nearby. Most of the time, foes can be heard before they can be seen, which makes turning on the subtitles feel a little bit like cheating.
Co-op is a no-op
The game's cross-platform multiplayer co-op mode, which should have been its strength, is unfortunately even less enjoyable.
Redfall allows up to four players to play as any character in a co-op game based on the story missions but there is no matchmaking to play with other players who are not your friends.
This means you will need to find friends who own the game and are available to play at the same time. Also, progression for the multiplayer campaign is tied to the host of the game, not the player.
So, if you play on one friend's hosted game, you will lose your progress when you play on another game hosted by another friend.
With such restrictions, the multiplayer mode fails to engage players. Perhaps if the developer focused solely on the single-player campaign and put more effort in NPC and story development, the outcome might have been different.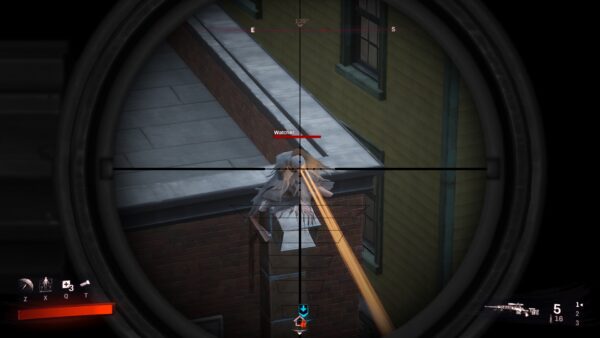 TL;DR
At its heart, Redfall is a fun vampire slaying romp for co-op play that doesn't take itself too seriously. It definitely has its moments of fun.
However, in the inevitable comparison with previous Arkane Studios games like Dishonored, Deathloop and Prey, Redfall does feel like it falls short of the standards set by the developer.
It is not as bad as a lot of negative reviews seem to indicate, but it also isn't a game that will leave a mark on players, nor win Game of the Year awards. 
With swearing, violence, horror and abundant blood and gore, this game isn't for young unsupervised players. Personally. I quite enjoy killing vampires with the sniper rifles and stake launchers, but the characters' special abilities are not particularly useful to me.
Exploration could be improved as well, with certain buildings having more to explore. Travelling from place to place can also be a rather monotonous experience. Overall, the game is rather mediocre and doesn't offer much thrills beyond staking the vampires to death. 
Redfall is free to play for Xbox Game Pass subscribers, otherwise it retails at S$99.90 for the PC on Steam and S$99.75 for the Xbox Series S|X on the Microsoft store. I find the price rather high for now, so perhaps wait for a sale and for the developers to fix some of the bugs. 
Yaay
Satisfying slaughter of a variety of vampires using weapons, special abilities and the environment
Four different play styles offers replayability
Some interesting multi-level buildings to explore
Naay
Inconsistent performance and glitchy graphics
Bugs that cause screen to freeze and NPCs to act strangely
Lack of matchmaking and AI allies for multiplayer