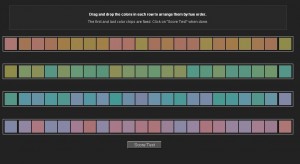 This ain't exactly a gadget post but it might just give you a good reason to get a new LCD monitor.
So you think you can really tell your colours apart? A photo and beer enthusiast friend pointed me to this test from colour management chaps X-Rite, that he first discovered via a link on photoblog site The Online Photographer. Here's the direct link to the test. Try it! It will tell you something about your ability to discern the different hues. Either that or give you a new excuse to go buy a spanking new colour accurate monitor.
And just to show off, I scored a 4 (lower is better) and the blue/greens got me. The test machine was a Lenovo X61. Let us know how you did here!

Win an LG 42-inch LCD TV now.
Contest closes Nov 12, 2008.