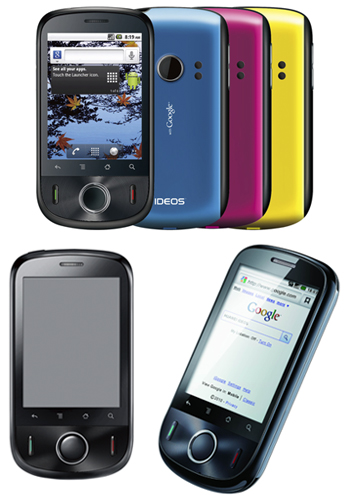 Chinese telecom equipment manufacturer Huawei is taking a shot at the smartphone market with the Ideos, an entry-level handset targeted at feature phone buyers who typically would not consider a smartphone.
The Android 2.2 "Froyo" based smartphone features a 2.8-inch capacitive touch screen that is surprisingly responsive to finger gestures. While its screen size is small for a smartphone, reading news articles from the CNET News.com Android app is still relatively comfortable. Just don't expect fonts and pictures to look all that pretty with a display resolution of 240 by 320 pixels.
Not surprisingly, typing accuracy takes a backseat on the Ideo's tiny screen. Composing short messages is bearable for the most part, thanks to a predictive text keyboard. Composing long e-mail messages, however, can be a painful with just a few lines of text visible in Android's e-mail client.
Design-wise, the Ideos' curved contours, solid build quality and interchangeable back cover defy its image as a low-cost phone. There are physical Call and Cancel buttons below the screen, together with a directional button for scrolling Web pages and clicking on hyperlinks without touching the display. As smartphone users typically use the touchscreen for navigation, Huawei could have increased the Ideos' screen size and left out its physical buttons.
The Ideos offers a stock Android 2.2 experience, which means there are no customised features from Huawei. With Froyo, you get to switch across multiple email accounts from the top left corner of the e-mail client, as well as USB tethering and Wi-Fi sharing features. In a matter of minutes, I hooked up my laptop to the Ideos' AP access point which supports WPA2 encryption.
Besides Wi-Fi and HSDPA support, the Ideos also packs in Bluetooth and GPS modules. You can't do video calls as there isn't a front-facing camera. The Ideos' sole 3.2-megapixel camera behind the phone can be used to capture photos, which turned out to be grainy and lacking in detail.
The performance of the Ideos, which does not support Flash out of the box, cannot match that of smartphones with bigger screens and faster processors. With a 528MHz Qualcomm processor, things can get sluggish occasionally once you run too many applications at the same time and start switching among them.
The Ideos has 200MB of built-in memory which can be expanded with a microSD card. This is definitely not sufficient if you are an app junkie. Without one, you can't install applications like the new Firefox 4 beta Android browser, which isn't available from the Android Market for now.
I installed and ran the new Opera Mobile Beta 10.1 browser for the Android on the Ideos without a glitch, though zooming on text from the New York Times website took a tad longer compared to higher-end Android phones.
Bottomline: Available for free with a two-year telco contract, the Ideos is suitable for folks looking for an additional smartphone that's attractive and light enough for occasional browsing over the weekend in town.