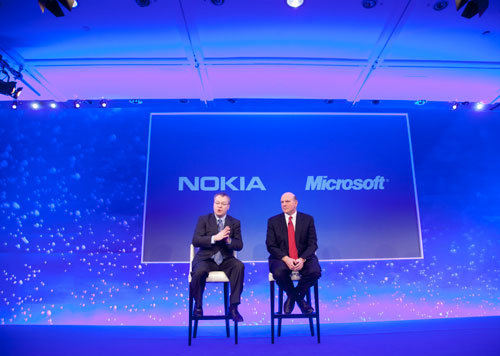 Just days after Nokia and Microsoft joined hands in a bid to rein in the momentum that Google and Apple have rolled up in the smartphone market, the first piece of bad news has hit home – the first Nokia-branded Windows Phone devices won't be out until 2012.
The news came from a Finnish interview with Nokia's board chairman, Jorma Ollila, who contradicted his CEO Stephen Elop's earlier estimation that the first such phones would appear by the end of this year.
Make no mistake about that: in a year, Google's Android OS and Apple's iOS could be so far out of sight that it would take something truly amazing or "magical", to borrow Steve Jobs' line, to catch up with the two current smartphone innovators.
More importantly, would consumers still care for the Nokia brand then? As new handsets and tablets emerge from the Mobile World Congress halls this week, users are already looking forward to dual-core phones running on Android Gingerbread, while tablets from HTC, Samsung and LG continue to push the envelop with the built-for-tablet Android Honeycomb OS.
What will Nokia be putting on stores this year? Symbian and Meego are not going to cut it – if Nokia itself doesn't think so, how can it convince consumers to part with their money for devices running what is essentially end-of-life software?
In fact, by hedging so heavily on Nokia, Microsoft also risks alienating its important Windows Phone 7 partners and further dampening its chances of expanding market share.
HTC, Samsung and LG all put out great Windows gizmos last year with hardware that is no worse than any they'd put on an Android phone. How will they prioritise and market Windows Phone 7 now?
If they decide it's time to shift even more resources towards Android, then 2011 could be very depressing for Microsoft. It may have nothing much new on the shelves this year if Nokia delays its first Windows handsets until 2012.
In the past, you'd expect Nokia to roar back with a comeback gizmo, like how it finally came out with a first clamshell phone in 2004, following the success of rival handsets. But the company is suffering from inertia – a deadly thing in the tech industry – after seeing a chain of ventures like Comes With Music and Meego fall by the side.
To be fair, this year was always going to be a long, chilly one for Nokia. Joining hands with Microsoft hasn't exactly warmed up its hopes.