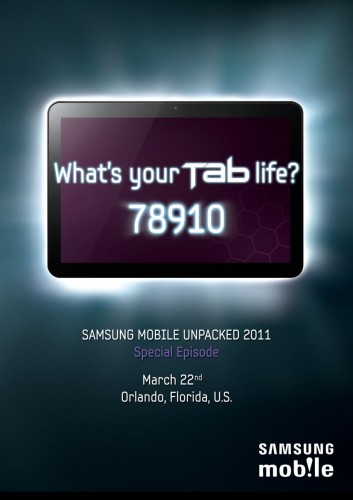 We've barely gotten over our excitement for Samsung's Galaxy Tab 10.1, and likely rumours of a smaller version – one with a 8.9-inch screen – are already floating around.
Samsung put up a poster on its Facebook wall pointing to an event called Samsung Mobile Unpacked 2011, to be held on the 22nd of March in Florida. There's even a microsite with the same design.
An unidentified tablet takes centre stage on the poster. There's clearly a front-facing camera, and at the bottom right corner of the tablet a barely-visible honeycomb pattern is shimmering. So it's a tablet running Android 3.0 Honeycomb, then.
But why do we think Samsung is announcing an 8.9-inch tablet? The number on the screen of the tabletsays "78910", and we know that there's already a 7-inch Tab and a 10-inch Tab. That leaves the number "89" in the middle. Couple that with recent rumours about an 8.9-inch Samsung tablet coming and we've got a pretty confident guess.
Incidentally, today is also the day Apple is expected to launch the second generation of the iPad. Looks like a big fight coming up!
Do you think an 8.9-inch tablet is the perfect balance between 7 inches and 10 inches? Let us know in the comments!