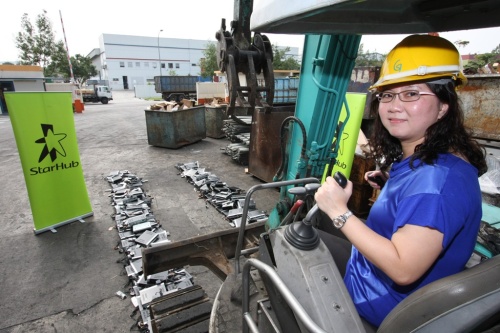 Driving a bulldozer over a bunch of illegal set-top boxes seems to be part of the job of an assistant vice-president in StarHub these days, a photo that we just received from the company appears to suggest.
We're told later that AVP for pay-TV services, Andrea Tay, didn't really operate the bulldozer – because you need a licence for that – but instead she was posing as part of a StarHub campaign to show how it is dealing with the persistent threat of pirated pay-TV boxes.
At a Kranji recycling company this morning, the company destroyed about 3oo set-top boxes bound for Singapore homes. According to a StarHub spokesman, they were intercepted at various customs checkpoints on separate occasions and rounded up for destruction today, though she declined to say when these boxes were picked up. 
Last year, StarHub also won two separate copyright infringement cases involving set top boxes here in Singapore, where a small number of people still get tempted to pay a few hundred bucks in exchange for a pirated set-top box that tunes in to all channels on cable TV.
The boxes destroyed today were presumably able to crack the encryption that StarHub had on its all-digital system, which had been touted as a more secure way to keep out pirates.
The telecom operator, which offers cable modem and cable TV services to homes in Singapore, has been battling piracy over the years.
In 2004, industry group Casbaa estimated that as many as 10,000 such illegal boxes existed in Singapore, though over the years, the problem has become smaller, possibly due to tighter copyright laws and general affluence. In 2009, a report by the same association claimed that there were 5,300 such illegal "individual connections" in Singapore.