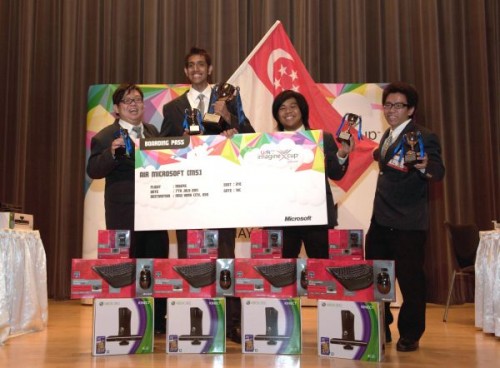 An application that helps patients rehabilitate with the help of a motion-sensing game console won a team of Singapore students a trip to the United States to compete in a worldwide student technology competition on Tuesday.
It was four Temasek Polytechnic (TP) students' answer to the challenge thrown up by the Microsoft Imagine Cup Championship: finding technology solutions to some of life's most pressing problems.
The TP team, consisting of Satrughan Kumar Singh, Ho Chee Boon, Wing Kin Seng and Kim Arvin Galutera Evangelista, won the Software Design category with their app.
For starters, it can be used to diagnose the range of motions that a stroke patient is capable of. He can try moving  his hands in front of a TV screen connected to a Kinect, and get results accurate up to +/-3 degrees, which are clinically acceptable. Previously, a therapist had to carry out the diagnosis in a time-consuming manner.
In rehab mode, the app comes with a game that encourages a patient to move his or her hands to interact with several "windows". The game, say the young creators, encourages patients to be more engaged in the rehab. Plus, the results are recorded as well for future analysis.
The process can be guided by a nurse in a hospital, or by family members at home, which promises to reduces the cost of treatment. The system is also said to make rehabilitation more entertaining compared to traditional tedious slow exercises.
The team already has some plans formed for the future, regardless of whether they win the competition. Currently, the app is only designed for upper limbs; one of the next steps then is to add lower limb exercises to the mix.
Also in the works: an option to link the system to hospital servers so that therapists can monitor the progress of patients at home. They even have plans to open the app up to developers who might want to add more games or extend the functionality of the existing system.
The TP team beat three other teams, from the National University of Singapore (NUS), Nanyang Polytechnic's (NYP) School of Engineering, and School of IT, to the top prize.
The team from NYP's School of IT clinched the first runner-up with its Silver Strides project. Also targeted at the elderly, Silver Strides uses motion detectors  to capture data on mobility, gait and balance of elderly subjects to prevent falls and, in the event of injury, measure responsiveness to treatment and physical rehabilitation.
The TP team will be heading to the Imagine Cup 2011 Worldwide Finals, which will be held July 8 through 13 in New York. More about the competition here.